A Definitive List of Every RHOBH Tagline EVER!
9021OMG!
Lara Sophia June 24, 2019 2:01pm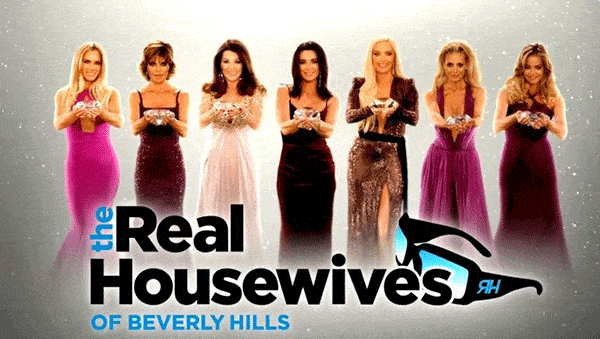 The Real Housewives of Beverly Hills have graced our TV sets for 9 seasons and from the looks of it, they aren't going anywhere anytime soon.
Over the years Housewives have come and gone – some for the better and some who are sorely missed but either way they've left a lasting impression on RHOBH fans.
With that said we thought it would be super fun to make a definitive list of every RHOBH tagline ever! So, we've compiled all the taglines, from every current and former Housewife, from seasons 1 thru 9.
Some of these taglines are quite a blast from the past while others are SO iconic you could NEVER forget them!
Plus, we quickly noticed some trends that so many of the taglines seem to have. See if you can spot them!
With that said let's get down to it and dive into every RHOBH tagline EVER!
Erika Girardi
Season 6: "I'm an enigma, wrapped in a riddle, and cash."
Season 7: "I may be two people, but I'm not two-faced."
Season 8: "Some people call me cold, but that's not ice—it's diamonds."
Season 9: "Most people talk about their fantasies; I'm living mine."
Kyle Richards
Season 7: "I'm an expert on luxury, and I can always spot a fake."
Season 8: "In this town, fame and money come and go, but friends should not."
Season 9: "In Beverly Hills, the truth always has a away of rising to the top."
Lisa Vanderpump
Season 7: "The crown is heavy, darlings, so just leave it where it belongs."
Season 8: "The Queen of Diamonds always have an ace up her sleeve."
Season 9: "You can stab me in the back, but whilst you're there, kiss my ass."
Lisa Rinna
Season 7: "My advice to you: Don't hustle the hustler."
Season 8: "I don't have to buy it, because I already own it."
Season 9: "In the game of life, it's Rinna take all."
Yolanda Foster
Season 3: "I like to have fun, but I don't play games."
Season 4: "Don't tell me you're my friend, act like one."
Season 5: "Character isn't what you have, it's who you are."
Season 6: "Fake friends believe rumors, real friends believe in you."
Denise Richards
Season 9: "My problem with the tabloids? My real life is so much juicier."
Kim Richards
Season 1: "I was a child star, but now my most important role is being a mother."
Season 2: "People try to figure me out, but I'm one of a kind."
Season 3: "Life is a journey, and I'm finding myself every day."
Season 4: "Everybody loves a comeback story, especially starring me."
Season 5: "I've been rich and I've been famous, but happiness beats them both."
Camille Grammer
Season 1: "It's time for me to come out of my husband's shadow and shine."
Season 2: "Diamonds aren't a girl's best friend — freedom is."
Brandi Glanville
Season 3: "Money doesn't give you class, it just gives you money."
Season 4: "In Beverly Hills, the higher you climb the farther you fall."
Season 5: "I'd rather spend my life kicking ass than kissing it."
Teddi Mellencamp
Season 8: "Having the best isn't important to me, but being my best is."
Season 9: "I'm not afraid of hard work, but I'll never do your dirty work."
Dorit Kemsley
Season 7: "When you travel the world, you can speak in any accent you want."
Season 8: "I believe in an excess of everything, except moderation."
Season 9: "In business and in life, I wear many hats — and hairstyles."
Joyce Giraud
Season 4: "You can never be too young, too thin, or too honest."
Eileen Davidson
Season 5: "I'm not a bitch, but I've played one on TV."
Season 6: "I may be an actress, but that doesn't mean I'll stick to your script."
Season 7: "I speak no evil, but I see and hear everything."
Kathryn Edwards
Season 6: "My advice: Speak your mind and carry a good handbag."
Adrienne Maloof
Season 1: "Money is what I have, not who I am."
Season 2: "Having it all is easy if you're willing to work for it."
Season 3: "Know your friends, show your enemies the door."
Taylor Armstrong
Season 1: "It may look like I have it all, but I want more."
Season 2: "I finally found my voice, and I'm not afraid to use it."
Season 3: "I fought too hard for this zip code to go home now."
Carlton Gebbia
Season 4: "In my world, money doesn't talk, it swears."
Tell us – Which RHOBH taglines are your favorite?
---