Real Housewives Who Left and Returned to Their Franchise
Some Housewives can't part with their diamonds, apples, and peaches for good!
Lara Sophia May 30, 2019 9:00am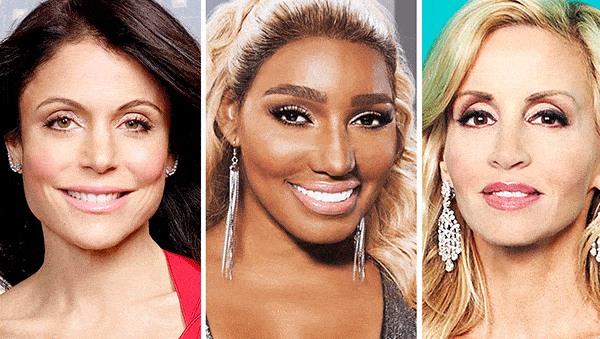 Not all Real Housewives can part with their diamonds, apples, and peaches for good. In fact, some Housewives have a habit of leaving their respective franchises only to return years later.
While some Housewives like Bethenny Frankel, NeNe Leakes, and Dina Manzo returned as full-time Housewives, others such as Camille Grammer and Danielle Staub made their return to the Real Housewives as friends.
Meanwhile, other former Housewives like Jill Zarin, Brandi Glanville, and Kim Richards have opted to return as guests on the Real Housewives.
Scroll down to see all the ladies who have returned to the Real Housewives in either a full-time or in a friend role.
NeNe Leakes — RHOA
In 2015, after season 7, NeNe Leakes exited the Real Housewives of Atlanta. However, a mere two years later the OG Housewife announced her return to the show.
"I don't think I go anywhere and don't get asked the question, 'When are you coming back to Housewives?' Or I get fans coming up to me saying, 'I really miss seeing you on the show.' I'm told this daily. My fans have supported me all these years, and it started to feel like I was disappointing them," NeNe told The Daily Dish in a statement. "I just want to be the person to finally say to my fans who have supported me for so many years … I'm back and ready for season 10. Let the shade begin, hunni!"
Bethenny Frankel — RHONY
In 2014, Bethenny Frankel announced she would be returning to the Real Housewives of New York for season 7 after a 3 season hiatus.
"I'm genuinely excited, with a side of slightly nervous, for my return to The Real Housewives of New York City," the SkinnyGirl mogul, who starred on seasons 1-3 of RHONY, told Us Weekly in a statement at the time. "Bravo has always been the place on television where I have the freedom to be unfiltered, honest and inappropriate, with an audience who has been with me from the beginning. I can't wait to see what this next chapter brings for all of us. Watch what happens!"
Camille Grammer — RHOBH
Camille Grammer starred on the first two seasons of the Real Housewives of Beverly Hills. For season 3 Camille was downgraded to a friend role before leaving the show in 2013. Camille then returned to RHOBH as a friend for season 8 and has remained in said role for season 9.
Kim Zolciak — RHOA
Around the same time, NeNe Leakes returned to the Real Housewives of Atlanta her on-again, off-again friend Kim Zolciak announced that she too would be returning after a four-season hiatus. The Don't Be Tardy star's role as a friend only lasted one season as Kim declared after the season 10 reunion that she would NEVER return to RHOA again.
Sheree Whitfield — RHOA
Sheree Whitfield was one of the original star's of the Real Housewives of Atlanta but after four seasons the She By Shereé designer left the show in 2012. Sheree rejoined RHOA as a friend role for season 8 in 2015 but was upgraded to a full-time role for seasons 9 and 10.
Lydia McLaughlin — RHOC
Lydia McLaughlin left the Real Housewives of Orange County in 2013 after only one season. Lydia returned to RHOC in 2017 for season 12 but quickly left again for the second time shortly after.
"I need a break!" Lydia said in a statement after her 2017 return. "There is a lot of good that comes from the show, but also a lot of negativity."
Danielle Staub — RHONJ
Danielle Staub made quite the impact during the first two seasons of the Real Housewives of New Jersey but by season 3 her time on the show had run its course. However, after Danielle reconciled off-screen with former foe Teresa Giudice she returned to RHONJ as a friend in 2017 for season 8.
Dina Manzo — RHONJ
Dina Manzo's time on the Real Housewives of New Jersey was short and super dramatic. In the middle of season 2, Dina said goodbye to RHONJ but came back for season 6 in 2014. Dina's return only lasted one season as she moved to California the following year.
Lauri Peterson — RHOC
Lauri Peterson was a mainstay on seasons 1-4 of the Real Housewives of Orange County before she left the show in 2009. Four years later, Lauri returned to the show as a friend for season 8.
Katie Rost — RHOP
Katie Rost's reality TV fame was short-lived as she quickly exited RHOP after season 1. Katie surprisingly returned to RHOP in 2019 for season 4 as a friend of the Housewives.
Do you like it when Housewives leave and come back? Which former Housewife would you like to see return?
Source: Us Weekly
---