RHOBH's Teddi Mellencamp Defends All In By Teddi Program Amid Scandal
All In was described as 'insanely restrictive' and an 'eating disorder camp.'
Ashley Hoover Baker November 25, 2020 1:15pm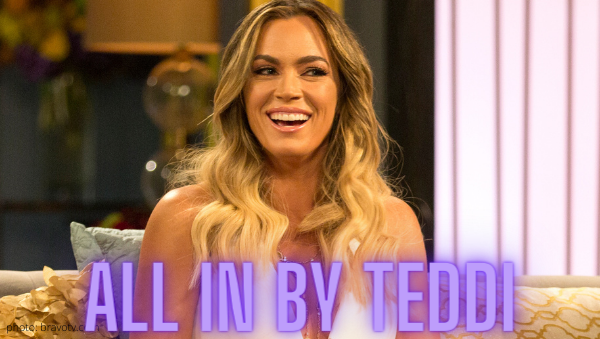 Update——————————————————————-
Personal trainer turned reality tv star, Jillian Michaels, chimed in on the now-former Real Housewives of Beverly Hills star, Teddi Mellencamp's controversial accountability program 'All In By Teddi' during an appearance on the #ADULTING with Zack Peter and Abigail Fraher podcast.
"You know, these women are not, they're not nutritionists. They're not registered dietitians. It sounds like they're not certified fitness experts."
Jillian elaborated, "And it doesn't sound like they got all of those individuals behind their program. And I could very well be wrong — I don't know — but it doesn't sound like they did. So, this is where I would say, look, get out of your lane. You don't see me commenting on politics? I don't understand half of these policies. I'm not an economist. I didn't go to school to study foreign policy. You know what I mean? That's not my lane … I would say, stay in your lane. And when you're in your lane, do your work."
—————————————————————————–
Original Post 09/16- You never know what to expect, when she's expecting…
I don't know about you, but I've come to expect endless mediocrity and a good nap from this Real Housewife, so this scandal is quite the plot twist Real Housewives of Beverly Hills' Teddi Mellencamp needed.
All In By Teddi came under extreme scrutiny after Emily Ellis from the Instagram account @emilygellis exposed Teddi's diet/exercise/weight loss 'accountability' program for its potential/eventual health risks.
Teddi goes all in to defend All In:
Teddi took to the 'gram to show support of the cult program she created.
"For one, I wanted to say I love All In. I am so incredibly proud of the over 15,000 lives we have helped changed. I 100% feel confident in the fact that we let you know before signing up exactly what the program entails. If it's something that you want to do and you want us to hold you accountable to your goals, we are there to do that for you. If it's not something you want to sign up for, you don't. That's why I love that we are very transparent from the beginning. We believe in you."
John Mellencamp's shadow daughter captioned the vlog with an emoji of two hearts.
View this post on Instagram
In case you missed it:
There were a multitude of texts/DMs/social media posts/etc that were released by the influencer that shook IG to its core. All of these screenshots are courtesy of @emilygellis on Instagram.
Meal plan:
You may want to sit down for this…
All In requires a daily intake of 500 calories per day. I don't know about you, but I get 500 calories just from my Frosted Flakes. (Kellogg's, please reach out for a sponsorship!)
Let's begin with a daily meal sample.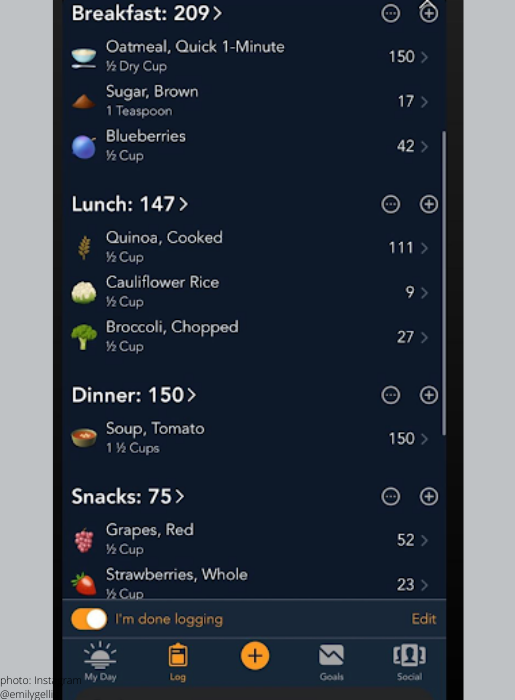 In case you need some variety…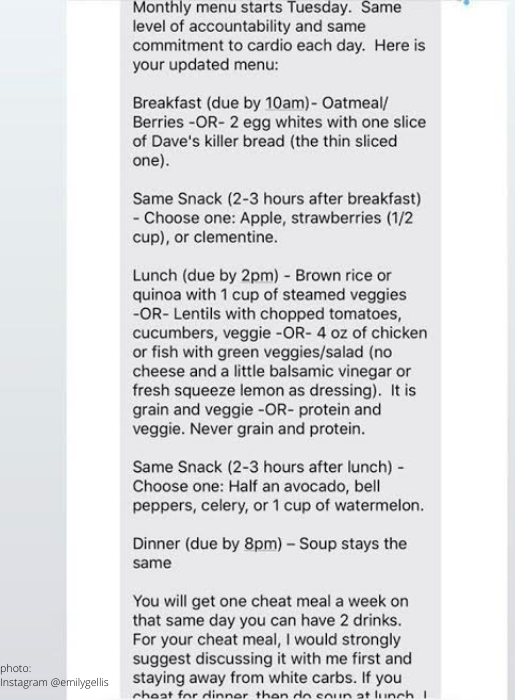 In case you are getting a late start to your day, here is some All In coaching…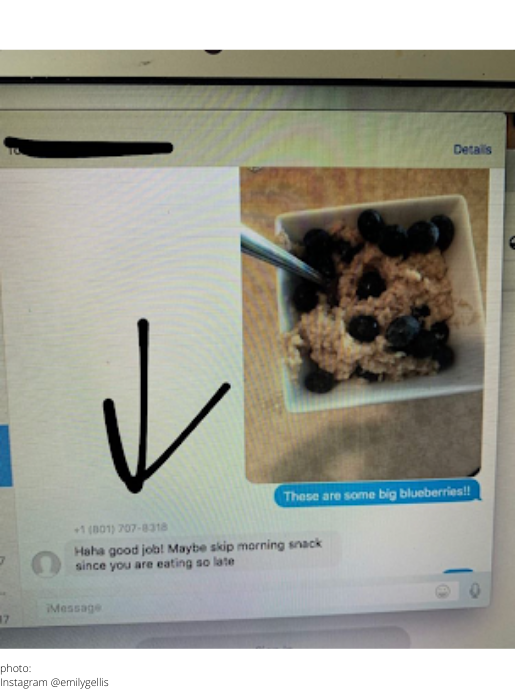 Is anyone else getting hangry just reading these?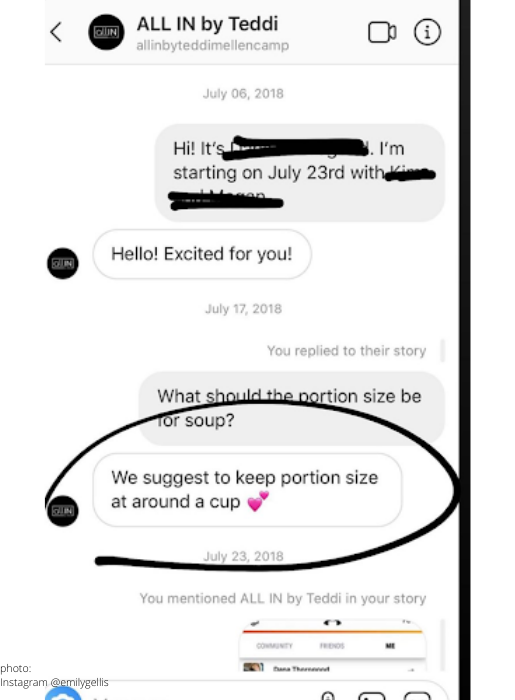 Professional opinions/expertise: 
Here are a few of the medical professional comments I collected. I feel it important to note, I did not see any defending All In's methods.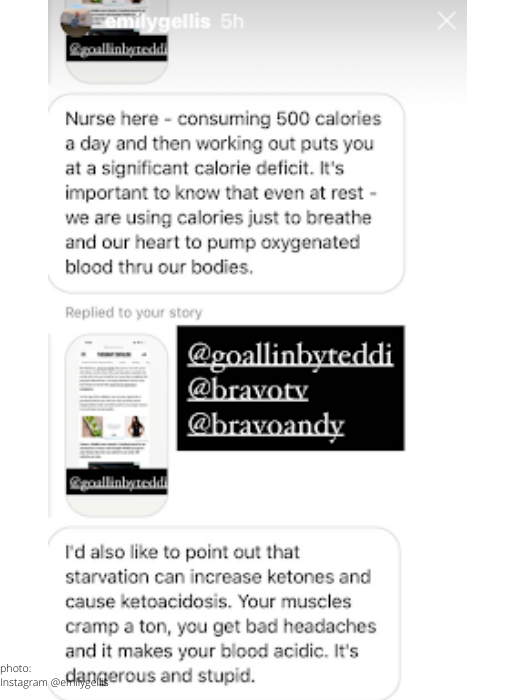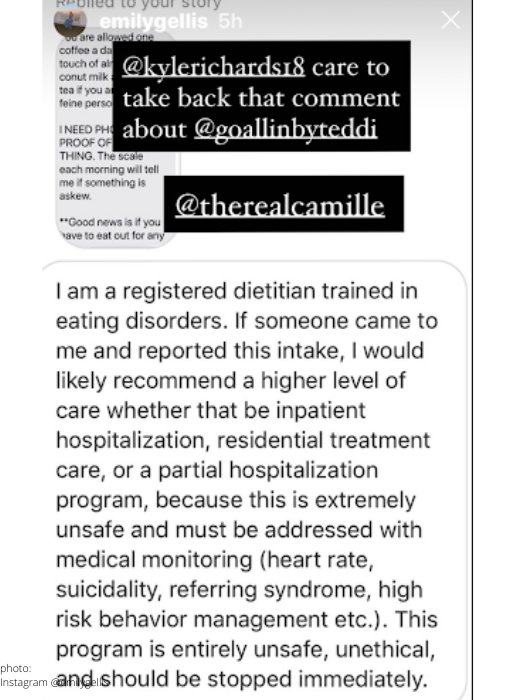 All In scares the poop out of medical professionals…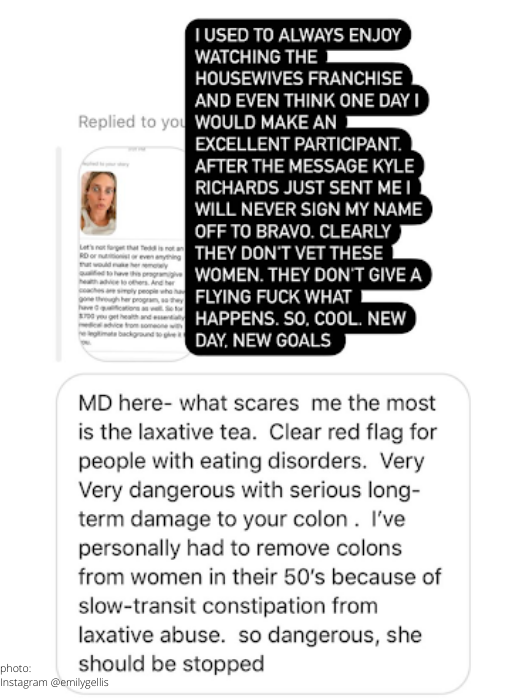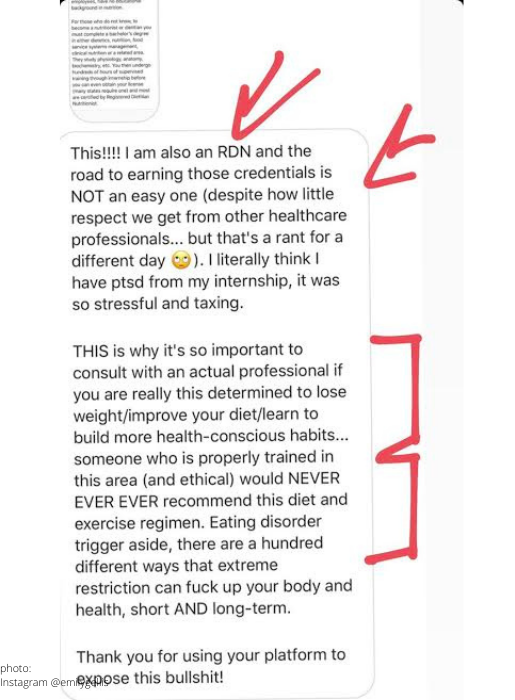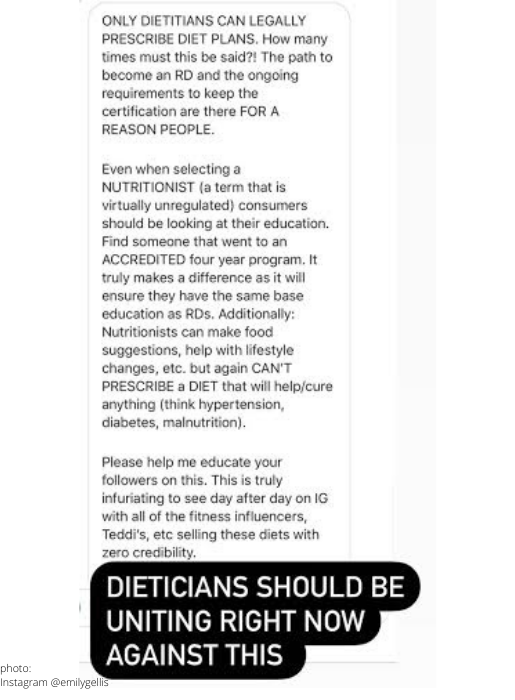 Are Teddi and her team certified?
While we are asking questions, does All In have a refund policy?
This is straight from the All In website. Does anyone else smell the scam?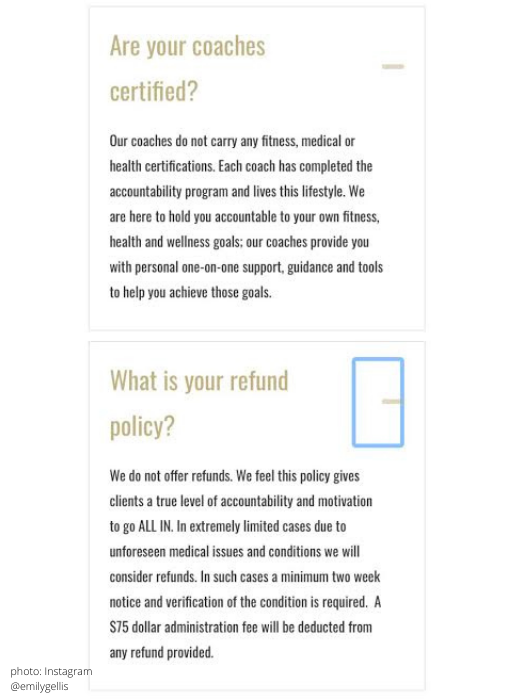 Staying accountable: 
As Teddi and her staff keep their clients accountable…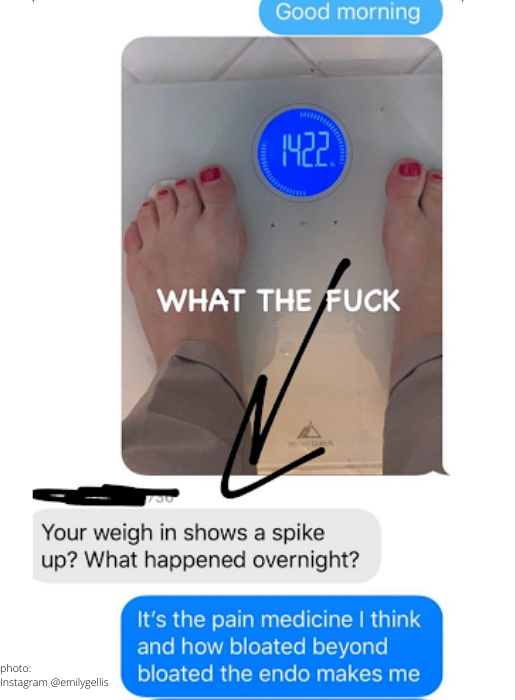 ….they do not stay accountable in return.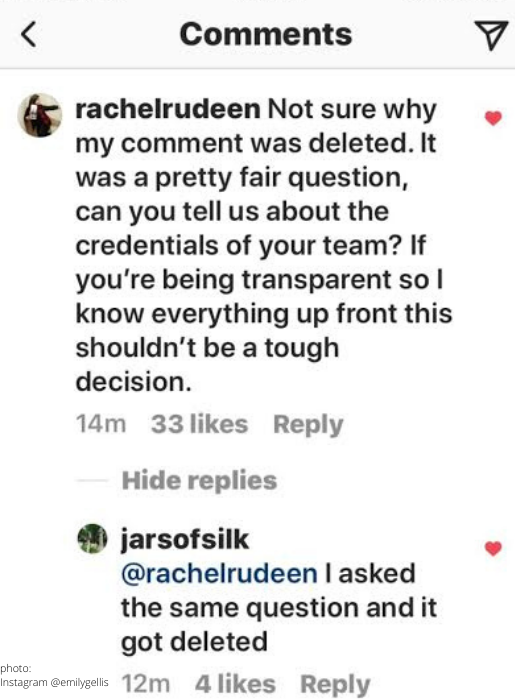 All In will ditch you before they support you.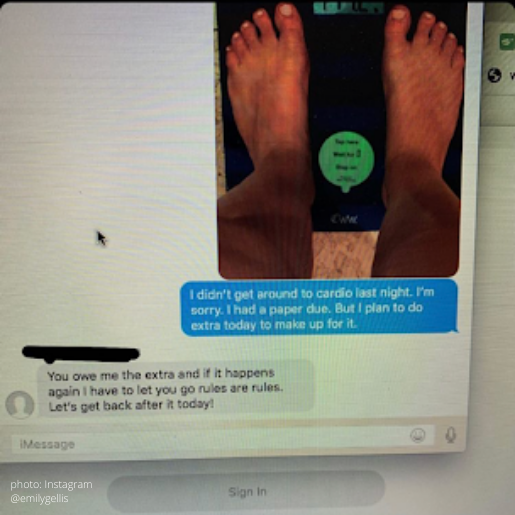 Does this feel super shame-y to anyone else?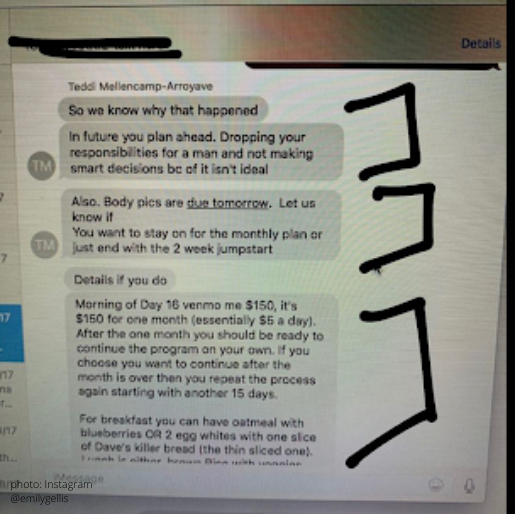 Keeping Bravo accountable:
Allegedly, Bravo is cashing in on all of the Bravolebrities products. This is not a good look for the network….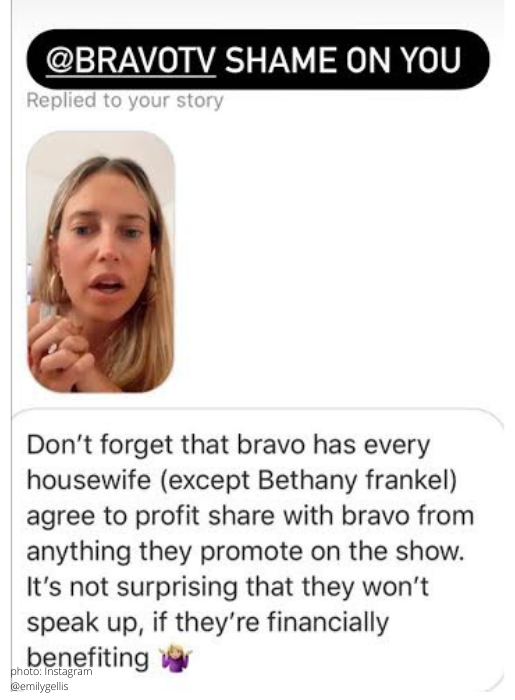 Bravo promoted All In With Teddi on their blog, bravotv.com.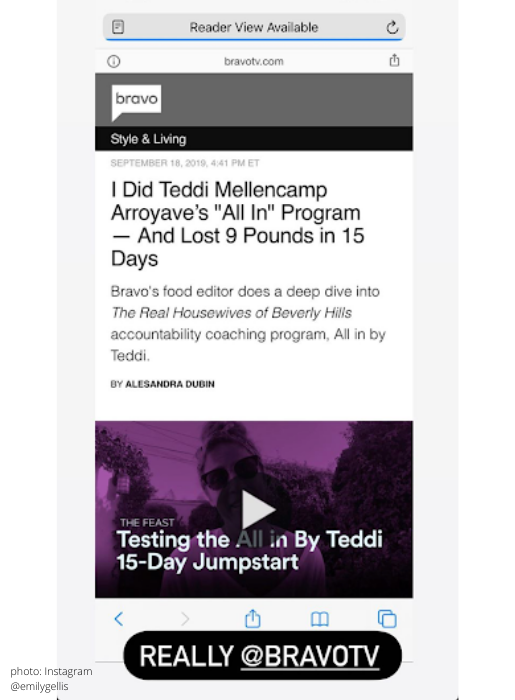 Client Testimonials:
These stories may be triggering for those who have suffered with eating disorders.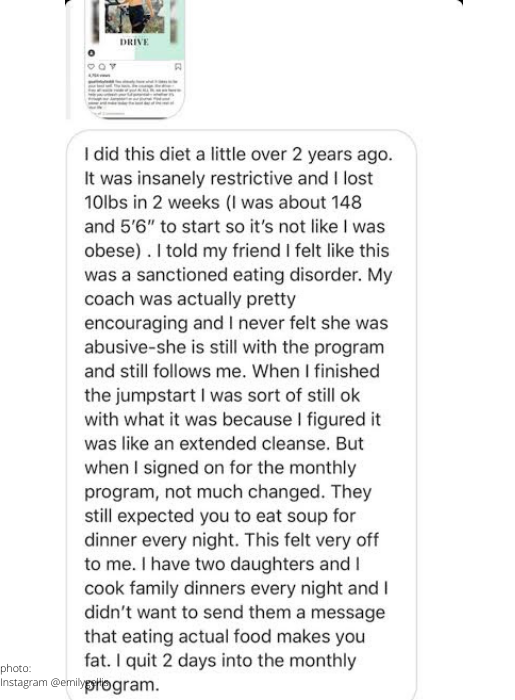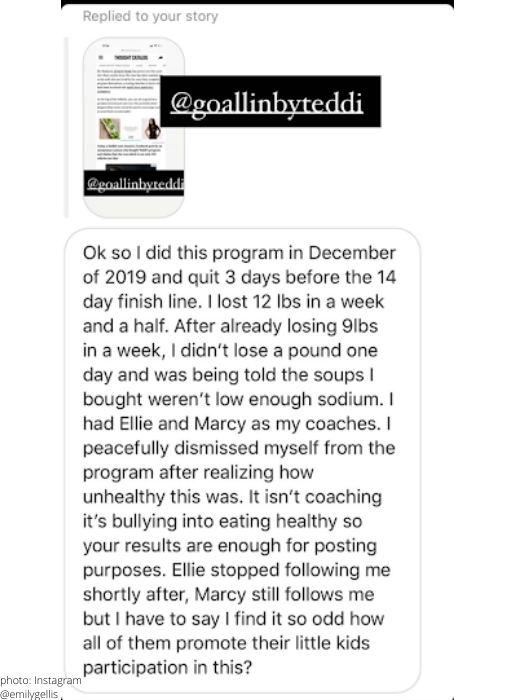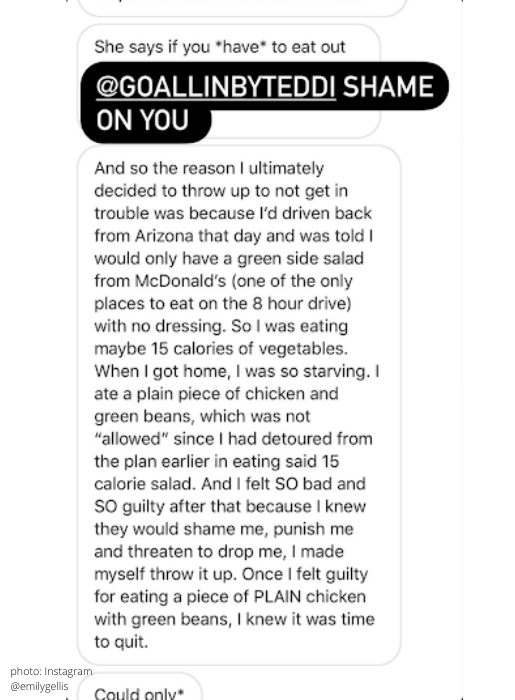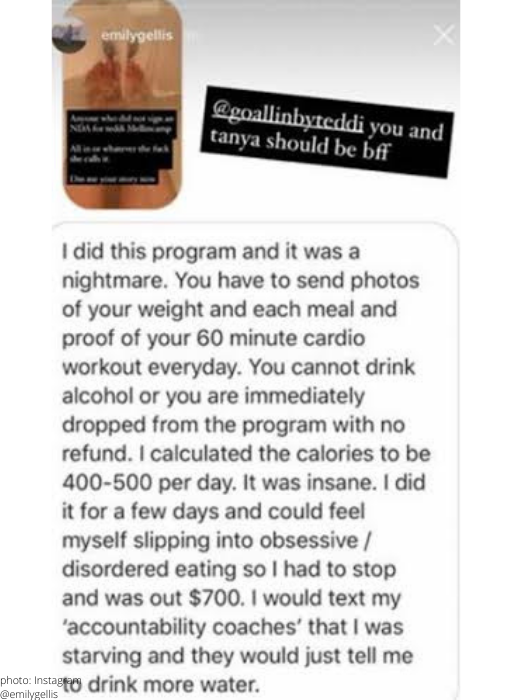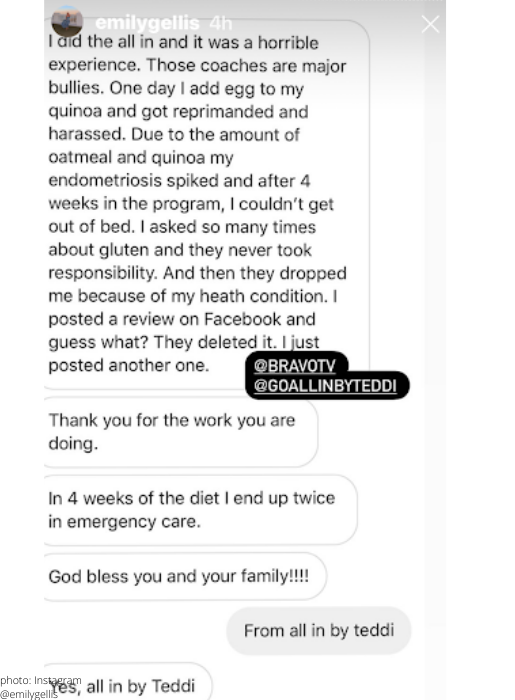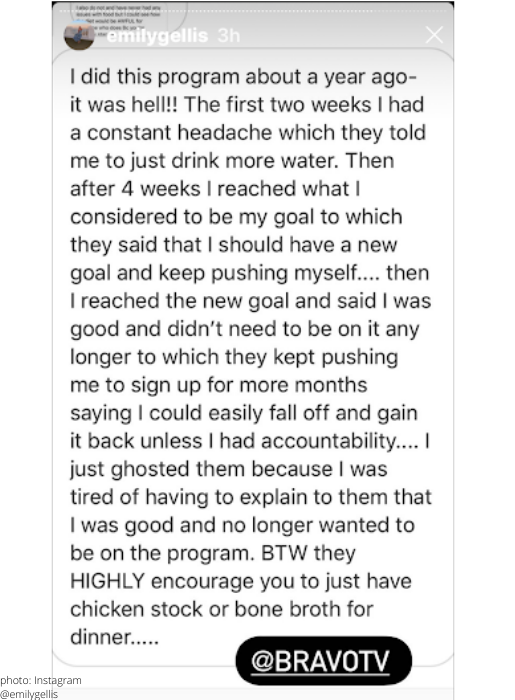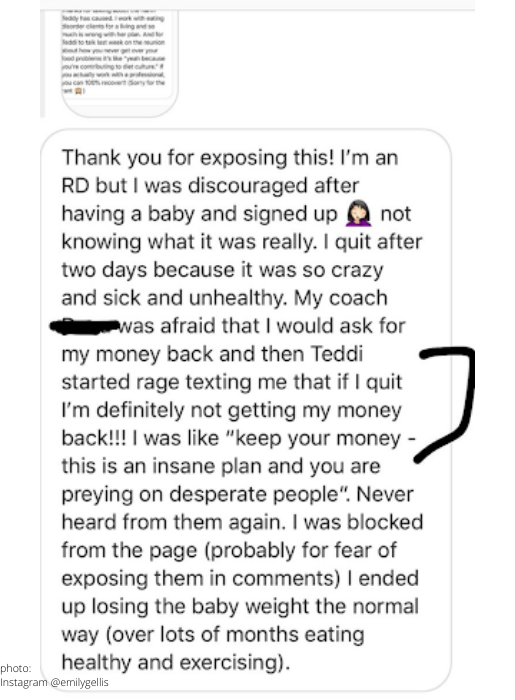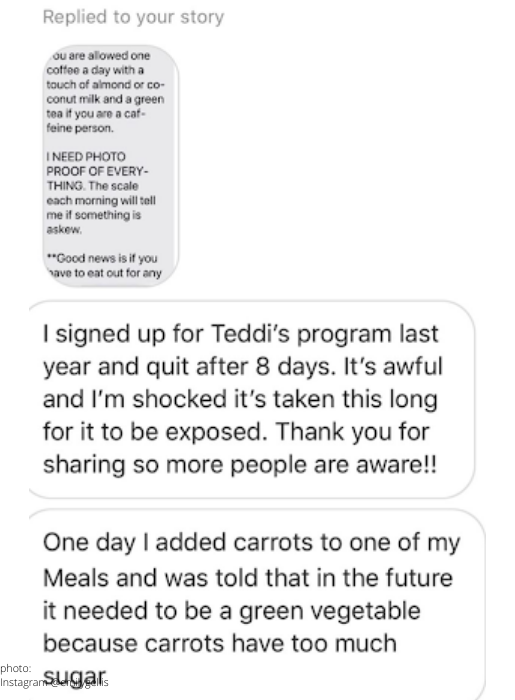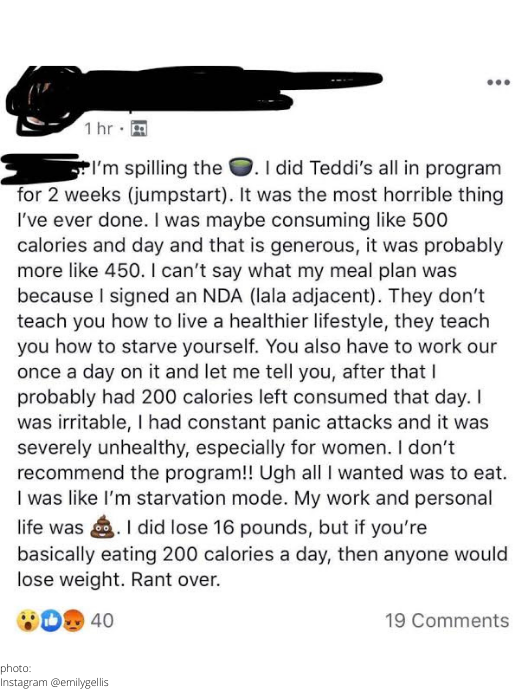 Non-disclosure agreements:
Denise Richards wasn't the only diamond-holder passing out NDAs. And by the way, requiring a non-disclosure agreement for health accountability feels beyond shady.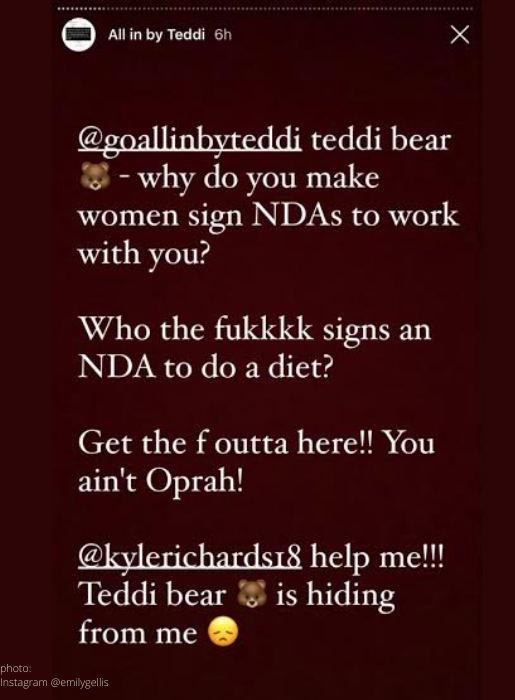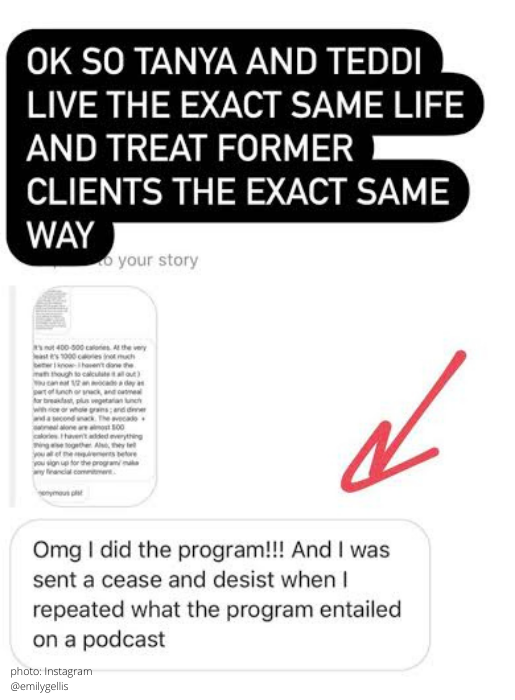 Triggered:
Again, if you or someone close to you has suffered with an eating disorder, this may be very upsetting to read.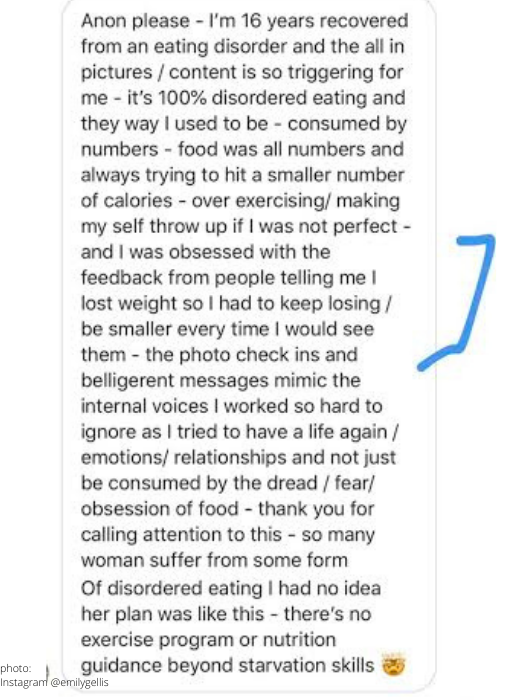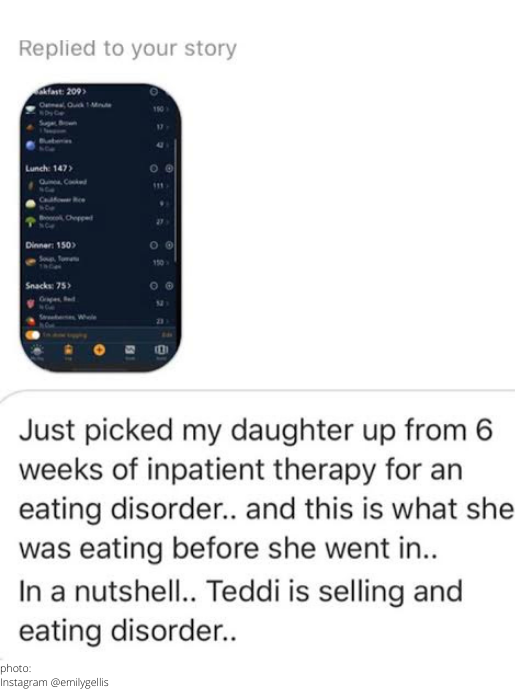 Let's lighten it up with a Full House flashback:
Does anyone else remember this episode like yesterday? This is definitely the same mood as All In!
In summary,
Need more RHOBH in your life?
Check out the Pink Shade podcast for a hilarious recap of the most recent episodes of RHOBH, Real Housewives of New York and Real Housewives of Potomac.
Do you think this will be Teddi's next story line or will we say Goodbye Teddi forever? Sound off in the comments!
---