Real Housewives Weddings!
A running list of Housewives weddings since the franchise started!
Ashley Hoover Baker December 4, 2022 10:04am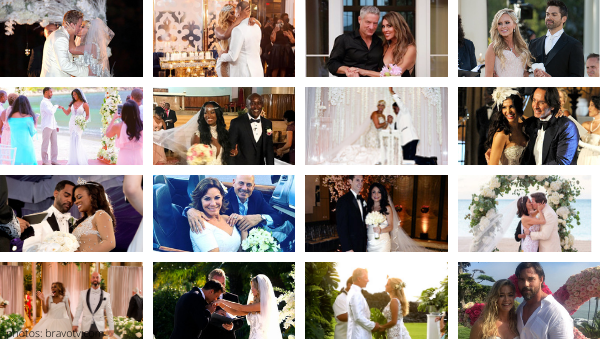 No matter the city, the Real Housewives are no strangers to lavish events – and you better believe they go especially hard when it comes to weddings. Here is a comprehensive list of all of the housewife weddings and vow renewals we've seen (so far) on Bravo!
Lauri and George: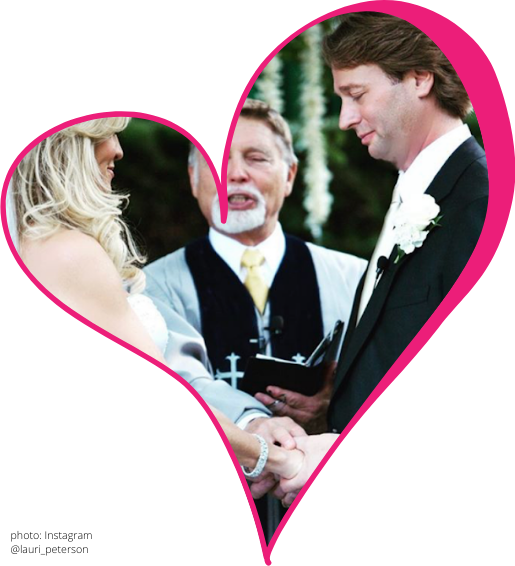 Lauri Peterson's marriage to her third husband, George Peterson, was the first ever televised wedding on a Real Housewives show. Viewers followed Lauri from seasons 1-4, seeing her transition from a struggling single mom to a bride at her fairy tale wedding. The couple recently celebrated their 13th wedding anniversary!
Tamra and Eddie: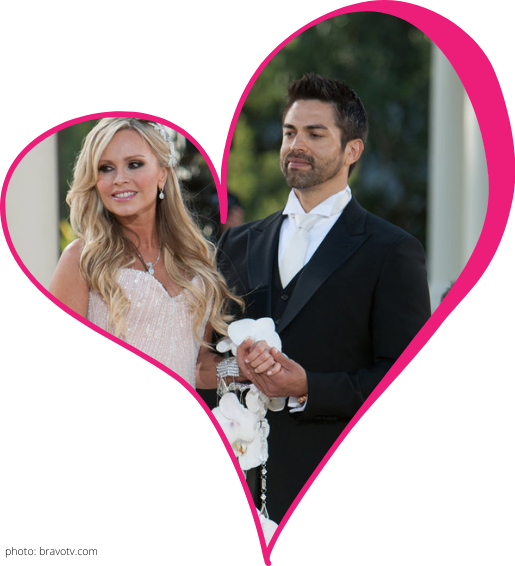 RHOC fans were first introduced to Tamra Barney, not Tamra Judge. After Tamra split with her three children's father, Tamra found love again in 2010 with Eddie Judge, who even popped the question on an episode of the OG housewives franchise.
Tamra and Eddie's lavish ceremony and reception featured Tamra's co-stars/girlfriends, Vicki Gunvalson and Heather Dubrow, as her bridesmaids.
The Judges are also owners of Cut Fitness, who may or may not be found on Groupon…
Kelly and Rick: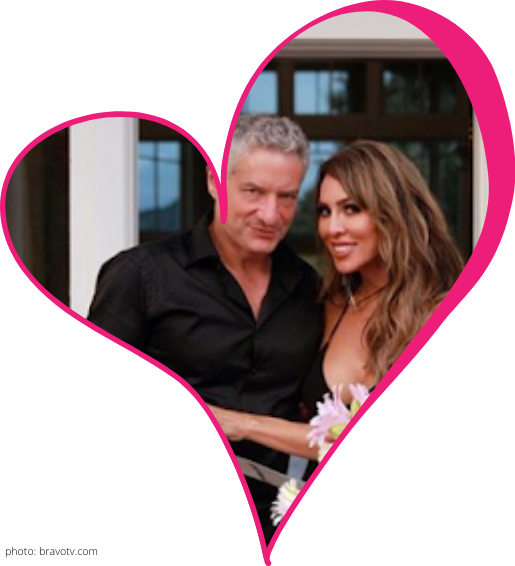 On 10/10/2020, Kelly Dodd married Fox News reporter Rick Leventhal in an outdoor ceremony during the thick of the coronavirus pandemic. The bride was beautiful in a black gown- perfectly matching the mother-of-one's soul. Kelly has since publicly insulted the mother of Rick's two daughters from a previous marriage.
Bethenny and Jason: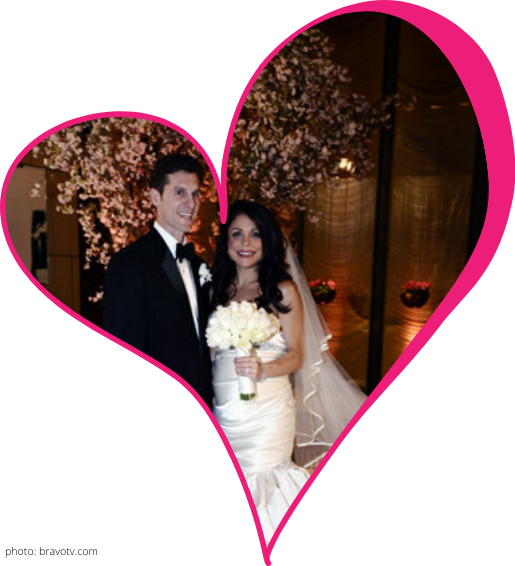 Did seeing this image make you throw up in your mouth? Same.
Bethenny Frankel married the real life Mister-too-good-to-be-true Jason Hoppy in 2010. Fans watched the beginning of Bethenny and Jason's story on the spin-off show, Bethenny Ever After, which is why learning how their story ended was so shocking.
Bethenny and Jason have gone back and forth for years over custody of their daughter, Brynn.
The BStrong founder has since been in an on-again/off-again relationship with the now deceased Dennis Shields and has most recently called it quits with Paul Bernon, who famously saved B's life in 2019.
It was revealed on a September 2020 episode of  Watch What Happens Live that Bethenny and Jason are still married. "I'm still married," the Skinnygirl mastermind admitted to a stunned Andy Cohen. "Crickets again. And scene! And we're back!"
Luann and Tom: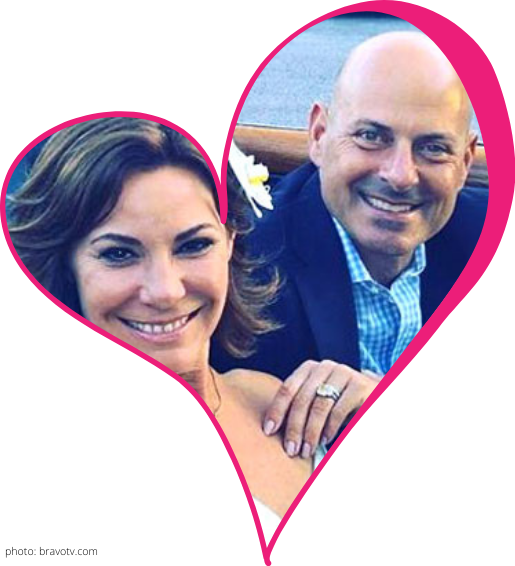 "Please don't let it be about Tom." -Luann de Lesseps
"It's about Tom." -Bethenny Frankel
It was about Tom D'Agostino for Luann de Lesseps (as well Sonja Morgan AND Ramona Singer, but let's save those stories for another time) on New Year's Eve of 2016 when the pair married, despite Bethenny Frankel warning her then co-star of her fiancé's cheating.
Luann may have given up the title of 'Countess' for 'wife' for her eight-month long marriage, but Luann quickly reclaimed her royal title after the split.
Nene and Gregg:
Former RHOA star, Nene Leakes, remarried Gregg Leakes on the spin-off show I Dream Of Nene: The Wedding.
Nene explained why she remarried Gregg. "I know exactly what I'm getting myself into…Gregg and I are real adults, so it was better, per bravotv.com. "Both of us want this, so it will definitely work this time."
Kim and Kroy: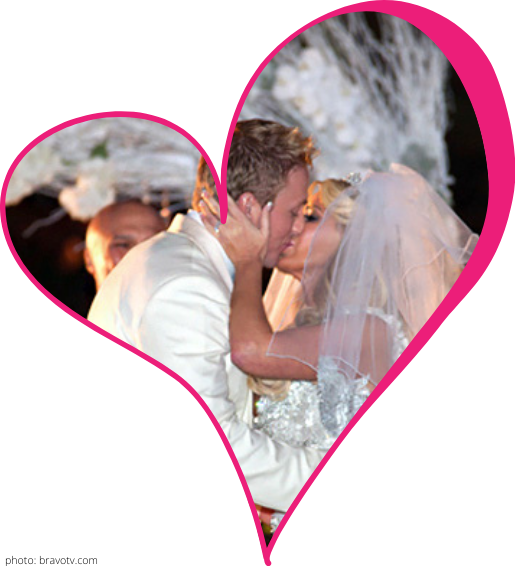 Former RHOA star, Kim Zolciak, married NFL's Kroy Biermann on 11/11/11 in Atlanta.
This is a direct quote from stylecaster.com that I just had to share regarding the couple's big day. I needed this laugh….
"The guest list was basically a who's who of the C-list. Kim's 'close friends' like Perez Hilton, Patti Stanger and her castmates, all stepped out to support the woman who may single-handedly be keeping the wig industry in business."
Yes, Kim and Kroy- AGAIN: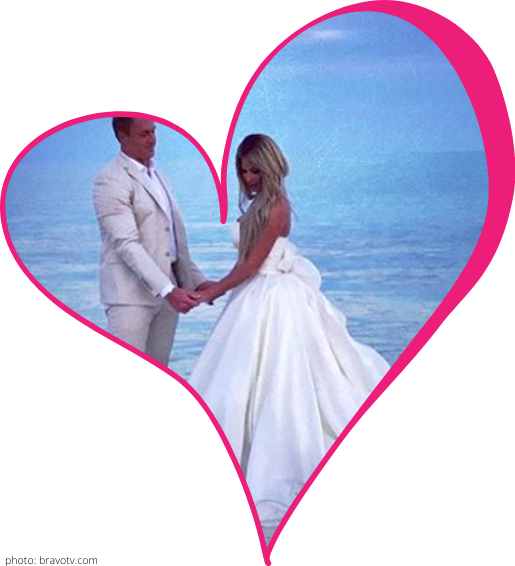 Kim Zolciak-Biermann and husband, Kroy, renewed their vows on the spin-off show, Don't Be Tardy in 2017.
"Kroy's still the hottest thing I've ever seen," the mother of six told People, reminiscing on Kroy's ass-et that still makes her heart skip a beat. "That a**? Nothing's changed, it's pretty insane."
Kenya and Marc: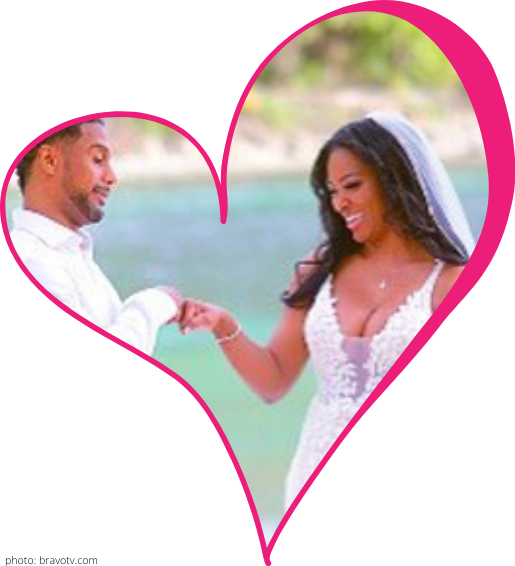 A picture can say a thousand words…
Kenya Moore's arrangement marriage to Marc Daly was made official in 2017 at a private tropical ceremony in St. Lucia.
"It was just so perfect," Kenya said of the big day to People.
There's an update in the status of Brooklyn's parent's marriage in the preview for the 13th season of RHOA. In case you missed it…
Kandi and Todd: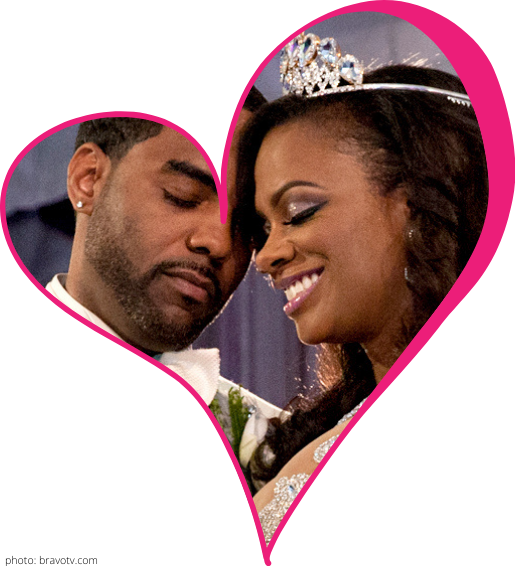 Kandi Burruss and Todd Tucker tied the knot on the show Kandi's Wedding, to Kandi's mother- Joyce Jones' dismay. Never forget the theme of the couple's wedding was the classic 1998 film, Coming To America.
Can I give a shady shout-out to Mama Joyce who referred to Todd's deceased father as a 'pimp' in the second part of the Bravo special?!
Kandi and Todd now share a boy, Ace Well, and a baby girl, Blaze, who was delivered via surrogate and have the love and support of Kandi's outspoken mother.
Cynthia and Peter: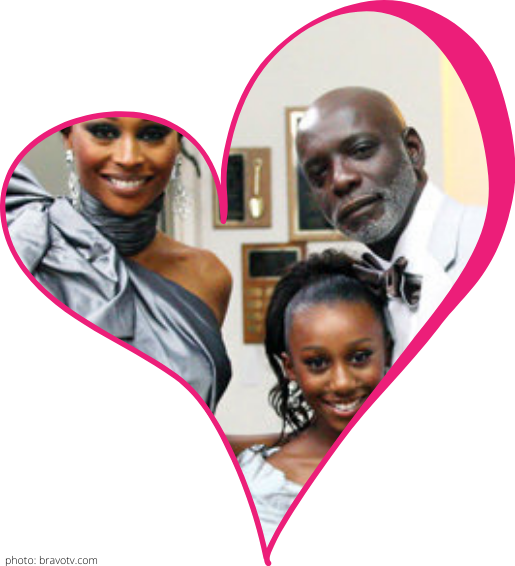 Cynthia Bailey's Bravo wedding- Take 1:
The model married restauranteur Peter Thomas in 2010, after RHOA fans watched their journey to the altar during the show's 3rd season. The couple was married several years before ultimately divorcing, which was also chronicled by Bravo cameras.
Cynthia and Mike: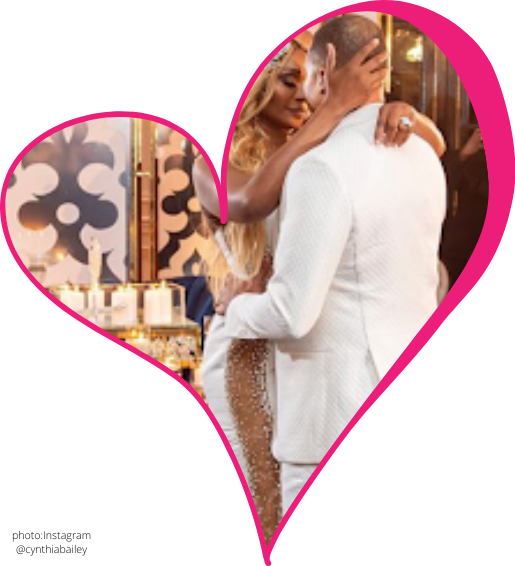 Cynthia Bailey's Bravo wedding- Take 2:
Cynthia made history on 10/10/20 as the first-ever Bravo housewife to get married twice while starring on Real Housewives – this time to sports commentator, Mike Hill.
The nuptials were SUPPOSED to be recorded by Bravo cameras, but Mother Nature had different plans than the lovebirds for their big day.
The couple was forced to move the ceremony (and their 200+ guests) indoors. Due to covid protocols, Bravo chose not to send their own camera crew to the event. The network plans to use footage captured by wedding guests to air on the show's 13th season.
Shamea and Gerald: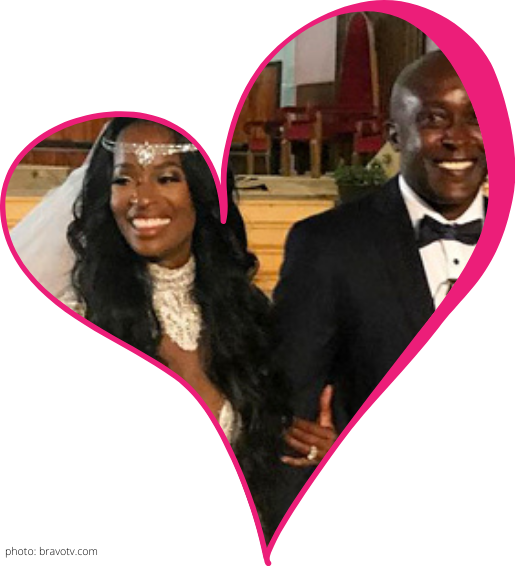 The 'friend of' the Real Housewives of Atlanta cast, Shamea Morton, married Gerald Mwangi in a ceremony in Kenya in 2017. Shamea and Gerald kept the party going with a reception held on Mount Kenya.
Danielle and Marty: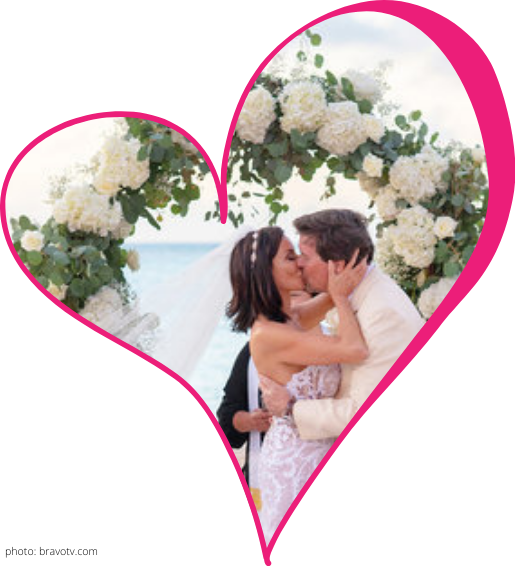 RHONJ alum, Danielle Staub, may have been engaged 20 times, but she thought she found the one with Marty Caffrey. The pair were married in 2018, after audiences saw Marty pop the question in front of Danielle's co-stars Teresa Giudice and Margaret Josephs with dancers and a violinist performing in the background.
Teresa and Louie:
Nothing could stop Real Housewife of New Jersey/Dancing With the Stars alum, Teresa Giudice, from living her happily ever after with Louis Ruelas in their very own love bubble.
Louie, Tre, and her bouffant tied the knot on August 2022 in front of friends, family, and fellow Bravolebrities. Noticably NOT in attendance was Tre's brother, Joe Gorga, and his wife Melissa Gorga.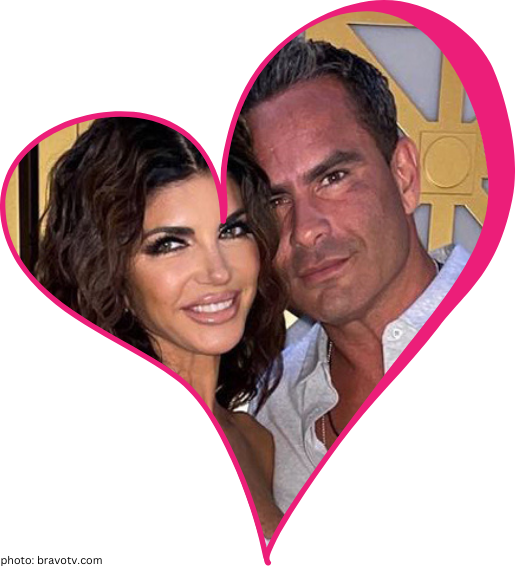 Lisa and Ken: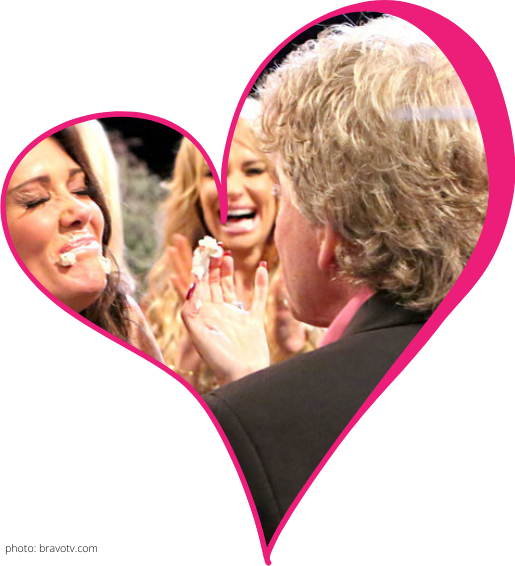 The RHOBH x Vanderpump Rules crossover star renewed her vows to Ken Todd on the third season of Bravo's hit show back in 2013. Rather than a bridal party this time around, the couple opted to have their dog, Giggy, close by. In fact, an insider told Radar Online, "Ken held him during the ceremony."
LVP wore a gorgeous black evening gown, while her hubby rocked a pink shirt under his black jacket- very on brand for Lisa…
Pandora and Jason: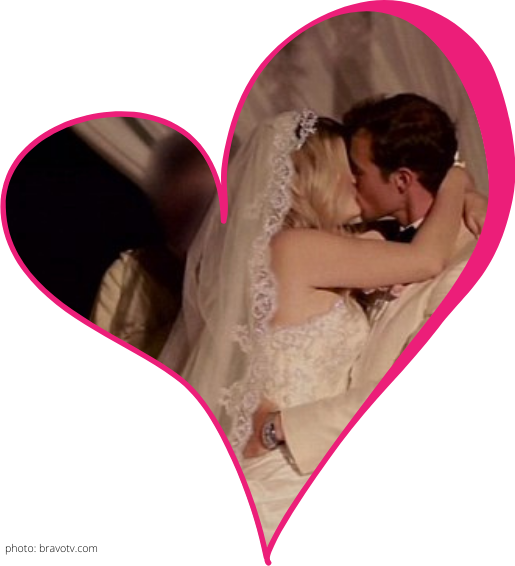 One of the most iconic Real Housewives weddings was from a Real House-Daughter. Pandora Vanderpump Todd's million-dollar wedding to longtime boyfriend, Jason Sabo, was held at their former estate 'Vanderpump Manor' on RHOBH season 2 episode 20.
The reality-star-studded wedding welcomed guests including Adrienne Maloof, Kyle Richards, Camille Grammer, and Jenni Pulos. I think it's important to note the Vanderpump-Todd family dog, Giggy, was also part of the ceremony and walked down the aisle. Noticeably absent was Taylor Armstrong, whose husband Russell Armstrong, committed suicide a week prior.
Lisa tweeted, "I can't explain the love and warmth that filled the room and our hearts last night." She later added, "Unequivocally the most wonderful day of my life."
Camille and David: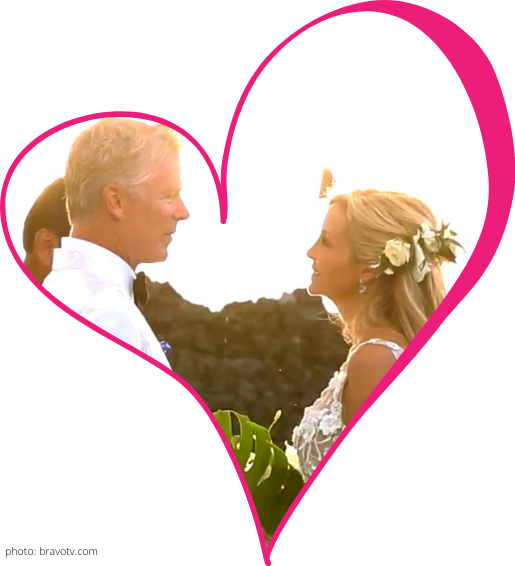 Camille Grammer famously divorced husband/Frazier superstar Kelsey Grammer in 2011.
The next several years were dramatic- to say the least- for Camille. She battled cancer, dealt with a domestic violence case with now-ex Dimitri Charalambopoulos, and lost her home in the Woosley Fires.
Thankfully, things only went uphill from there.
The former MTV go-go dancer married again in the fall of 2018 on RHOBH to lawyer David C. Meyer in Hawaii.
Camille told People, "Hawaii is my special place. I have so much respect for the Hawaiian culture. It's all about ohana, family, love, respect for the land and respect for each other."
Denise and Aaron: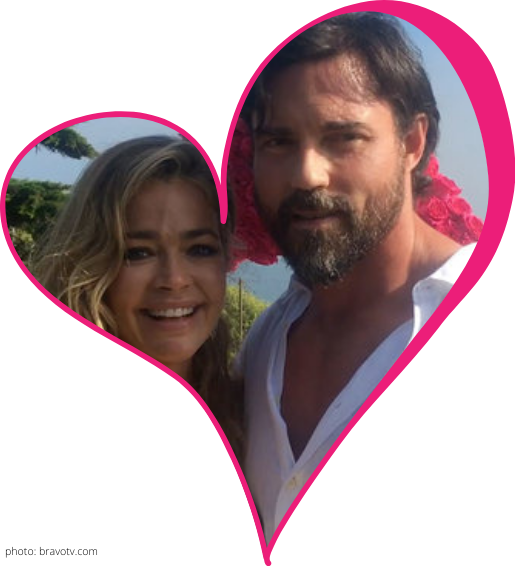 A-list actress, Denise Richards, married her now-husband, Aaron Phypers on her first season as a Real Housewife of Beverly Hills.
Audiences were charmed with 'Big D!ck Aaron' at the start- especially after seeing how devoted he was to Denise's adopted special needs daughter, Eloise.
Fast forward to Denise F *cking Richards' sophomore/final season on RHOBH when we learned that Aaron is not only involved in some shady, secret society that would shake the medical industry to its core, but NEVER FORGET Aaron threatened to crush Denise's hand when they abruptly left a cast barbeque at Kyle Richards' home.
Adriana and Frederic: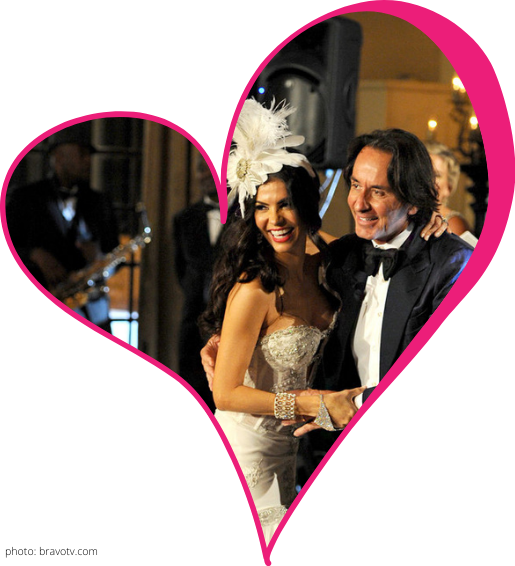 Adriana De Moura's elaborate wedding to Frederic Marq was featured on RHOM's third season. As seen on the show, the couple tied the knot in May of 2013 at Coral Gables Congregational Church with 70 of their closest friends and relatives present.
Joanna and Romain: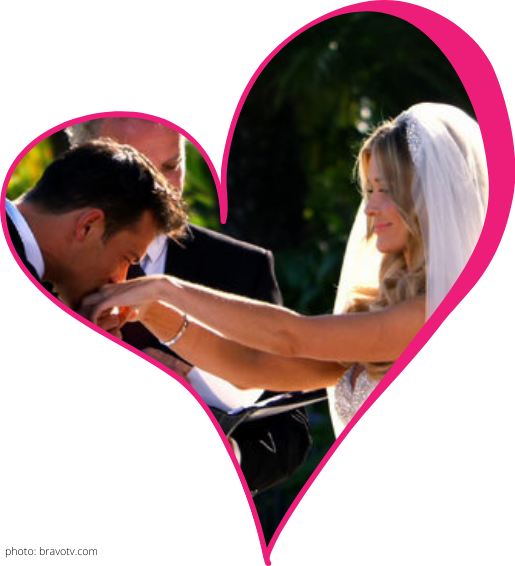 Model Joanna Krupa married Nightclub owner Romain Zago in 2016 at a luxurious poolside location at Park Hyatt Aviara resort in San Diego. An eyewitness told People, "After they were pronounced husband and wife, they couldn't stop kissing. They both looked extremely happy. It was a very special ceremony."
The pair divorced in 2017. Both have since remarried.
Candiace and Chris: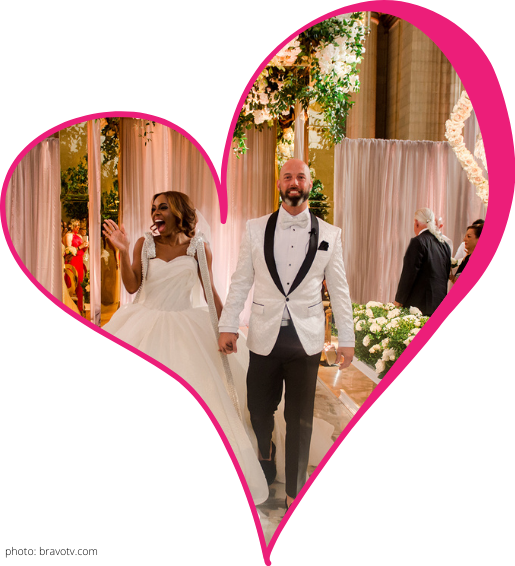 The controversial RHOP star, Candiace Dillard, married chef Chris Bassett after dating for nearly two years before he proposed in May 2017. The pair met while working at a restaurant together in D.C.
Can we take a moment to remember the couple's wedding hashtag- #cbasswithdill.
Cute or cringe?
Anyway…
The couple hosted a 'Diamonds and Denim' party at the beginning of RHOP's fifth season to celebrate their one year wedding anniversary, but have yet to go on a honeymoon.
Karen and Ray:
The Grande Dame of Potomac lives by her own rules. Just because vow renewals are a recipe for marriage disasters historically on Bravo, Karen accepted Ray's offer to renew their vows. The couple has been married 25 years, which is a lifetime by today's standards.
Sending years and years of love, respect, and passion between the Hugers …. We just don't need to see them tongue kissing ever again.
Thank you.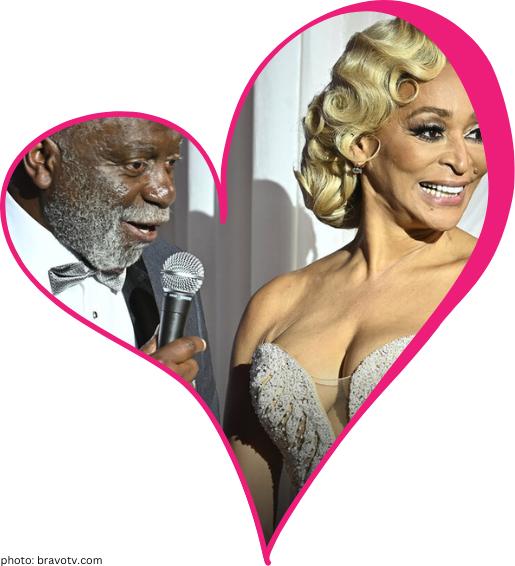 LeeAnne and Rich: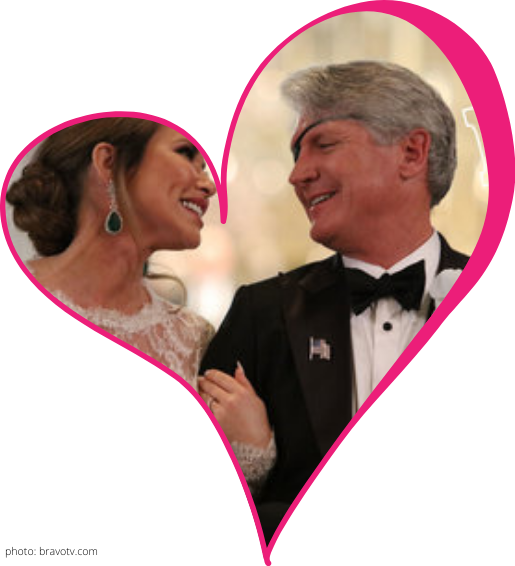 LeeAnne Locken and Rich Emberlin tied the knot on April 27, 2019 in front of friends and family at the Cathedral of Hope in Dallas. After dating for almost a decade, Rich proposed to LeeAnne at the State Fair of Texas in 2017, which audiences witnessed on season two of RHOD.
"He's my universe. He's everything," LeeAnne gushed about Rich to The Daily Dish. "He's my Prince Charming. He's my provider. And he's my best friend."
Whitney and Justin:
Whitney Rose 'isn't scared to handle a little prick' as she stated in her RHOSLC tagline, nor was she scared to marry the man she loved- even to her family and friends' dismay. The couple's respective entourages weren't fond of their age gap OR their workplace romance-while both were married to other people.
After ten years of marriage, Whitney and Justin Rose renewed their vows, which was aired on the series premiere of the Real Housewives of Salt Lake City. This time, with the support of their loved ones-and Bravo cameras.
Caroline and Sergio:
Ladies of London alum, Caroline Stanbury married Sergio Carrallo in RHoDubai's inaugural season.
Caroline boasted, "Women dream of this kind of love and I got it, and I have it, and it's so apparent here tonight."
Never forget the delicious drama that ensued when Chanel Ayan arrived in a white gown to Caroline's wedding. That was what reality tv dreams are made of.
Are you curious of the relationship status between any of these couples? Here is a running list of Housewives divorces since the show aired!
Who do you think will be the next 'Housewife' we see exchanging vows on Bravo? Drop names in the comments!
---