Will Lindsay Lohan Appear On Real Housewives Of Dubai?
LiLo already lives in the United Arab Emirates and Bravoholics love star power...
Ashley Hoover Baker November 2, 2021 10:16am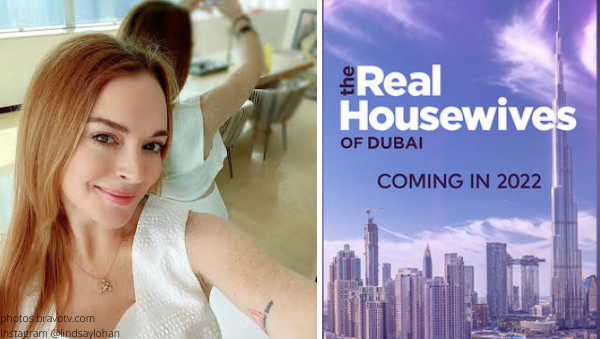 Unfortunately for us Bravoholics, Lindsay Lohan is not slated to join the cast of the upcoming Real Housewives of Dubai, even though she already lives in the United Arab Emirates.
Part of The Plastics?
Sources spilled to TMZ, LiLo "is NOT part of the newly announced franchise, and she was never even approached about the upcoming project."
The tabloid was told "the cast — although, not announced yet — has been selected, and LL ain't on it. Yeah, we know … she's not actually a housewife, but many of the other 'Housewives' lineups are filled with unmarried women."
What to expect from RHoD?
According to bravotv.com, "the Real Housewives of Dubai will have everything we know and love about The Real Housewives as it follows a group of women and their fabulous lifestyles while they navigate their relationships and careers in the United Arab Emirates."
"But with 'The City of Gold' as their backdrop with its desert paradise and stunning modern architecture, The Real Housewives of Dubai is sure to serve up its own unique opulence, drama, and surprising twists."
We can't ignore Dubai's world-famous nightlife destinations, which made us Lindsay-lovers lose our minds at the possibility of a Lindsay Lohan's Beach Club x Real Housewives mashup.  
Sadly, these were misinformed Rumors. "Take this for just what it is."
ICYMI:
News broke on Monday that the network's newest show will premiere in 2022.
Unlike the majority of the new content from NBC Universal Television and Streaming, the first international location will air on Bravo– not Peacock… which Bravo is trying to make happen like Gretchen Weiners tried to make the word fetch happen.
Want more Real Housewives in your life?
Check out the Pink Shade podcast for weekly Bravo Breakdowns and so much more!
Do you think Lindsay has what it takes to be an A-list Bravolebrity, in addition to an A-list actress? Sound off in the comments.
---