'RHOBH' Camille Grammer Shares Heartbreaking Photo After Losing House In Woosley Fires
Devastating.
Genny Glassman November 13, 2018 11:40am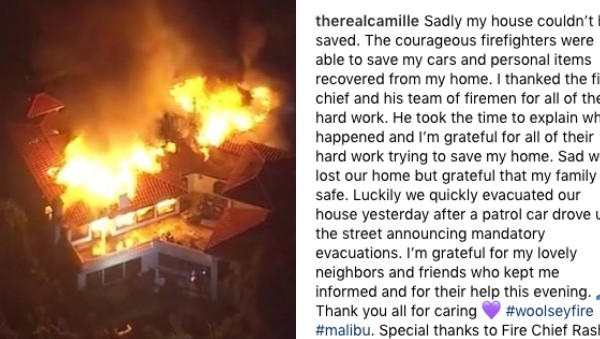 Camille Grammer is facing heartbreak after the Woosley fires burned her California mansion down to ashes.
In post written on her Instagram, Camille shared the heartbreaking image of her Malibu home as it was engulfed in flames. "Sadly my house couldn't be saved," the Real Housewives of Beverly Hills star wrote. "Luckily we quickly evacuated our house yesterday after a patrol car drove up the street announcing mandatory evacuations."
Speaking with People Magazine about her heartbreak, Camille shared that the fire is particularly devastating in light of her recent wedding to attorney David C. Meyer. "I went from one of the best days of my life, to such a tragedy," she told them. "It's so sad. It's such a tragedy."
The reality star also explained that she had been packing to go on a trip that would be filmed by Bravo when Los Angeles firefighters came to her door and told her to evacuate. "The skies were blue in front of my house, but in the back of my house you could see the flames over the canyon," she remembered.
"I called the producers and I told them I couldn't come on the trip. And we just grabbed what we could. I was taking stuff out from my luggage for the trip and replacing it with jeans, sweatpants, things I can use," she added. "I went to my safe and I grabbed jewelry, documents, birth certificates and passports. The bigger pieces of art we couldn't take, but we grabbed an Andrew Wyeth painting. I also took some photographs that meant something to me — my great-aunt who passed away a couple years ago. I took pictures of my family. We packed as much as we could into three cars."
Camille said that her 17-year-old daughter, Mason, was with her at the time of the evacuation and that her daughter had a gut-feeling that the house wasn't going to make it.  "And I said, 'Honey, I hope it does, but I have the same feeling,'" Camille told them. "We just thought, this is it. I had a pit in my stomach."
"As we were driving down the Pacific Coast Highway, it was gridlock. It took us hours," she continued. "It was like the apocalypse."
Camille also shared that she's been in contact with former Housewife Eileen Davidson and current Housewife Denise Richards, both of whom live in the fire area, but for now are safe.
Right now Camille and her family are staying in a hotel in San Diego until the fires subside. Though the reality mom said she is not focused on the material things that she's lost. "I'm not worried about my material things at this point. It's about the safety of my family and my friends," she said. "Material things are just things. We can replace most of them. We can rebuild. And we can start anew. But people can't be replaced."
Our thoughts go out to Camille and her family.
Let us know if you have any well-wishes for Camille and her family!
---