RHOA's Kandi Burruss Gives Advice Regarding Using A Surrogate
The Xscape singer explained why she and her husband took a different approach.
Ashley Hoover Baker December 16, 2019 12:14pm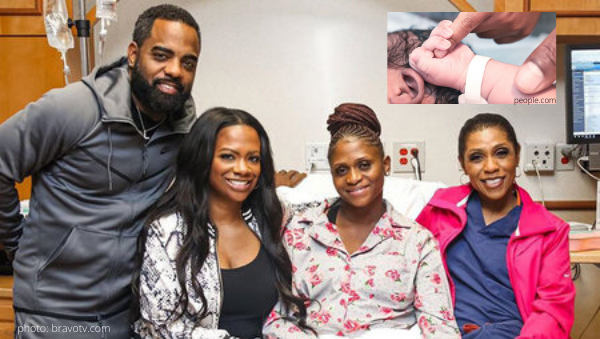 Real Housewives of Atlanta star, Kandi Burruss, gives advice after using a surrogate to have her third child. The Xscape singer explained why she and her husband, Todd Tucker, took a different approach with their surrogate, Shadina Blunt.
TMZ caught up with the RHOA star out and about in the ATL and asked what advice she'd give anyone thinking about using a surrogate. Kandi says she knows some parents opt to keep it strictly professional with surrogates, but she and Todd came from a different perspective.
Check it out for yourself!

According to BravoTV.com, "Kandi said that Shadina was like an 'angel' coming into her life. She and Todd had been wanting to use the embryos from the time Kandi underwent IVF to conceive son Ace, but they decided to explore surrogacy after struggling with fertility issues and fibroids in the past."
Kandi continued, "She was very well-informed on how this process was supposed to go, as well as how she's supposed to take care of herself. Just all those things," Kandi said. "Just when you find somebody that has that much knowledge on top of the fact that you have a doctor that's already worked with them that's already given them the stamp of, 'Yeah, they're perfect.' And then when we talked to her, she just made us feel comfortable."
In case you missed it, Kandi and Todd's second child together, Blaze Tucker, was born on November 22nd. Kandi took to the 'gram to note, "Our little angel is doing well! She was born yesterday 11-22-19 at 6:54pm. 8lbs & 1oz! Her name is Blaze Tucker. Thank you to everyone for the love & well wishes! She's gonna Blaze a path to greatness! @blazetucker is our newest heartbeat."
If you can't get enough of the peaches from RHOA, check out the latest episode of the On This Day Entertainment podcast called Gone With the Wind Fabulous, where I spill Real Housewives tea with Mani from the Mixing With Mani podcast. Click here to listen for yourself!
Were you surprised Kandi and Todd went the surrogate route after Ace? Sound off in the comments!
---