Teresa Giudice Spills Tea On Real Housewives All Stars Friendship And Feud
Find out who Tre "had some words with" and whose back she'll have "for life."
Ashley Hoover Baker May 14, 2021 5:00am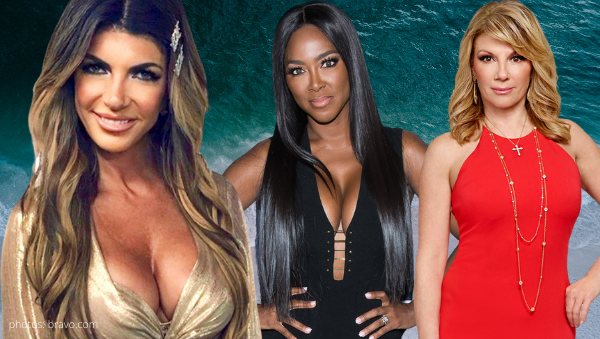 The hype around Real Housewives All Stars is palpable as Real Housewives of New Jersey's iconic Teresa Giudice spilled the tea on her experience filming with six other Real Housewife OGs, including her sister-in-law/RHONJ co-star, Melissa Gorga.
That's a wrap:
Now that filming has concluded on the 'mash up' featuring Real Housewives of New York's Luann de Lesseps and Ramona Singer, Real Housewives of Atlanta's Cynthia Bailey and Kenya Moore, and Real Housewives of Beverly Hills's Kyle Richards, RHONJ's outspoken star is giving fans a 'taste' (sorry for the pineapple juice pun…) of what to expect from the limited series.
The mother of four dished to US Weekly regarding her frienships and feuds on the Turks and Caicos set.
Friends til the end:
Tre and Kenya rekindled their budding friendship on the island.
"We did work together once, and she did say that when we worked together, we did bond. She did tell me. She's like, 'I felt connected from you ever since the first time I met you,' and we talked. We got really close," told Teresa.
"She lives in Atlanta, I live in [New Jersey]. It's hard, but it was nice. It was great seeing her. It's amazing how you can connect with someone, and then you see how it plays out on the show."
Tre called Kenya "a friend for [a] lifetime," before stating she would "have her back for life, forever and ever and ever."
The former Mrs. Joe Guidice sure has a way with words….
Choppy waters:
Speaking of Bravolebrities that have their own take on the English language, enter Ramona 'the stinger' Singer.
Teresa tattled that she "had some words with Ramona," but the drama wasn't overwhelming.
"She does mix up her words like I do, and sometimes she says the craziest things. Like, [stuff] will come to her mind right away, and that's what I do too, so I feel like we do have that in common, but it's not going to be too much."
The TikTok that broke the internet:
By the look Melissa's video that went viral, it seems the ladies don't get too wrapped up in any drama.
I'll never recover from Ramona's moves….
WANT TO STAY UP-TO-DATE WITH YOUR FAVORITE BRAVOLEBRITIES AND BEYOND?
If you were in the 'All Stars' house, who do you think you'd be closest to? Who would you clash with? Drop names in the comments!
---