'Butler' Marco Antonio Vega Dishes On Dorinda Medley, Vicki Gunvalson And RHUGT Cast
Find out who was Marco's "fav" and who he named "most difficult."
Ashley Hoover Baker July 25, 2022 3:47pm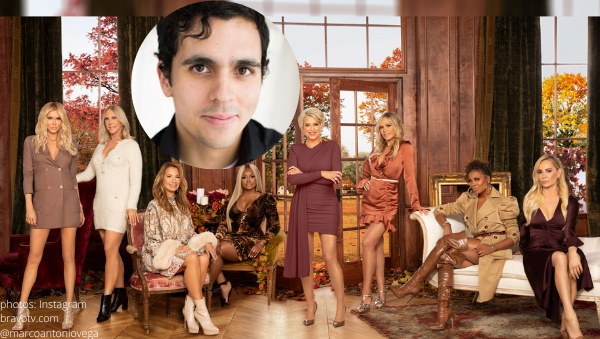 He cooked He cleaned. He made it nice.
Blue Stone Manor's 'Butler,' Marco Antonio Vega, answered fan questions via his Instagram story and spilled all the behind-the-scenes tea regarding his time with the stars of Real Housewives Ultimate Girls Trip 2.
Before detailing his experience on the 'Ex-Wives Club,' Marco introduced himself, dished on how he got the gig, and even stood up for Dorinda Medley (for a moment, at least…)
"Umm… good morning. My name is Marco Antonio Vega. Married. Currently in Puerto Rico."
"Not a butler." 
"Not looking for hookups. Looking for work. Venmo is @Marco-Vega-1."
"I got the RH gig through a friend of a friend. (My understanding is someone dropped out and they needed someone quick.) And @dorindamedley [Dorinda] was extremely kind to me, really. I felt for her. From empty house to full production is almost lunatic."
Although Marco chose to introduce himself with the above text concealing his face on his Insta story, the following questions were answered via text responses on a black background.
Which housewife did you connect with the least?
Without explicitly calling out Brandi Glanville for disrobing him on camera without consent, Marco made it clear the former Real Housewives of Beverly Hills star crossed a line.
"Other than being forcibly stripped… I didn't really 'connect' with any of the ladies."
"Maybe Dorinda and Jill [Zarin] I was able to find moments to connect with. Share words?"
"Maybe Tamra [Judge] the least? But I was just a fly on the wall most of the time."
Who was the most difficult housewife?
Marco named Dorinda and the OG of the OC, Vicki Gunvalson as the "most difficult."
In case you haven't watched RHUGT2, Dorinda welcomed her guests with a lengthy list of house rules creating a stressful vibe for her victims houseguests while Vicki, who was dumped the day before filming began, took her emotions out on everyone around her.
Were you ok with Brandi ripping your shirt off?
"I was not, I am not okay with it."
"Check the footage in that exact moment. I was not happy."
Who was your fav housewife on Girls Trip?
"Eva [Marcille]. Hands down."
Would you return for another season?
"Prolly not. I'm only swayed by [money.]"
"Ps: the pay wasn't that great…considering."
See for yourself:
IG stories expire after 24 hours, but screenshots last forever. Shout out to Instagram's @brandsbybravo for memorializing this Q&A sesh.
View this post on Instagram
Did you watch RHUGT2? Were you surprised by anything Marco said in the Q&A? Sound off in the comments!
---