Peacock's Real Housewives Ultimate Girls Trip Review
Housewives in the island baby!
Imani Craig November 28, 2021 1:53pm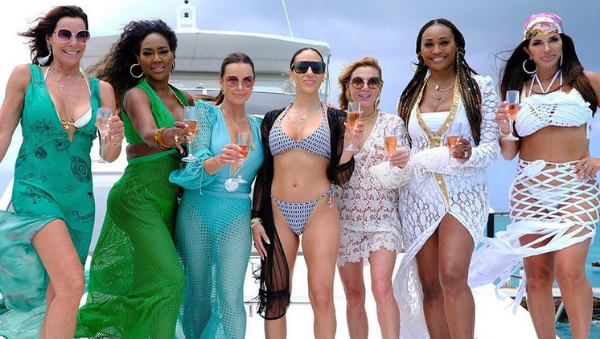 The much anticipated Real Housewives Ultimate Girls trip is finally here! Bravo execs heard our pleas for an "all star" Housewives spinoff, and the first 5 episodes are everything I could have hoped for.
If you haven't watched the Peacock originals series yet, the Housewives are plucked from their respective cities and put into a beautifully, luxurious tropical villa.
Season 1 consists of fan favorites, Kyle Richards (Real Housewives of Beverly Hills); Cynthia Bailey and Kenya Moore (Real Housewives of Atlanta); Ramona Singer and Luann De Lesseps (Real Housewives of New York); and Teresa Giudice and Melissa Gorga (Real Housewives of New Jersey.)
But first, let's talk accommodations. The main attraction, let's be honest.
The ladies are staying at Triton Luxury Villa on Turks and Caicos. As per the website, the estate occupies over 2 acres and includes 7 bedrooms, an outdoor movie theater with fire pit, hot tub, 2 pools, private tennis and bocce ball courts, and a villa butler. Not sure if everyone who stays gets a "Michael" but if he flips your skirts as much as Luann's, you might want to book asap.
Onto the episode recaps!
Episode 1
It wouldn't be a Real Housewives cast trip if there wasn't a race to the best room. An amazing race, if you will. In true Ramona Singer form, she darts around the villa in hopes of finding a bedroom fit for her standards as the "eldest." She immediately puts her dirty body all up in the bedsheets and then showers.
Michael, you're welcome for the free Ramona peep show!
The ladies continue to get acclimated with one another, which involves some back and forth between Ramona and Kenya (this is the theme throughout the 5 episodes so far.) Additionally, Ramona says Teresa doesn't have a brain (pot meet kettle) and then says she actually is smart. Okay.
My standout scene from the first episode was the honest and real conversation had between Ramona and Kyle. Towards the end of the night, Kyle opens up about her body insecurities. Ramona is pretty kind and comforting during this moment. Kyle if you're reading this, you're hot, and you look good! Show off that body, girl!
Episode 2
If you were not a Teresa fan, I don't see how you wouldn't be after episode 2. While she and Cynthia go on a walk around the villa, Teresa opens up about falling out of love with her ex, Joe Giudice.
While there was no love lost between Joe and Teresa, so much love was found between Kenya and Melissa. Never would I expect those two to have major girl crush vibes but they did, and it was everything. Seeing Kenya outside of the Atlanta drama was good for her, I think.
The end of the episode, Cynthia hosts her infamous "Bailey-cue", and yikes with this whole storyline. For what its worth, I agree with Kyle on not wanting to rate the women's level of beauty. Just sayin' (Teresa G voice.)
Episode 3
The T in Teresa actually stands for "TMI". We find out that she and Louis engage in phone relations. While absolutely no one is shocked by the intimate overshare, TMI Teresa.
Speaking of the Jersey girl, I think the whole trope of "if Erika knew" comes in second to whether or not "Teresa knew if Melissa was joining RHONJ." Seriously, this fight will actually never end. Did Melissa tell Teresa she was joining Real Housewives of New Jersey? We need Andy! Show us the DMs please and settle this once and for all.
You don't go against the family.
One of the more perplexing parts of the episode however,  had nothing to do with Teresa's fingers. Cynthia holds Kenya to the fire for her lack of having her back at the Bailey-cue. Or is it that Kenya is connecting more with the others and Cynthia is struggling to bond?
Episode 4
It was here when I realized I had just one more episode left of the season before a new episode premiered.
*Cue the tears*
I absolutely loved this episode and the sleepover night. Clearly Ramona and Kyle did too because they both peed their pants from laughter. They ladies played games, drank a lot and just had good old fashion fun. Def a refresher from the more intense scenes, and for what would come the next day.
I also need to know if Melissa sold out of those matching silk PJ sets from Envy because I definitely need one.
One of the main differences between this spinoff and traditional Housewives episodes is the lack of the fourth wall. That wall has been broken, smashed and obliterated.  We are completely in on how the sausage is made. From why they show drink orders at restaurants to when certain things are discussed, it's definitely interesting and enlightening. I drank up every inch of the BTS tea.
Episode 5
What an uncomfortable episode to watch. Before we get into the fight between Ramona and Kenya, we must comment on this yacht ride, the blue water, and all of the looks the ladies showed up in. I still lust over Kyle's blue mesh dress. I need.
Tensions between Ramona and Kenya officially boil over on the yacht. The trigger? Ramona telling Kenya "f-ck you." According to Kenya, those were fighting words. Luckily Kyle was there to somewhat diffuse the situation, but that whole scenario was bad all around.
For starters, Ramona puts Luann's sex life on blast, which puts a bad taste in the ladies' mouths. All of this prompted Kenya to blow up at Ramona. While I don't disagree with what Kenya said, her message for sure got lost in the mess delivery. At one point, Kenya even smacks the drink out of Ramona's hand, which I thought was a bit overboard for the situation.
It's hard to see a pile up on one person. Albeit, Ramona deserves the accountability the ladies are giving her, but maybe not all at once?
Final Thoughts
We still have much more to come during The Real Housewives Ultimate Girls Trip, plus an entire new season with a new all star cast in the pipeline.
I think Bravo struck gold with this concept, especially with cast trips being so well received during traditional Housewives episodes.
What are your thoughts so far? Are there any housewives you don't love on their respective shows but have grown to like during RHUGT? Let us know!
You can watch the first five episodes now on Peacock and stream new episodes every Thursday!
---