RHONY Alum Dorinda Medley Will 'Make It Nice' For Fans Who Rent Blue Stone Manor On Airbnb
The estate is billed as 'The Disneyland of Housewives.'
Ashley Hoover Baker August 10, 2021 10:41am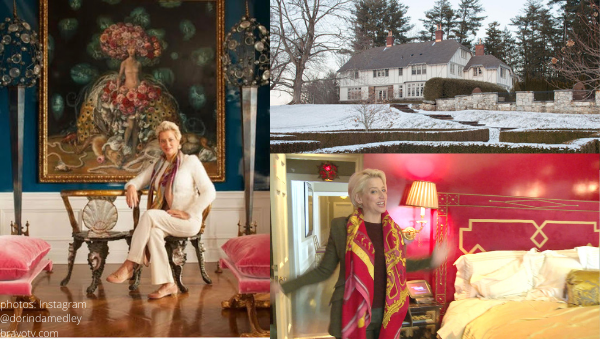 You can count on former Real Housewives of New York star, Dorinda Medley, to 1) tell it like it is, 2) make it nice.
In this unexpected turn of events, Bravoholics will have the opportunity to experience BOTH as Dorinda makes her literary debut AND as lists Blue Sone Manor on Airbnb for two one-night stays in late August.
How the idea transpired:
We can thank our friends at Airbnb for this one!
The team from the vacation rental company approached the former RHONY star with the idea to rent out the estate when they learned that she would be traveling as she promotes her new book, Make It Nice, which comes out August 17th.
The founder of Doorobics founder penned the "half memoir and half hosting guide," at Massachusetts' Blue Stone Manor over the past year while in quarantine.
To open the estate for fans as Dorinda travels to promote her book truly makes this a full-circle moment for the animated mother of one.
"I think after everything the world has gone through, just to have this experience up there, and not just see it on TV, but to touch it, feel it, know it, look at it — I really think people will have a great time," she says.
Blue Stone Manor logistics:
People reported, "Two lucky groups of up to four people will win the chance to rent out the entire estate for a night in late August with open access to all it has to offer — from scouting out the infamous fish room to exploring the 18-acre grounds."
Dorinda on her Tudor-style retreat:
"Blue Stone Manor has become this urban legend, that's sort of like the Disneyland of Housewives," detailed the RHONY fan-favorite.
"People know me for hosting, and I've made it so available on Instagram and on the show, so I think they're going to be very excited to see that it's real and functioning."
"Someone's going to be very lucky:"
Dorinda continued to dish, "I love to make people feel like my home is their home."
Bookings for the two stays will open on the Airbnb website on Wednesday, Aug. 18 at 12 pm ET.
The two available nights will be Monday, Aug. 23 and Wednesday, Aug. 25, and will cost each group $100 per night.
For those of us not so lucky:
If you'll be home suffering FOMO like I will, there will be a chance to attend a virtual Airbnb experience hosted by 'Doris,' which will be streamed live from Blue Stone Manor.
The online experience, "Make It Nice and Boozy," will include tips on hosting and "teaching fans how to make two signature cocktails, including her famous dirty martini."
"Make It Nice and Boozy" will stream Friday, August 27 at 4pm ET.
The best part?
All proceeds from "Make It Nice and Boozy" will benefit Ronald McDonald House New York, one of Dorinda's favorite charities.
Want to stay up to date with all things Bravo and beyond?
In addition to Blue Stone Manor, what are some other reality tv show locations you'd love to visit? Let us know in the comments!
---