Dorinda Medley's Guide to the Berkshires
She made it NICE!
Lara Sophia April 9, 2019 9:00am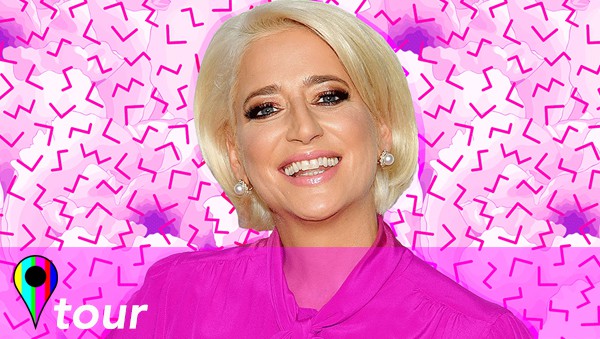 Dorinda Medley has helped make Real Housewives of New York fans fall in love with the Berkshires.
Greystone Manor is the center of the Berkshires universe for most RHONY fans.
However, it turns out there's so much more to the Berkshires then Dorinda's palatial estate.
With the help of the RHONY star, we're here to give you the ultimate Housewives-approved guide to the Berkshires.
Let's breakdown Dorinda Medley's Guide to the Berkshires!
First off, not all of us can be lucky enough to stay at Greystone Manor so obviously a place to stay is at the top of the list. Here are three fabulous options for your stay in the Berkshires.
The Red Lion Inn Village is located in Stockbridge, MA, and home to one of the most quintessential Berkshires hotels in the area. It's home to the iconic Red Lion Inn as well as Maple Glen, a 17 room guesthouse that features an unexpected twist on modern country. Many charming village houses are also located on the property along with several unique lodging options, such as our turn-of-the-century Firehouse. And while you are here, don't forget to meet Norman, our feline lobby ambassador, during your visit. He's usually hanging out in our side parlor, people watching and soaking up the sun.
Where Lakeside Luxury Meets Berkshire Charm. A waterfront, boutique-style cottage resort at the foothills of the Berkshires.
Lenox, MA's newest inn by home furnishings designer, Annie Selke, delivers the experience of a bed and breakfast with the amenities of a luxury hotel.
Dorinda's 4 Must-Dos for Culture Lovers
"There's a dense feeling of creativeness" in the Berkshires, Dorinda tells BravoTV.com. "It definitely has something, and you can't explain it till you're there."
Chesterwood
"You definitely have to go to Chesterwood," Dorinda says, which is the former country home and studio of sculptor Daniel Chester French. French is most well-known for creating the Abraham Lincoln sculpture for the Lincoln Memorial. His idyllic home shows off several of his plaster sketches. Visitors can also walk the gardens and woodland paths.
Tanglewood
According to Dorinda taking in a concert at Tanglewood is a MUST. Tanglewood is the summer home of the Boston Symphony Orchestra and offers outdoor concerts ranging in every genre from classical to pop. Guests can set up elegant picnics on the lawn and drink it all in as the music plays.
The Massachusetts Museum of Contemporary Art
"The incredible art museum in North Adams is mind-boggling," Dorinda says. The Museum is made up of light-filled galleries that house works from various artists including Nick Cave. At this venue, visitors can also take in live performances all year round including concerts, a world-music dance party, or "alternative cabaret" shows.
Shakespeare & Company
If cabaret isn't your thing, Shakespeare & Company gives you an excellent alternative for live entertainment. The professional theatre company presents classic and contemporary plays so no matter your taste this box office has you covered.
Allium Restaurant + Bar is the hip spot for craft cocktails and comfort-food-inspired New American fare that's locally sourced.
As seen on RHONY S10/E8: In the Berkshires, Dorinda gathers up the girls for dinner before the holiday festivities. Dorinda reveals that Bethenny has been spreading rumors about Adam not wanting to help out with the whole Puerto Rico trip without pay. "The only news here is that Bethenny has been talking sh*t behind my back." -Carole The other ladies are just happy that Carole has finally been speaking up. "You finally have a voice. I like it!" -Ramona
---