Eva Marcille Won't Be Returning To RHOA
"I decided to spend my time and energy focusing on my kids and my community."
Ashley Hoover Baker June 16, 2020 9:57am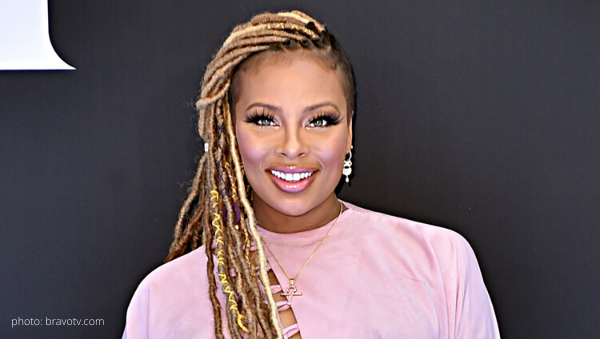 "I live a model life, now I'm ready to be a top wife."-Eva Marcille
After three seasons of Real Housewives of Atlanta, Eva Marcille returned her peach to Bravo. The season 3 champion of America's Next Top Model appeared on the Atlanta radio show, The Rickey Smiley Morning Show, to share her news.
Eva is putting her family first:
ETonline reported, "I believe my time is up. I have a 6-year-old daughter and two young boys still in diapers. They're 24-hours a day and there's a lot of work to be done," the mother of three explained. "So I decided to spend my time and energy focusing on my kids and my community, and not so much reality show business."
Eva detailed "It [filming] gave me so little time to be with my family, to bond with my new husband [Michael Sterling]."
Eva's focus is to impact culture:
The popular housewife had to determine what was more important- earning coin or making a difference.  "My question to myself is what is more important right now — is it the money or is it the movement and the culture and what I can impact? And to me it's a no brainer," Eva detailed.
Per reports from PEOPLE, Eva looks "forward to serving the community on Ricky Smiley Morning show and finding other ways to be a voice during this transformational time during our country for people of color."
Eva has nothing but love for her former co-stars:
"I appreciate the bond of friendship that I've made with my cast mates and strong personal relationships I have with numerous executives and producers of Bravo." The statement continued, "I am thankful for the opportunity I was provided, however, after speaking with my family and representatives, I believe that what I hope to accomplish for the culture and community will be better served by focusing on other opportunities."
Eva the Diva went on to praise her co-stars, saying, "I want to be very clear, even though we fought on the show, I love every single one of those black women. They are queens all in their own right. They are stars. And I wish them the most successful season and transformational season 13 that The Real Housewives of Atlanta has ever seen."
The Black Lives Matter movement on Bravo:
Eva's departure from Bravo stems from not only wanting to spend time with her family, but also wanting to be part of the change to benefit the lives for people of color.
Is it interesting to anyone else that Eva feels a need to remove herself from the immense platform that is Bravo to make a positive change in the BLM movement? That alone says a TON about the culture at Bravo toward minorities….
I recently had the founder of the change.org petition to reform Vanderpump Rules, Adrian Allen, on the On This Day Entertainment podcast to break down the problematic aspects of racial relations on Bravo, including the segregation of housewives shows. Check out the interview here!
Do you think Eva will have a better chance of making a difference by leaving Bravo behind? Sound off in the comments!
---