A List Of Our Favorite Fictional Nepo Babies
Ashley Hoover Baker December 26, 2022 6:33am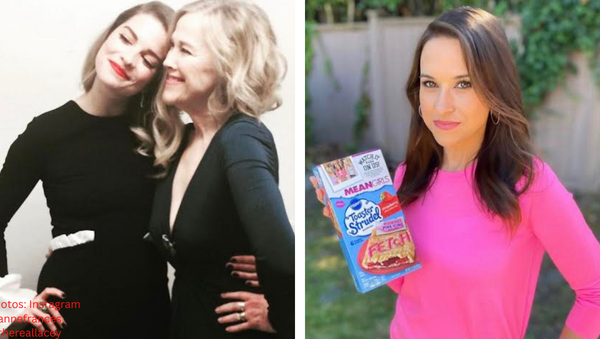 CollinsDictionary.com defines a nepo (abbrv. nepotism) baby as "an actor, singer, or famous figure who is likely only successful due to their even more famous parents."
The Nepo Baby buzz:
Since Nate Jones published the piece How A Nepo Baby Is Born, the internet was set ablaze with responses from celebrity spawns like Jamie Lee Curtis defending their talent to reality tv star, Lisa Rinna, telling others to simply "Own" the privilege of being born into a famous family.
After a weekend of Nepo Babies living rent-free in my mind, I stumbled upon a tweet from @shibuyadreams which got me thinking …
Gretchen Weiners when she read the nepo baby article pic.twitter.com/pn8cF9gO0G

— capri sun ♑🐐 (@shibuyadreams) December 22, 2022
In addition to Gretchen Weiners, whose father created Toaster Strudel in the film Mean Girls, who are some additional FICTIONAL NEPO BABIES?
Alexis Rose from Schitt's Creek:
Daughter of film and television's Moira Rose, Alexis Rose's father was the CEO of the second-largest VHS rental chain, Rose Video.
The iconic Schitt's Creek character, portrayed by Annie Murphy, got her big break as her mother's publicist for Interflix's horror film, The Crows Have Eyes 3: The Crowening.
The plethora of press Alexis's 'Immersive Experience' at Schitt's Creek's movie premiere received prompted Moira and Johnny's youngest child to move to New York to pursue a future as CEO of Alexis Rose Communications.
Never forget Annie's character got her first taste of celebrity in the "critically reviewed limited reality series, A Little Bit Alexis," in which she recorded the show's title track … which is a timeless bop.
View this post on Instagram
Hacks's 'DJ':
Kaitlin Olson portrays Deborah Vance's daughter, DJ, on the HBO Max Original show, Hacks and isn't too proud to use her mom's influence to get started on her own.
DJ starts D'Jewelry line with hopes of Deborah getting her designs on QVC.
Being a nepo baby of an iconic Las Vegas headlining comedienne (perfectly played by Jean Smart) wasn't always easy for DJ. In addition to struggles with addiction, DJ also resorted to selling unflattering photos of her famous mom to the paparazzi to earn cash on her own.
Has the conversation moved on to favourite FICTIONAL nepo babies yet? Because DJ and her D'jewelry empire would get my vote. pic.twitter.com/pak5bxuBd7

— Máire T. Robinson (@Mo_Is_Writing) December 25, 2022
Steve Sanders from Beverly Hills 90210:
Ian Ziering's character may have stolen West Beverly High's legacy key, but it was Steve Sanders who benefited from the legacy of his Hollywood starlet mom, Samantha Sanders.
Samantha Sanders was known as tv's mom on The Hartley House, and Steve had no qualms about letting everyone know.
Steve used his mom's fame to get girls and get out of trouble in his youth, but resorted to using his dad's influence later in life.
Rush Sanders's name was enough to earn Steve's spot in the fraternity, KEG, at California University. His dad even helped him launch his own publication, The Beverly Beat.
The snap below is of Ian Ziering, who played a nepo baby on tv with real-life nepo baby, Tori Spelling, the daughter of Aaron Spelling – who produced the groundbreaking teen drama.
Art imitating life imitating art.
View this post on Instagram
Olivia Pope from Scandal:
Kerry Washington's career-defining role as Olivia Pope in the political drama, Scandal, is yet another tale of a professional who got their start benefitting from their bloodline.
The Washington, D.C.-based crisis manager specializes in "fixing" political situations learned from the best … her parents.
Olivia's mom, Marie Wallace, was born in East London, to parents linked to the Marxist liberation front. Her dad, Eli Pope – also known as Rowan – was the commanding officer for the CIA division of B613.
Olivia Pope is a badass in her own right, but that doesn't change the fact that she grew up in an environment that primed her for The White House.
Which fictional nepo babies should we add to this list? Drop names below.
---