Tori Spelling Crosses Over From Beverly Hills 90210 To Real Housewives Of Beverly Hills
Tori isn't the only Spelling who is slated to be a 'friend of' Kyle Richards...
Ashley Hoover Baker October 17, 2020 7:18am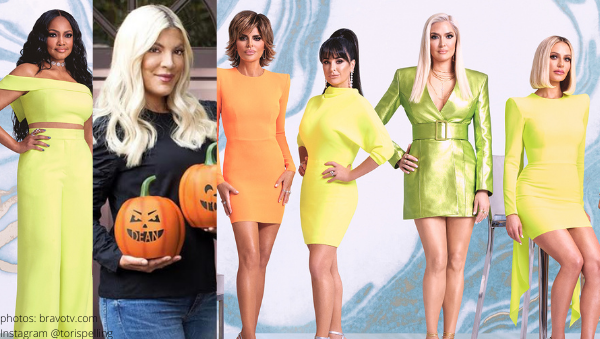 DONNA MARTIN GRADUATES….from West Beverly High to the Mean Streets of the Real Housewives of Beverly Hills that is! This is the Beverly Hills crossover we needed in 2020!
According to celebmagazine.com, a source has revealed that actress/reality star, Tori Spelling, will join the RHOBH cast in a 'friend of' role in 2021 for the show's 11th season. Never forget, Donna Martin started off in a supporting role before she became the Beverly Hills 90210's lead…
Tori isn't the only Spelling going to appear on RHOBH:
NO, I'm not talking about Tori's little brother, Randy Spelling, who joined his big sis on 90210 sporadically between 1992-2000!
Even better!
"Tori Spelling is doing Beverly Hills' Housewives with her mom, Candy [Spelling]. People who have followed Tori know her relationship with her mom has been contentious for many years," spilled the insider.
A Hollywood history lesson:
After Tori's iconic tv producer (Dynasty, Beverly Hills 90210, Melrose Place, Charmed and more!) dad died in 2006, Tori and her mom's already strained relationship plummeted and the duo stopped speaking.
Candy informed PEOPLE in 2009 that she and Tori weren't in communication, nor was she in contact with her grand kids. The estrangement influenced her decision to list her 56,000-square-foot mansion, where she had lived since 1991.
In 2019, Tori joined Bravo's daddy, Andy Cohen, in the Watch What Happens Live clubhouse to check in with her and her BH90210/real-life bestie, Jennie Garth. After a fan asked how Tori's relationship was with her estranged mother, she said, "It's good, really good right now."
With Tori and Candy's history of having a roller coaster relationship, I'm curious to see the Spelling family's dynamic. Just think of how much sisters Kim and Kyle Richards have given us over the years….
Back to Tori's BFF, Jennie:
In 2019, Tori went on the record stating she was 'sad' her bestie was offered a role on RHOBH when she had never been asked. The sTori Telling author detailed why she'd be a good fit for Bravo, "I'm married with a lot of kids, drama follows me everywhere, they've never asked me!"
Jennie was not at all interested in joining the reality tv franchise explaining, "I'm the furthest thing from a desperate housewife." Though the actress was clearly confused with her housewife references, think it's fair that Kelly Taylor may have become a Desperate Housewife, unlike Jennie. But, I digress…
Want to stay up to date on all the latest reality tv and celebrity news?
Check out the On This Day Entertainment podcast for the latest news and gossip about your favorite shows from today and yesterday! Here is the most recent episode.
Are you excited for Tori and Candy to join their friend Kyle on RHOBH? Drop your opinion off in the comments!
---