Update- RHOBH's Lisa Rinna Reacts To Getting Booed At BravoCon 2022
This was the "greatest f*cking thing that's ever happened to me."
Ashley Hoover Baker October 14, 2022 3:34pm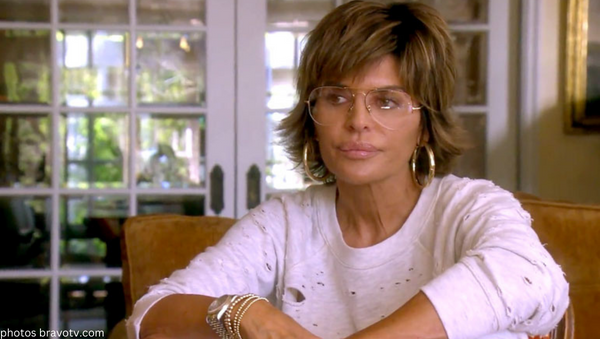 Updated post 10/14/2022 @15:34
Lisa Rinna was unaffected after getting booed at BravoCon 2022. "I thought it was a rite of passage."
After reminding Extra TV of her 30+ career in Hollywood, the former soap star admitted she has never been booed in her life.
Lisa quipped, "Wow, that's cool" before asking "Is there something wrong with me." Mind you, this is just after realizing her reaction wasn't in line with the rest of her castmates.
Getting booed was the "greatest f*cking thing that's ever happened to me," boasted the wife and mother of two.
.@lisarinna reacts to getting BOOED at #BravoCon, talks Kathy Hilton fallout and being called "mean." https://t.co/w6DorlasUJ#RHOBH @bravotv pic.twitter.com/4oi3D7fAxG

— ExtraTV (@extratv) October 14, 2022
Do you believe Rinna was unaffected or do you think she was trying to save face? Sound off below.
---
Original post: 10/14/2022 @14:32
Fans shared their disdain for Real Housewives of Beverly Hills' Lisa Rinna, who made an appearance on Day 1 of BravoCon after previously stating she was unable to attend.
Booed:
Dressed in a pumpkin-colored pantsuit while donning her natural hair, the controversial RHOBH star walked onto the stage at NYC's Javits Center and was met with thousands of disgruntled fans who literally booed her onstage.
In true Lisa Rinna form, the actress-turned-reality-star-turned-real-life-Disney-villain responded to the crowd by flipping them off.
Own it:
According to reports from People, Lisa understands why fans were left with such a sour taste in her mouth after her season 12 performance.
"How about when I screamed at Sutton? I mean, that was really intense. The two times I screamed at Sutton, how about that? … To see it back, I was quite horrified."
I type this next quote as a proud Bravoholic. The room filled with 4,000 fans held Rinna accountable (without the help of an accountability coach, for the record) by yelling "Owning it!" at the former Days of our Lives actress.
Rinna agreed, "Owning it, yes baby!"
See for yourself:
Lisa Rinna getting booed walking onstage at #BravoCon 💎 #RHOBH pic.twitter.com/hNgudIl5MK

— Gibson Johns (@gibsonoma) October 14, 2022
If you were at BravoCon, would you have booed Rinna? Sound off in the comments.
---