Celebrity Re-Watch Podcasts: A Cumulative List
Are there any comfort shows you WISH would create a rewatch pod?
Ashley Hoover Baker January 3, 2023 10:16am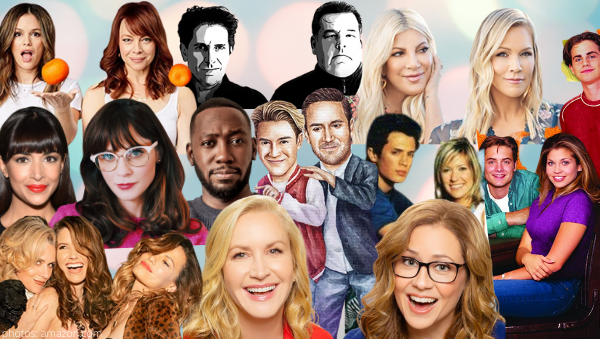 Nostalgia lovers, this one's for you…
If you are anything like me -built of equal parts water, junk food, and anxiety- you may have the superhuman ability to re-watch Schitt's Creek, Friends, or Golden Girls reruns incessantly without ever tiring of the cast or plot.
According to science, WE ARE NOT ALONE!
Psychologists concluded that "repetition breeds affection."
"Familiar fare requires less mental energy to process, and when something is easy to think about, we tend to consider it good. A movie we've seen seven times before is blissfully easy to process," as per
The Atlantic.
The scientific term for this is "mere exposure effect." Essentially, audiences will tend to like something more merely because of previous exposure.
Lucky for us, many of our fav celebs have also embraced society's need for "comfort" during these trying times and have launched (or are about to launch) podcasts breaking down their popular shows and sharing behind-the-scenes anecdotes with their loyal fans.
What a time to be alive!
Here is a growing list of all the 'celebrity re-watch podcasts' hosted by the show's cast and crew, for your entertainment – and, of course, to satisfy your insatiable need for nostalgia.
Beverly Hills 90210
9021OMG's Apple Podcast description teases, "It's been THIRTY years since we walked the halls of West Beverly High, since we all hung out at the Peach Pit, since Brandon and Kelly had their first kiss, since we shouted Donna Martin Graduates!"
"Jennie Garth and Tori Spelling are here for it all! Join them as they rewatch every episode from the very very beginning. Discover all the behind-the-scenes juicy details you've dreamed about for thirty years. Superfan and radio host, Sisanie, sits in to guide them through it all. Listen each week and relive it all with your favorite 90210 BFFs. Reminisce, Reflect, Rewatch. 90210MG."
Variety.com announced "Laguna Beach" stans will get a dose of tea from stars Kristin Cavallari and Stephen Colletti in the first rewatch podcast hosted by former cast members of the fan-favorite reality TV show from the 2000s.
"Back to the Beach With Kristin and Stephen," to premiere this summer [2022], comes from podcast production company Dear Media, which has ordered 40 episodes across two seasons.
I think it's fair to say KCav is far from DUNZO when it comes to early aughts nostalgia.
Battlestar Galactica 
"BSG star Tricia Helfer and TV writer/journalist Marc Bernardin do an episode-by-episode rewatch of Battlestar Galactica in its entirety, diving deep into the themes of the award-winning sci-fi classic and revealing behind the scenes details that only a true BSG insider like Tricia would know," according to the podcast's description.
"In addition, the podcast will welcome members of BSG's cast and crew into the airlock to share their memories of making the groundbreaking series."
"Married on television and friends in real life, Derek Phillips and Stacey Oristano invite listeners to take a trip back to Dillon, home of the Panthers and the Lions, as they break down iconic show moments, share behind-the-scenes stories, and answer fan questions," according to the pod's official website.
"Along the way, they'll be joined by special guests from the Friday Night Lights family: writers, directors and fellow cast members."
The podcast's iHeartRadio description asks listeners to venture "back to high school. The ups and downs, the loves the losses, the struggles the triumphs, being together with your friends…feeling every emotion of it."
"Is 23 more than just a number to you? Do you respond to people by saying I don't wanna be anything other than what I've been trying to be lately? Do you expect to have life-changing moments while caught in the confetti or the rain? Are you One Tree Hill obsessed?…it's OK…we're here for you. You can sit with us."
"Are Brooke, Peyton and Haley your BFF goals? These Drama Queens are getting back together!! Bethany Joy Lenz, Hilarie Burton and Sophia Bush are the biggest Drama Queens and they are here with you to dissect every episode, deliver every detail you must know, and devote themselves to you as you rewatch every single scene together. Join Joy, Hilarie and Sophia each week. Relive it, Relove it, Rewatch it …every One Tree Hill minute of it. Be a Drama Queen. Drama Queens."
Scrubs
"You know what's long, tedious and boring? Surgery."
"You know what isn't? This new podcast!"
"Join Scrubs co-stars and real-life best friends Zach Braff and Donald Faison for a weekly comedy podcast where they relive the hit TV show, one episode at a time. Each week, these BFFs will discuss an episode of Scrubs, sharing behind-the-scenes stories and reminiscing on some of their favorite memories from filming. They'll also connect with Scrubs super fans and feature beloved show cast members for exclusive interviews," as described on the podcast's iHeartRadio home page.
Hey Dude 
"Break out your slip dresses, choker necklaces and throw your hair in a butterfly clip because we're taking you back to the 90s," teases the Nickelodeon cult-classic celebrity re-watch podcast featuring David Lascher and Christine Taylor.
Your favs from Hey Dude are "going full rewind to the 90s in their new podcast also titled…'Hey Dude…The 90's Called!" according to the show's bio on Apple Podcasts.
"The 'Hey Dude' podcast will be chock full of interviews, co-stars, friends, cocktails and crushes. Each episode will rival the feeling of taking out the cartridge from your Gameboy, blowing on it and popping it back in."
Gilmore Girls
The iHeartRadio podcast description teases, "Twenty years ago, you met Luke Danes…backward cap, plaid flannel, pouring the coffee. For the VERY first time, Scott Patterson (aka Luke) is watching Gilmore Girls. 154 episodes and 4 movies. We'll visit Stars Hollow, Doosey's Market, Miss Patty's, Mrs. Kim's antique shop and more pop culture references than you can count."
"Join us whether you're Team Dean, Team Logan or Team Jess. And, we'll see if we can figure out 'who's the daddy.' We'll talk fast, and if you can smell snow, if Paris isn't just a city in France, and Friday night dinner is a requirement… you don't want to miss this. Finally, cell phones are allowed. Listen everywhere you listen to podcasts. I AM ALL IN."
It's Always Sunny In Philadelphia
Apple podcasts noted, "The Always Sunny Podcast is an unofficial look back on the past fourteen seasons of the hit show, It's Always Sunny in Philadelphia, hosted by Glenn [Howerton], Charlie [Day], and Rob [McElhenney]."
"With the fifteenth season dropping December 2021, the guys are going back to where it all began: 2005. Starting with the very first episode, they'll rewatch every season and give us a deep dive into their memories of creating the show, reveal how they first met, and discuss how they created a lasting partnership that has endured the better part of two decades. That is, if they can remember any of it."
The Office 
"The Office co-stars and best friends, Jenna Fischer and Angela Kinsey, are doing the ultimate The Office re-watch podcast for you," according to the pod's website.
"Each week, Jenna and Angela will break down an episode of The Office and give exclusive behind-the-scene stories that only two people who were there, can tell you."
Boy Meets World 
Topanga
Danelle Fishel
took to her Instagram page to share the news that she will be joined by
Ryder Strong
and
Will Friedle
as they take audiences "
back to school!"
Danielle promises the gang will "travel back to 1993 and rewatch the entire Boy Meets World series for *the very first time.* We will have very special guests, including: @mrbilldaniels, @trinamcgeeofficial and @matthewlawrence (among many others) and we can't wait to deep dive into the laughs, the tears, and ALLLLLL the behind the scenes stories with you."
The Real Housewives franchises
Former Real Housewives of New York star, Bethenny Frankel, is "putting the real back in Real Housewives" with a new iHeartMedia rewatch podcast.
Premiering Nov. 14, B will rewatch iconic episodes throughout the Bravo franchise's history, including classics like like RHONY's Scary Island, the Real Housewives of Beverly Hills' Dinner Party from Hell, and the Table Flip episode of Real Housewives of New Jersey.
Bethenny dished to People about what sets her podcast apart from former Real Housewives. "So it's really about the real dynamics that are going on underneath, which I find to me more interesting anyway, and not the low-hanging fruit trash that others take away from it."
View this post on Instagram
Supernatural
Hosted by Rob Benedict (Chuck) and Richard Speight Jr. (Gabriel,) Apple's podcast description teases, "In 2005, Sam and Dean Winchester set off on a road trip that would save the world and change television. For fifteen seasons and three hundred and twenty-seven episodes, the CW's Supernatural (created by Eric Kripke) took audiences on a wild ride of family, fate, and faith with a rocking soundtrack and a seriously cool car. But that was then and now … it's time for another ride."
Supernatural: Then and Now is described as a "winding road trip through every episode of this iconic series, one by one, every week, with guests each episode from the cast and crew that made the wild ride possible."
"Buckle up for guests including Jared Padalecki (Sam), Jensen Ackles (Dean), and Robert Singer (Executive producer), as well as many many more."
The Sopranos
"Michael Imperioli and Steve Schirripa host TALKING SOPRANOS, the definitive Sopranos re-watch podcast," according to the podcast's website. "Michael and Steve will follow the Sopranos series episode by episode giving fans all the inside info, behind the scenes stories and little-known facts that could only come from someone on the inside."
"Talking Sopranos also features interviews with additional cast members, producers, writers, production crew and special guests. Along with talking about the Sopranos, Michael and Steve will also share candid conversations about the entertainment business, their friendship and all the folks they've met along the way. This is a must listen for all Sopranos fans."
The Good Place Podcast
The Good Place
Hosted by actor Marc Evan Jackson (Shawn) with a rotating slate of co-hosts and special guests, including actors, writers, producers and more, this podcast takes a deep dive into everything on-screen and off-screen.
The OC
"Join the original OC bitches, friends and co-stars Rachel Bilson and Melinda Clarke, for a trip back to the early 2000s. Zip up your Juicy Couture tracksuits and grab a seat by the pool while they deliver the ultimate OC-rewatch podcast."
According to the show's Apple Podcasts description, "Each week they'll take you back to a particular episode, share behind-the-scenes scoop, and interview guests who were part of the OC experience."
New Girl
Apple podcasts invites you to "Go behind the scenes of Apartment 4D with the crew who called it home for seven incredible seasons."
"Each week, real-life friends Zooey Deschanel, Hannah Simone, and Lamorne Morris rewatch their Emmy nominated series, New Girl, and reveal the never before told behind-the-scenes escapades."
"Join them as they go bear hunting for every grizzly hidden in the background. Plus, each week, they play a different version of the True American game. Here, the rules don't make any sense, and you'll leave more confused than when you arrived. But it's always a good time with best friends. Speaking of besties – they're inviting all of the loft's favorite guest stars, writers, and directors to share their adventures on set."
Gossip Girl
"Hosted by Jessica Szohr, XOXO is the ultimate deep dive into the cultural phenomenon known as Gossip Girl."
"Featuring interviews with the cast and crew, as well as moguls in music, fashion, and entertainment, Jessica will bring to life behind-the-scenes stories, on-set memories, New York City, fan favorite episodes, and more."
iHeartRadio promises, "Each week Jessica and guest will break down a new episode of the hit TV show that transformed the culture of today and changed the lives of the cast and crew – in addition to millions of fans across the world."
Saved by the Bell
"Mark-Paul Gosselaar (Zack Morris) has not watched an episode of Saved by the Bell since he walked off the set over 25 years ago. Partnered with Dashiell Driscoll – who is currently writing for the series reboot and who wrote the Funny or Die series "Zack Morris is Trash" – the duo revisits the show and recaps the most epic moments for the audience to relive the incredible series."
"So grab a burger and shake from The Max, get so excited for some special guests and don't let the dog eat your homework, because Zack Morris is back." …and can be found on Amazon podcasts.
Has your favorite "comfort show" ventured into the rewatch podcast universe? Are there any shows you WISH would create a rewatch pod? Are there any great listens you want to recommend from this list? Drop off all your thoughts in the comment section.
---