One Tree Hill Stars - Where Are They Now?
Theres's only one Tree Hill, and it's your home!
Imani Craig May 29, 2022 2:42pm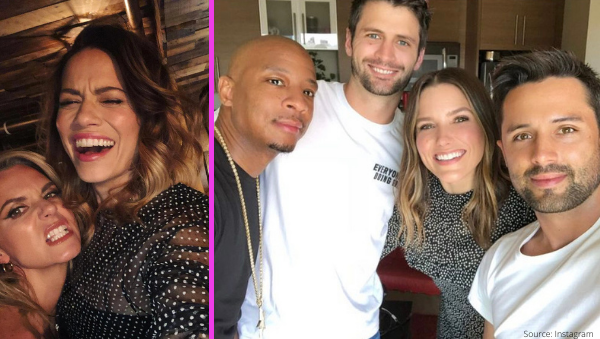 Alexa, play "I Don't Wanna Be" by Gavin Degraw!
It's been 10 years since One Tree Hill ended, and if you're anything like me, Tree Hill is still "your home."
If you've never watched the early 2000s teen drama, allow me to introduce you to your next throwback binge watch.
One Tree Hill follows the lives of 2 high school basketball stars who happen to be half-brothers. Throughout the show's 9 seasons, you'll laugh, you'll cry (a TON), and you'll fall in love with the people who populate the fictitious town of Tree Hill, North Carolina. Then you'll likely cry again.
So, where are Nathan, Lucas, Haley, Brooke, and Peyton these days? No clue! But, at least we can catch up with the actors who brought to life the best friends we wish we had.
Where are they now?
Chad Michael Murray
The king of 2000s romcoms! Chad Michael Murray played "Lucas Scott" in the popular drama. Murray went on to play Edgar Evernever in another CW show, Riverdale, and starred in multiple Christmas movies.
Murray is married to Disturbia and Fired Up actress Sarah Roemer. The private couple share a son and daughter together.
Sophia Bush
Sophia Bush played the iconic fashion designer, Brooke Davis". Since the show wrapped, Sophia went on to continue playing bad ass women in projects like Chicago PD as Detective Lindsay, and Good Sam as Doctor Sam Griffith —  a show Sophia both starred in and produced.
Not only has Bush continued her colorful and diverse acting career, she's also an accomplished activist and podcaster. Sophia dedicates her social media platforms to advocating for social change. She continues this discourse over on her podcast, Work in Progress. Sophia interviews industries leaders, politicians, actors and professionals who help to move the needle forward in their respective industries.
Sophia recently got engaged to partner, Grant Hughes. The couple are set to wed sometime this year!
James Lafferty
After finishing his role playing "Nathan Scott" in One Tree Hill, James took off his basketball shoes, and put on his director's hat! James went on to write and star in Everyone's Doing Great, a show he wrote with One Tree Hill costar, Stephen Colletti. The show follows two friends, Seth and Jeremy, five years after their hit show has ended.
When James isn't writing shows that seemingly echo his own life, he's getting married to his longtime partner, Alexandra Park. The couple reportedly just got married in Hawaii after being publicly linked to each other since 2018.
Bethany Joy Lenz
Much like her character "Haley James Scott", Joy went on to establish herself as a musician. Since OTH ended, Joy released multiple records to include her popular Christmas album, Snow. Speaking of Christmas, Joy starred in Christmas movies on both Lifetime and Hallmark. On the flip side, Joy starred in thriller, So Cold the River, playing documentary filmmaker Erica Shaw.
Lenz has an 11 year old daughter named Maria, and the pair live on a farm in California!
Additionally, Joy is currently working on a musical.
So Haley James of her!
Hilarie Burton Morgan
When Hilarie left One Tree Hill as "Peyton Sawyer Scott" in season 6, she went on to star in her next major role, mom! Hilarie married actor Jeffrey Dean Morgan. The two have a 12 year old son, Augustus "Gus", and a 4 year old daughter, George.
Hilarie is also a best selling author. She released her first autobiography, The Rural Diaries, which chronicles her life as an actress, farmer, and mother. Within the book , Hilarie shares stories about her life working on other shows, like White Collar, life on her farm in upstate New York, and her struggles with infertility.
Today, Hilaire Burton and Jeffrey Dean Morgan have an alcohol line called MF Libations . The brand consists of MF Blackberry Gin and MF Bonfire Rye. MF being an homage to their farm named, Mischief Farm.
Burton and Morgan tied the knot in 2019, after having been together for 10 years at the time.
Shantel
VanSanten
Shantel played Haley's older sister "Quinn James."  Unlike her character on One Tree Hill, Shantel went on to play roles a bit more intense on FBI, Shooter, and The Flash.
In addition to her acting career, Shantel spends her time advocating for a charity near to her heart. In fact in 2021, The Lung Association awarded Shantel with the prestigious Chairs Award for her long-time volunteer leadership and advocacy for the organization.
In 2021, VanSanten married Canadian actor, Victor Webster.
Jana Kramer
Much like her character "Alex Dupree" on One Tree Hill, Jana is a bonafide country music star. One of her recent hits is titled, The Story, which is about her life post divorce from ex-husband Mike Caussin. The pair share 2 children – Jolie, 6, and Jace, 3.
Jana now has a popular podcast, Whine Down. with Jana Kramer, that she shared with her ex-husband prior to their split.
If you're a fan of her podcast, you can see her on tour, here.
Stephen Colletti
Some of you know him as Chase, but others know him from his Laguna Beach days! Luckily for fans, he's left North Carolina and is heading back to Orange County.
Stephennnn's recently announced podcast is with his Laguna Beach co-star, Kristin Cavallari. As of now, the podcast is titled Back to the Beach With Kristin and Stephen. Dear Media has ordered 40 episodes across two seasons, with the premiere scheduled for this summer.
Austin Nichols
Austin played Hollywood producer, "Julian Baker" on One Tree Hill. Since the show, Nichols has starred in The Walking Dead, Bates Motel, and Walker.
Like his character in OTH, Austin traded in flashing lights for a more quiet life, relocating to Austin, Texas.
Robert Buckley
After saying goodbye to sleepwalking "Clay Evans", Buckley moved on to iZombie! After iZombie, Robert found a home at Hallmark, starring in television series, Chesapeake Shores, as well as a few Christmas movies.
Still nostalgic for more?
You can get your One Tree Hill fix every Monday via the Drama Queens podcast. Hosted by Sophia Bush, Hilarie Burton Morgan, and Bethany Joy Lenz, the former costars rewatch and recap each episode and give all the behind the scenes tea. Some of the cast joins them each week as well. You're welcome!
You can stream One Tree Hill now on Hulu and HBO Max.
Don't say I never gave you anything!
---