Teresa Giudice Admits Joe Gorga Walked Off RHONJ Reunion Set Because Of Her
"Andy Cohen asked me a question and I gave my answer."
Ashley Hoover Baker April 28, 2022 11:40am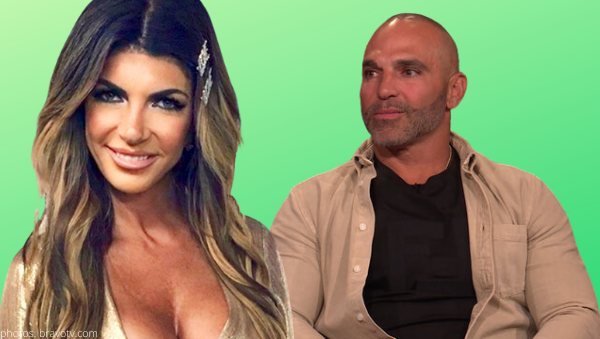 Family Feud:
Real Housewives of New Jersey star, Teresa Giudice, explained why her brother, Joe Gorga, walked off of the season 12 reunion set.
Different perspectives:
In an exclusive interview with US Weekly, the mother of four daughters admitted, "Andy Cohen asked me a question and I gave my answer."
"So, when I gave my answer, my brother's like, 'There you go putting me down.'"
Teresa insisted, "I'll take the blame. I don't care. Blame it on me. … Andy asked me a question, I answered the question. It was my opinion and he didn't like my answer."
Family first:
Tre told US Weekly, "And I'm like, 'First of all, I would never put my brother down. I love my brother.'"
"He's my only sibling. I absolutely adore him. Like, he's my baby brother [and] no matter what, I'll always take the fall for him [because] I'm the older sister."
"I'm not trying to put my brother down," she insisted. "That's just how I feel and how I felt like my answer goes."
"Listen, I never wanna fight with him on TV and what he said that hurts my feelings."
Family matters:
In early April of 2022, rumors circulated regarding why Joe walked off the reunion set involving the on-screen fight he had with his niece, Gia Giudice.
With the information Bravoholics have so far, it's a *definite maybe* that the subject that Tre and Joe had differing opinions on involved Teresa and Joe Giudice's oldest dorter daughter.
"It's just very sad [and] I know my parents wouldn't like for him to be saying that. I don't know how he would like it if [his sons] Gino and Joey would say that to [his daughter] Antonia, like, that's something you don't say, but it's OK, I don't care. I'll take all the bullets you want."
ICYMI:
In a season 12 RHONJ reunion preview, Joe told his sister, "You gotta stop putting me down" before storming off the set.
After calling Tre a "f*cking moron" Joe suggested she, "Act like a sister."
See for yourself!
Want to stay up-to-date on all things Real Housewives?
Do you think Tre and Joe's reunion disagreement stemmed from his dispute with Gia? Sound off in the comments.
---