VPR's Stassi Schroeder And Kristen Doute Apologize To Faith Stowers
The OGs of VPR racially profiled and called the cops on Faith.
Ashley Hoover Baker June 7, 2020 4:46pm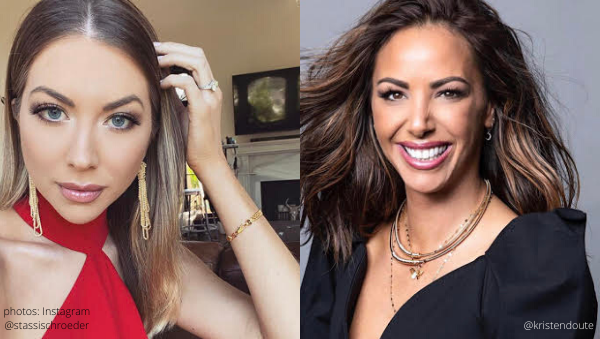 Stassi Schroeder and Kristen Doute publicly apologized publicly to Faith Stowers about racially profiling her and even calling the cops on her during her time on Vanderpump Rules.
In case you missed it:
On Wednesday, June 3rd, Faith had a conversation on Instagram Live with Floribama Shore star Candace Rice and explained the racism she experienced while on Bravo's hit show, from unbalanced aftermath of her affair with VPR's Jax Taylor, to the time Stassi and Kristen racially profiled her and called the police on her, and how Lisa Vanderpump's actions 'shocked' Faith the most. Here is the full scoop!
Fans react:
Vanderpump Rules Facebook groups blew up after Faith spoke up on how she was treated. One fan took to Facebook to write, "I'm so disappointed. She's very privileged to not be aware how bad it could have been if the cops went after Faith. I feel like many people in the black community forgave her for the Oscars comment and many women forgave her for the #metoo comments. For her to say she was sorry and then do this is a shame. I really hope she takes time to reflect, learn, educate and prove to others than she won't continue these actions."
Another Facebook user wrote, "Yikes. I remember this but didn't truly understand how problematic it was at the time. Hearing it from Faith's point of view makes it very real and very disgusting 🙁." It appears that the Black Lives Matter movement is doing its job and making people see things differently. 
"I still can't believe this wasn't a bigger deal when it happened," commented another regarding Stassi and Kristen's behavior.
Some of Stassi's fans wanted to hear from their Khaleesi for themselves before passing judgement. "This is really sad to hear, I'm going to reserve my opinion until I hear any statement from Stassi Schroeder. Maybe there is an explanation or circumstances we don't know about."
After four days, the former Witches of WeHo released statements to their Instagram accounts…
The apologies:
Kristen 3:09 pm on June 6, 2020-
The James Mae owner chose a black background and white font to make her statement that includes her stating her actions were NOT racially driven and she feels 'ashmaed, embarrassed, and incredibly sorry."
View this post on Instagram
Instagram's @brav__ho wrote, "I hope you privately apologized to Faith before releasing this statement written by your team." (I was thinking the same thing!)
Another commented, "Accountability, keeping your comments on, and listening to people is the right approach. ✌️," while another asked, "But why did it take u so long to come up with an apology?"
Stassi 3:15 pm on 6/7/2020-
Six minutes later, the New York Times best selling author of Next Level Basic released a post that looked similar to Kristen's. Stassi stated that emotions over what happened to Jax's now-wife, Brittany Cartwright, 'outweighed her logic.'
View this post on Instagram
Instagram's @therealitybitch commented, "No one believes you 'still feel the remorse' from years ago. Your actions and how you treat people don't show that you have any empathy in your soul. Poor Beau. I hope he's doing okay because your royalty fucked up and should of been canceled in 2017."
Another Instagram user wrote, "guys c'mon [sic] live and learn. We are trying to end racism, she apologized now let's move on. We want people to learn from their past mistakes."
Here are ways to help support the Black Lives Matter movement, courtesy of Faith:
Do you feel that Stassi and Kristen's apologies are sincere? Sound off in the comments!
---