Teresa Giudice "Can't Relate" To Jen Shah's Criminal Activity
"I would never do that. That's so bad."
Ashley Hoover Baker January 11, 2023 9:04am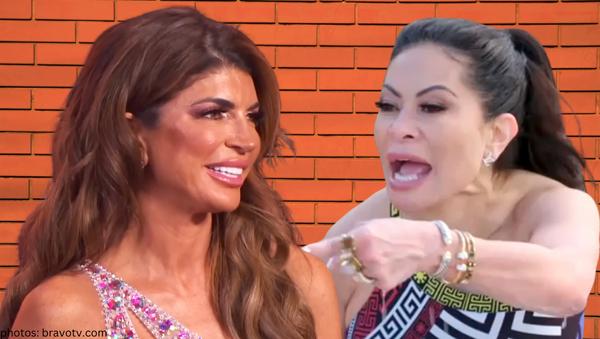 Apples and oranges:
Teresa Giudice and Jen Shah are both Real Housewives who have been sentenced to prison time, but the RHONJ star "can't relate" to the prison-bound Salt Lake City housewife's crimes.
On Wednesday, January 11th's episode of Tre's Namaste B$tches podcast, the newlywed made it very clear that Jen Shah's crimes were intentional and malicious, unlike the crimes she served time for back in 2015 of which she was "innocent."
Teresa reminded the audience that her prison sentence – which was less than a year – was for UNKNOWINGLY signing papers that allowed her then-husband, Joe Giudice, to commit fraud.
Jen, on the other hand, knew exactly what she was doing (spearheading a telemarketing scheme and wire fraud) and who she targeted (sick people and senior citizens) earning herself a 6.5-year stay in Shah Chalet 3.0 (aka prison.)
"I can't relate to that (Jen's crimes targeting vulnerable people) because I would never do something like that," announced the Real Housewives Ultimate Girls Trip season 1 star. "I would not do that. I would never do that. That's so bad."
"Listen, it's sad. But, like, I wouldn't steal anybody's money," explained the mom of four dorters daughters.
Speaking of children …
The Tre/Jen comparison "bothers" Teresa for multiple reasons. Another being they are both mothers.
Teresa knows her kids believe she served time in camp prison for a crime she didn't intentionally commit, as their father told them the truth. "I know my kids know that I didn't do anything. Joe told them."
Jen's kids had a much different hand dealt to them as their mom faces 6.5 years in a Texas prison facility for crimes she not only facilitated but tried to hide from the feds.
"When you're stealing from people, and the kids could read this, and they're like, 'Mom, well why'd you do this?' Like what do you say to your kids to that?," elaborated Teresa.
In case you want to hear the convo for yourself, the Jen Shah rant begins five minutes and fifty seconds in. 
Do you think the Teresa/Jen comparison is fair? Drop your opinion in the comments.
---