Court Doc Reveals RHOSLC's Jen Shah "Was Going To Kill" Her Paramour's Wife
Jen called "me a whore and a bitch. Then yells that she will wait all year for me."
Ashley Hoover Baker January 5, 2023 5:29pm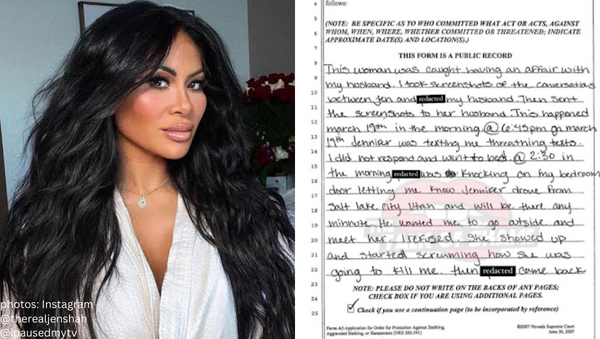 Legal documents prove that Real Housewives of Salt Lake City's Jen Shah threatened a woman's life. The court granted the woman a restraining order to protect her from the future reality tv star.
This mess came about because Jen cheated on Coach Shah with this woman's husband. The following is a transcription of her handwritten recount of the incident.
Jen "was caught having an affair with my husband. I took screenshots of the conversations between Jen and my husband. Then sent the screenshots to her husband."
"This happened March 19 in the morning. @ 6:45 pm on March 19th Jennifer was texting me threatening texts."
The woman didn't respond to Jen's messages, which pissed Jen off … enough for Jen to cross state lines to approach her lover's wife in her own home.
For reasons I can't wrap my head around, the man Jen was cheating with wanted his wife to meet his mistress, but his wife "refused."
The personal recollection from the legal form continued, "She showed up and started screaming how she was going to kill me."
Her husband returned to her to ask again for her to see Jen face-to-face to which the woman refused again. "He went back outside with her and I grabbed my phone and started recording her."
"She proceeds to scream at me calling me a whore and a bitch. Then yells that she will wait all year for me."
"Then [cheating husband's redacted name] and Jen left. I called the cops. The officer arrived and I filed a complaint and showed her the video."
"Then the officer called her and she did not answer."
"She left a message telling her she needs to not come back and that I feel unsafe and harassed. The cop said to stop all contact."
"Then 5 min later I got a text message from her saying she's going to have me arrested for harassment. The officer said she's doing this because I have started a harassment charge on her."
"Then 10 min later I got a notification someone was trying to access my personal email account."
The woman made it clear to the court that she had receipts. "I have saved all videos and screenshots."
The Instagram account that posted the documents, @ipausedmytv, made a fair request. "WE NEED THOSE VIDEOS THAT SHE SAVED ON HER PHONE FROM THAT NIGHT STAT!!!"
View this post on Instagram
Do you think the court sentencing Jen on 1/6/2023 will take this incident into consideration? Sound off below.
---