RHOSLC Star Jen Shah Spotted At Airport Heading To NY For Prison Sentencing
"Those boots are made for walkin' right into prison."
Ashley Hoover Baker January 5, 2023 8:57am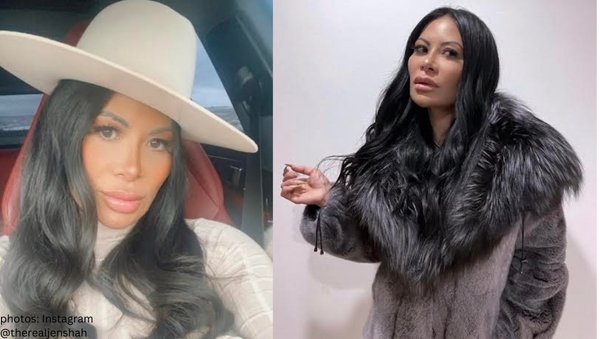 The self-proclaimed Queen Bee and MVP of Real Housewives of Salt Lake City, Jen Shah, is en route to meet her fate … literally.
The controversial RHOSLC star was spotted at the Salt Lake City airport on her way to New York, where Jen will receive her prison sentencing on 1/6/2023. (The countdown is on!)
Fashion choices were made as Jen chose to stack gold bracelets and don oversized rings, all while adorning a black fur coat as she walked through the SLC airport … while Coach Shah, appeared to be social distancing from his wife.
Clearly, I don't need to point out Jen's knee-high, high-heeled leopard print boots; however, I do have to ask … are those the same boots she wore to her initial court hearing?
Thanks to podcaster @nofilterwithzack for the literal *boots on the ground* content.
View this post on Instagram
Clink clink:
The majority of commenters hope to see justice for the lives affected by Jen's telemarketing scheme that targeted senior citizens and sick people, though some showed empathy for the 'Shah-mazing' reality star.
"Guilty or innocent I feel horrible for her family"
"I guess they forgot the bag and jewelry when taking her stuff I bet they take her into custody Friday"
"She would Lose her Mind if someone did that to her mother and stole all her mothers retirement money"
"Can I over analyze this for a second? Thx. Coach shah ain't happy. He is distanced from her and not at all walking in a close or protective way like I'd think he would. I can't blame him. Body language is interesting"
"Those boots are made for walkin' right into prison"
"I'd like to think it's her walk of shame, but she has no shame. I think she deserves to serve at least 10 yrs in prison. Preying on the elderly or anyone that is vulnerable is especially despicable."
"Coach looks good tho 🔥"
"What a nightmare…even of its been well earned. 😵‍💫"
"Dead Man Walking"
"Xoxo gossip girl"
Do you think Jen's flaunting of her fake wealth at this stage in the criminal proceedings will negatively affect her prison sentence? Sound off below.
---