Jen Shah's EXACT Prison Sentencing Has Been Announced
Jen is headed to Shah Chalet 3.0 (prison) on February 17, 2023.
Ashley Hoover Baker January 6, 2023 7:58am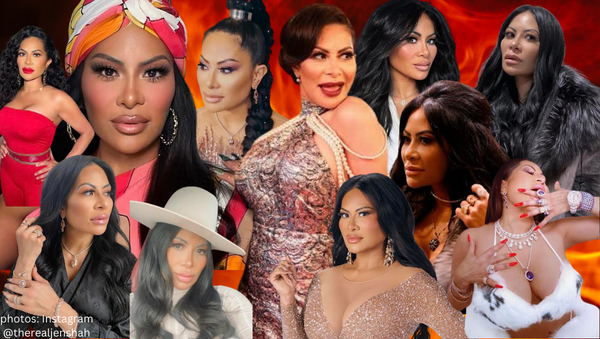 Post updated 1/6/2023 @7:58
Clink! Clink!
The Shah-pocolypse is upon us.
Real Housewives of Salt Lake City star, Jen Shah, will serve time in prison for a telemarketing scheme that targeted sick people and senior citizens … 6.5 years in fact!
Jen must surrender herself into prison on February 17, 2023. The judge would not grant Jen's request for a specific prison in Texas. "I am not going to designate a specific facility. I'll just say Texas region."
In a nutshell, much like Jen caused a scene when choosing rooms while vacationing on RHOSLC, she wanted dibs on her prison of choice.
Judge Stein: My intention is to impose a sentence of 78 months of incarceration, and other conditions. Any formal objection to the procedure?
Chaudry: No.
Judge Stein: Please rise…. Guideline range 135 to 168 months. I sentence you to 78 months.

— Inner City Press (@innercitypress) January 6, 2023
View this post on Instagram
As Jen Shah prepared to leave courthouse after being sentenced to 78 months in prison, this is the scene waiting for her on Worth Street – from which Inner City Press will be live streaming, soon : ) pic.twitter.com/lksV28OkL8

— Inner City Press (@innercitypress) January 6, 2023
Original post: 1/6/2022 @7:08
**NOTE- The Honorable Judge Stein declared Jen serve between 3-10 years, but has since ruled for a sentence of 78 months (6.5 years)
View this post on Instagram
View this post on Instagram
Chaudhry: She SAW the info from victims, and pled guilty. She began on Hawaii, a land of elders. Now elders, her victims, are teaching her. She regrets the mistakes she has made. She is sorry. She had faith in our justice system. Jen will pay her debt to society

— Inner City Press (@innercitypress) January 6, 2023
Judge Stein: Her activity in this crime took place years before the Real Housewives of Salt Lake City started. So you are saying her hunger for trinkets predates the show?
Chaudhry: Yes. She was lost. Then in July she say the information from the victims

— Inner City Press (@innercitypress) January 6, 2023
Chaudhry: Jen hoped that the TV spotlight would hide her pain. She spent years trying to hide her feeling, to fake it until she make it. She tried not to see the people who lost money. Her original fraud was on herself

— Inner City Press (@innercitypress) January 6, 2023
ICYMI:
The controversial RHOSLC star committed "wire fraud, offering services with little to no value," confessed Jen while under oath to Judge Stein in July 2022.
"We used interstate telephones and emails. I knew many of the purchasers were over the age of 55."
Never forget, Jen claimed she was not guilty for many many months. She only changed her plea after her 'first assistant,' Stuart Smith, confessed his guilt.
People reported StuChainz's admission. "I knowingly and intentionally discussed and engaged with other individuals to develop a plan or operation to obtain money by false representation by offering and inducing individuals, many of whom were over 50 years of age or older, to provide money to entities that I and others were involved with."
Do you think Jen is deserving of the time she will spend behind bars? Should she have gotten more/less time? Drop your opinion off in the comments.
---