How RHOSLC's Jen Shah May Be Affected By Stuart Smith's Guilty Plea
Jen's trial is scheduled to begin in March 2022.
Ashley Hoover Baker November 20, 2021 2:32pm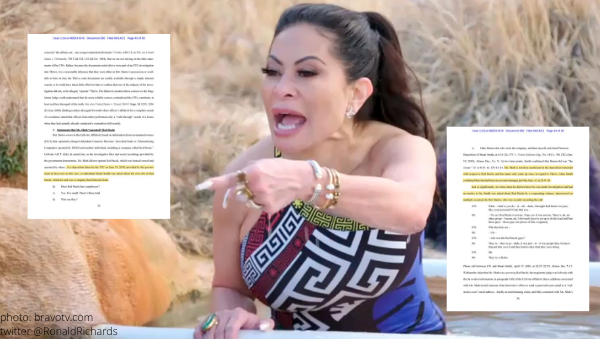 Hold on to your iced tea!
Twitter's favorite attorney, Ronald Richards, provided his followers insight into how Stuart Smith's change of plea affects Real Housewives of Salt Lake City's Jen Shah.
In case you missed it:
On Friday, November 19, 2021, 'StuChainz' lived up to his nickname after changing his plea from not guilty to guilty of money laundering and wire fraud.
According to People magazine, Jen's first assistant read a statement to The Honorable Judge Stein.
"I knowingly and intentionally discussed and engaged with other individuals to develop a plan or operation to obtain money by false representation by offering and inducing individuals, many of whom were over 50 years of age or older, to provide money to entities that I and others were involved with."
"[I] became aware that these telemarketing companies were misleading customers of those entities by selling individuals, many of them who were older than 50 years of age, information that purported to be services [sic] to enhance their business opportunities."
"The services sold were of no value and of no real benefit to the customer."
Ronald's roundup:
The former NBC News Legal Analyst clarified what Stuart's change of plea means for the controversial RHOSLC star.
Stuart admitted to lying under oath and in a deposition.
That complicated things for Jen as she referenced Stuart's lies when she requested the court exclude certain evidence from the trial.
Naturally, this will prove to the court that Jen also lied under oath. 
Here is why the 3rd count hurts @therealjenshah. In her motion to suppress she filed earlier this year, she wrapped her arms around Smith's deposition testimony which shielded her lack of ownership. Now, Smith will plead guilty to lying and admit he lied in the deposition to.. pic.twitter.com/IY8PcKg4aX

— Ronald Richards (@RonaldRichards) November 20, 2021
There's more:
In addition to multiple fake businesses, Jen and Stu started a company together, which is run by a third party called 'Mastery Pro Group.' MPG keeps their officers' and members' names remain undisclosed.
The shade.
Also, Stuart directed the sales team at MPG to "lie" and "mislead" the victims to buy "so-called BizOp products" which are of "little or no value."
Oh, and MPG owes American Express $151, 482.
(I don't know about you, but I am WAITING for those AMEX receipts to get leaked…)
Here is what we tracked down so far from the facts from the change of plea. Stuart and @TheRealJenShah started this company in 2017 called Mastery Pro Group in Wyoming. The same agent Jonathan Bruce Bextel keeps renewing it. The officers and members are secret. Amex is owed.. pic.twitter.com/P9pqO8HKgk

— Ronald Richards (@RonaldRichards) November 20, 2021
Jen's trial is scheduled to begin in March 2022. Have your popcorn ready!
Want to stay up-to-date on all the Real Housewives news and gossip?
Check out Zachary Reality for the latest from Bravo, Bachelor Nation, and beyond!
Do you think Stuart and/or Jen will have to serve time in prison for their *alleged* crimes? Sound off in the comments!
---