RHOP's Juan Dixon's Alleged Other Woman Posts Photo Trolling The Rumors Of Him Cheating On Robyn Dixon
Currently waiting for Robyn Dixon's excuse ...
Ashley Hoover Baker February 28, 2023 3:55pm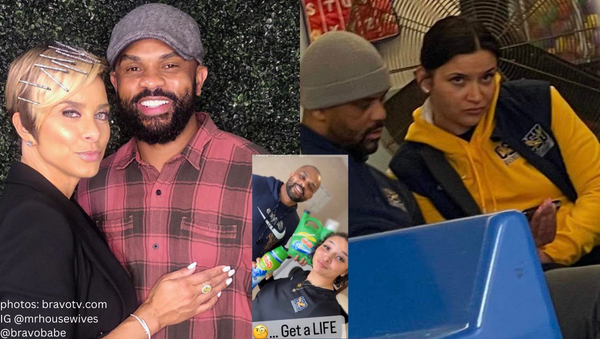 Updated post 2/28/2023 @15:55
Put to rest?
A day after more cheating rumors circulated around RHOP's Juan Dixon, the woman he was photographed in a laundromat, Breanna Gross, posted a photo of the two telling trolls to "get a  life."
The co-workers at Coppin State University posted for – what appears as – a staged photo (both are wearing different outfits & not-Robyn's hair is styled differently) holding laundry detergent with the sassy caption.
Obviously, this was Breanna's attempt to read the Bravoholics who called her out with the serial cheater,  but does this 'clap back' photo prove nothing went on between them?
See for yourself!
View this post on Instagram
Do you think there is anything scandalous going on between Juan and Breanna? Sound off below.
---
Original post 2/27/2023 @1:50 
Real Housewives of Potomac husband, Juan Dixon, was caught canoodling with another woman at a Maryland laundromat. Way to keep it classy, Juan. 
The photo allegedly snapped over the weekend was of Robyn Dixon's husband who was seen hugging Breanna Gross, the Director of Women's Basketball Operations for Coppin State University. Keep in mind, Juan is the Head Coach at the same school.
The social media user who snapped the photo alleged Juan was seen standing behind the woman and wrapping his married arms around her while helping her load the washer machine.
View this post on Instagram
First of all, we don't know if there is any truth to this story. All we have is a picture, and we aren't even sure it's a new pic.
More importantly, the social media backlash Juan has received so far has been the highlight of my Monday morning. Here are some comments that gave me a good chuckle:
"Not the LAUNDROMAT!!! 😂"

"Oh but Robin will lie and make excuses about this too. I'm sure they were just closely reviewing a 'hotel bill'"

"He is going to tell Robyn he was helping her with how to use the laundry machine or with school work 🤭 and she will believe him! Maybe she needed quarters? 😂"

"I hope they got out all the stains 😂"

"Ok I hate it but even Michael Darby knew this relationship wasn't a priority to Juan."

"Oooof the dirty laundry coming from Juan Dixon!!!! Camera everywhere bro"
Do you think Juan was out Juaning again, or is this all a misunderstanding? Drop your opinion off in the comments.
---