Kandi Burruss Called Out Andy Cohen For Asking About Riley Burruss' Estranged Dad
"It kind of caught her off guard."
Ashley Hoover Baker May 29, 2022 10:50am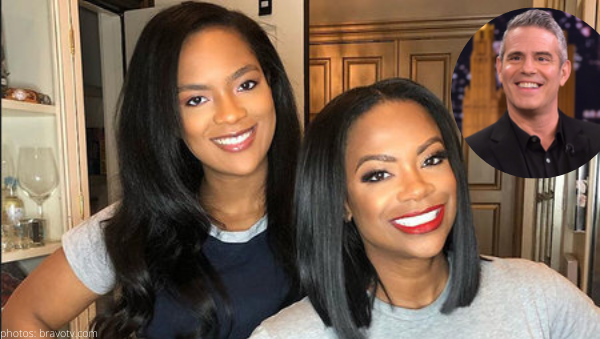 "I'm not about the drama. Don't start none, won't be none." –Kandi Burruss
The star of the Real Housewives of Atlanta called out Watch What Happens Live! host, Andy Cohen, after she and her daughter appeared on Bravo's late-night talk show.
The appearance:
In case you missed it, while Kandi was a guest on WWHL, Riley Burruss (who began the evening as an audience member) stepped in to bartend at the last second.
The Xscape songstress explained the situation on the Slut Pig podcast.
Riley "just so happened to be the bartender" because "somebody else that was supposed to be the bartender, but they were late.
The question:
The reason I (and millions of other Bravoholics) love Andy is that he asks the questions we want answers to…Never forget the time Andy asked Shaq his shoe size…
This time, Bravo's daddy asked Riley about her estranged father- which seems appropriate since Riley grew up on our small screens and we witnessed her daddy drama first hand.
"Has your relationship with your dad improved at all?"
Riley replied, "I don't remember the last time I spoke to him, so that answers that question."
The aftermath:
Although Kandi's poker face didn't show it, the mom of three was upset that Andy put her daughter on the spot regarding such a sensitive topic without warning.
"I didn't really like it when he brought up my daughter's father to her on camera on 'Live.'"
The Xscape songstress elaborated, "It wasn't like she was prepped or anything, so it kind of caught her off guard."
Proud mama:
Kandi wasn't happy with Bravo's daddy putting her daughter in the hot seat; however, she acknowledged how proud she was of Riley- who is currently attending New York University– for how she handled herself.
View this post on Instagram
Do you think Andy's question about Riley's dad was inappropriate? Drop your hot-take off in the comments.
---