Lala Kent Teases VPR Premiere Days After Ambyr Childers Sought Restraining Order Against Randall Emmett
Rand admitted, "I don't have real money" according to court docs.
Ashley Hoover Baker October 28, 2022 9:29am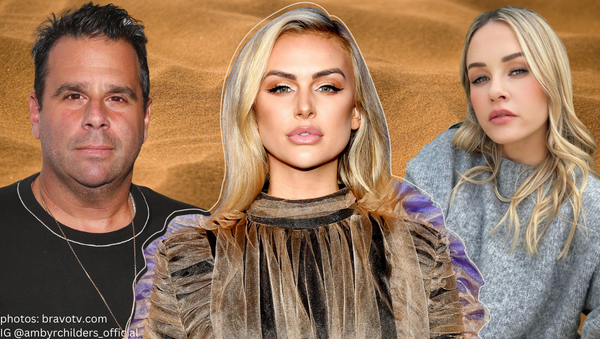 These are NOT the best days of Randall Emmett's life…
Days after actress Ambyr Childers sought a restraining order against Rand, his more recent ex, Lala Kent, celebrated her sobriety and the upcoming season of Vanderpump Rules.
In the wise words of the VPR star, " I deserve a man with a jawline." Yes, queen, you do. As does Ambyr. Let's dig deeper into what's gone down…
The restraining order:
The LA Times reported Ambyr "is seeking a domestic violence restraining order from her ex-husband" citing "legitimate fear for [her] safety and well-being."
Ambyr documented that Randall "would put his hand around my neck and tell me that I could never get away from him."
Though the YOU actress' request was denied due to "lack of proof," a hearing to review the matter was set for next month.
According to court docs, Rand admitted, "I don't have real money for this and you know it" to his attorney.
Is anyone else getting major Money By Monday vibes? I guess the I'm Sorry Fofty saga didn't teach Rand the lesson on money management that we thought it would …
Lala lives on:
While Ambyr takes Rand to the cleaners, Lala continues to live her best *sober* life.
Along with a pumpkin patch pic with her baby, Ocean Kent Emmett, and loved ones, Lala celebrated her accomplishment in an Instagram post.
"Today marks 4 years of sobriety. The weekend was full of love & support. Being present for my daughter… that part is priceless. I'm grateful, & extremely humbled by each birthday that passes. But y'all, I am proooooud! Hell yessss, Lala. You better work, girl 💃🎉."
In addition to living a sober life with her beautiful baby girl, Lala is in preparations for the premiere of the 10th season of her hit Bravo show on January 7, 2023.
The countdown is on!
Oh, and she's having a lot of sex according to her BravoCon 2022 appearance. So there's that.
View this post on Instagram
With Ambyr coming forward with accusations of DV and Lala moving on so seamlessly, do you think this could be the last we see of Randall Emmett? Drop your predictions off below.
---