Lala Kent Responds To Accusations Made By 50 Cent
The SUR hostess clapped back at Fofty after he claimed she abuses drugs and alcohol.
Ashley Hoover Baker September 16, 2019 10:42am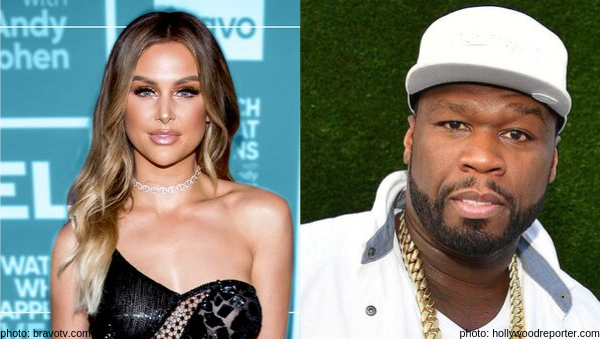 Vanderpump Rules star, Lala Kent, responds to accusations made by rapper, 50 Cent, about her and her fiance's excessive alcohol and drug use after her Watch What Happens Live! appearance last week.
"I feel it's important for me to say this, and I'm only going to address this once…" per Lala's Instagram page. "My sobriety is something I'm proud of and work on [every day]. I've never done cocaine nor were any other substances, other than alcohol, involved in my decision to get sober. I pride myself on being open and honest about everything in my life, hopefully inspiring others and letting them know they are not alone. The past couple of days I've been slammed to say the very least.  People have asked me how I'm maintaining keeping my head up… To me it's simple—I know Real Life from the illusion of social media. I know what it feels like to have your world crumble. Getting a phone call from your brother saying your dad has passed away…that is earth-shattering. Being called names and being falsely accused of things…that is far from earth-shattering."
In case you missed it, Lala claimed to have receipts on Fofty (after their last public feud earlier this year), though she claimed not to share them, because she only beefs if she's getting paid on VPR.
View this post on Instagram
Fofty didn't hesitate to share his side of the story on social media.
The rapper didn't stop there. Among the multitude of posts slamming Lala and her movie producer fiance, Randall Emmett, 50 asked, "What's wrong with this hoe?"
"Have a drink, hit da powda, have a drink, hit da powda, have a draink, hit da powda 4 days straight."
He also advised the SUR hostess and actress to: "👀shut up bitch, 🤨you started with the wrong person good night."
My favorite part of this chapter of the Fofty VS Lala and Rand saga?
The fact that 50 started writing Randell instead of Randall. I doubt it was a typo- smells like shade to me. Never forget how Rand typed Fofty instead of Fifty when he claimed he was having a heart attack.
Lala made sure to take a second to make a statement about cyber bullying. "My mindset is something I'm grateful for—however I can't help but think about how many people are taking their own lives, daily, due to cyberbullying. It is imperative that I tell you, you are not by yourself. I see you. I stand by you. I'm on your team. You are loved and make a difference in this world."
Do you think this feud is real, or is it a publicity stunt? Drop your opinion off in the comments.
---