Kyle Richards On RHOBH Season 10: "It's Drama"
"This season had a lot going on."
Ashley Hoover Baker April 14, 2020 4:03pm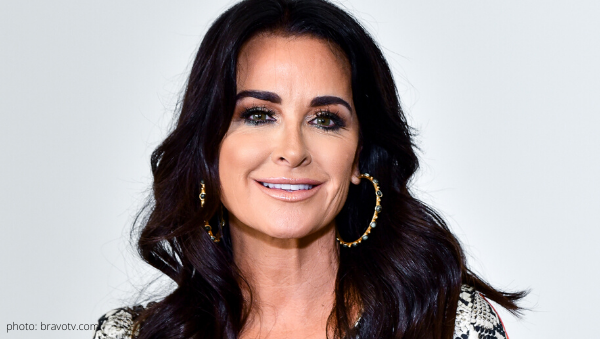 "It's drama."
Real Housewives of Beverly Hills star, Kyle Richards, spilled the tea on what to expect from season 10 of Bravo's hit show.
Kyle teases season 10:
"This season had a lot going on," The OG of RHOBH dished to People. "Nobody wants to have issues, but they inevitably come up. Whatever is going on in people's lives, whether they want it out or not, comes up!"
The mom of four continued, "Some people aren't speaking. But it's also a lot of fun."
The cast:
With the departure of Lisa Vanderpump during RHOBH season 9, Kyle is the senior member of the cast. Also returning for season 10 are Lisa Rinna, Erika Jayne, Dorit Kemsley, Teddi Mellencamp, and Denise Richards.
"It's an interesting mix of people," explained Kyle. "Garcelle [Beauvais] and Sutton [Stracke] are both very different and have different opinions about things. I've gotten close to Sutton. She's funny — and quirky!" Does anyone else sense some low-key shade toward Garcelle? If you missed the awkward moment between Kyle and Garcelle on the RHOBH season 10 preview, I've got you!
Is LVP missed?
"I don't even think Lisa's name comes up, to be honest," Kyle subtly shades. "We all have so much going on in our lives."
People reported Kyle's had two run-ins with her former friend. "We're still not speaking. And that's really in her hands. But I'm fine to move on." It was not noted whether Bravo cameras were present for either encounter.
Who are the 'friends of' this season?
RHOBH alumni, Kim Richards, Adrienne Maloof and Brandi Glanville will make appearances this season. Brandi seems to have gotten herself in possibly the hottest scandal of the season. Missed what 'went down?' Here ya go!
Who is Kyle spending her time in quarantine with?
She explained, "We're trying to enjoy every single moment." That is evident in the TikTok videos Kyle makes with her family. Mauricio Umansky, Kyle and their daughters, Farrah, Alexia, Sophia, and Portia happily take to the popular social media platform to stay busy. "In moments like what we're going through now, I'm so grateful to have this big family. "
RHOBH premieres Wednesday 4/15/2020 at 8 p.m. ET on Bravo.
Need more real housewives news to hold you over until then? Check out the On This Day Entertainment podcast to keep up with the latest reality tv, celebrity and pop culture news. Here is the most recent episode, including a hot take on the RHOBH season 10 taglines.
Which story lines are you most excited to see play out this season? Sound off in the comments!
---