RHOBH: The Brandi Glanville And Denise Richards Rumor Heard Round The World
You will be shocked to hear what allegedly 'went down' between these RHOBH ladies.
Ashley Hoover Baker January 8, 2020 8:19am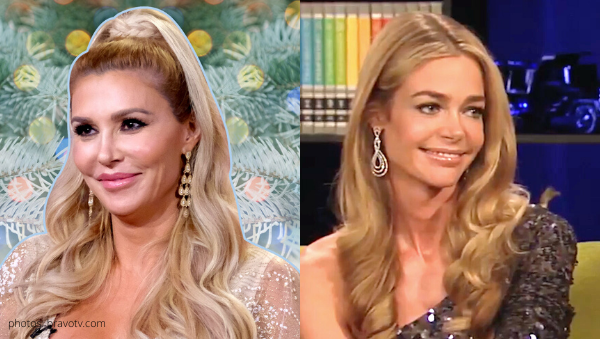 The Brandi Glanville x Denise Richards rumor heard round the world has been leaked! You will be shocked to hear what 'went down' between these Real Housewives of Beverly Hills ladies. The dialogue of what really happened between the former friends came after a post made on Instagram by @bestofbravo. You may want to sit down for this one…
View this post on Instagram
Keep in mind, this is a post from a Bravo-fan account, so there is no confirmation that the rumor is true. As any RHOBH stalker super fan would know, there has been drama involving Denise finishing production on season 10. Lisa Rinna went on the record blasting Denise for not showing up to a filming event in late 2019. Click here if you need a refresher.
There was even drama with the A-list actress and the cast trip to Italy! "Denise Richards really did not want to go to Rome at all after struggling to jive with the cast this season," an insider told Hollywood Life.
According to The Sun, "The [sic] reportedly fear the 48-year-old is quitting the show following a recent blow up with Brandi Glanville." The news outlet continued, "So at this point in production, Denise is reportedly talking to some cast members but not others. However, 48-year-old is still apparently on new cast member Garvelle Beauvais', 53, good side. An insider told HollywoodLife Denise "appreciates [Garcelle] defending her" against Brandi."
The internet is on fire with the possibility of any truth to this hook-up accusation. An Instagramer asked, "Is that what @brandiglanville means when she said she "just got denised" lol" when referring to a tweet the controversial 'friend of' RHOBH sent on December 29, 2019.
I just got "Denised"

— Brandi Glanville (@BrandiGlanville) December 29, 2019
Others aren't trusting the validity of the rumor, just yet. "Aka a totally conspicuous publicity stunt."
Whether or not people are buying what @bestofbravo is selling, it seems the majority agrees with this Instagrammer's hot take, "Oh my godddddd. This is so not what I expected but also not altogether surprising. Woooooow bethenny wooooow."
Couldn't have said it better myself.
Do you think there are truth to these hookup rumors? Sound off in the comments!
---