RHOBH: Lisa Rinna Throws Online Shade At Denise Richards
Rinna's comments on Denise's injury pics are questionable.
Ashley Hoover Baker December 18, 2019 9:06am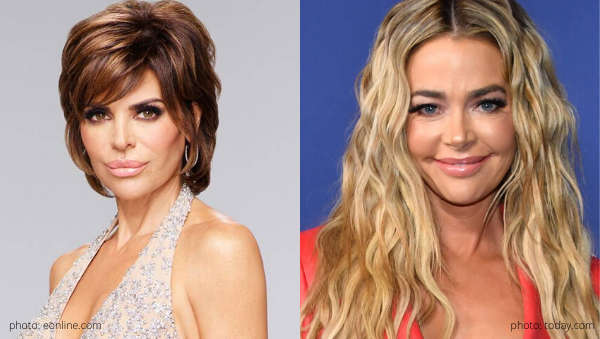 Controversial Real Housewives of Beverly Hills star, Lisa Rinna, throws online shade at Denise Richards after she posted a pic of an injury. The Wild Things actress posted she had suffered four hernias.
The photo of Denise's abdominal bruising was captioned, "Being a mom, wife, & having a career sometimes it's easier to just be strong and power through, I thought the pain & my other symptoms would just go away. They did not and got a lot worse."
While several of the Drop Dead Gorgeous star's friends and followers left comments wishing her well, Rinna's comments stood out. RHOBH fans are now convinced she's faking her friendship with the A list actress. Here's why…
Rinna's first comment questioned, "Is everything ok? Is everyone ok?" Fair enough. But Rinna being Rinna, she couldn't stop there. Mrs. Harry Hamlin almost immediately left another comment, "Denise are you ok? You never showed up to Dorit [Kemsley]'s Sat night we were all so worried about you. What happened?! You said you were coming, you were meeting Garcelle [Beauvais], We never heard from you. What happened?"
Fans saw through Rinna's attempt at appearing as a concerned friend. A follower @ed Lisa and wrote, "I'm a fan of the show and love you both but as entertaining as this would be to read about on here. I do hope if you two have a genuine friendship offscreen you'd handle this privately … It seems like a real friend would call/text/stop by a house or maybe DM not publicly blast a question like this for everyone to read and see. I root for your friendship over tv ratings. Hopefully all is well between you two!! 🙏🏻❤️."
Another follower commented, "lol at your tacky response. Rinna can text her." The next post is basically my internal monologue when it comes to RHOBH, "aaaaaaannnnnddddd this just proves the gossip that y'all are trying to push her off the show. Send her a private message. Don't stir shit up on a post where she discusses health problems. This makes you look very bad." Agreed.
According to reports from The Blast, "There's a rift between the 'RHOBH' castmates because Denise Richards is putting her reality TV career on the back-burner. When she didn't show up to their season 10 wrap party at Dorit Kemsley's home on Saturday, it added more fuel to the fire."
If you'd like to hear my hot take on all things happening in the real lives of the Real Housewives, check out the On This Day Entertainment podcast. Click here to listen to to my most recent episode with Mani from the Mixing With Mani podcast!
Whose side are you on? Drop Team Denise or Team Rinna in the comments!
---