Kim Kardashian And Kanye West Successfully Co-Parent At Saint West's Soccer Game
Kim's boyfriend, Pete Davidson, did not attend.
Ashley Hoover Baker March 27, 2022 5:52pm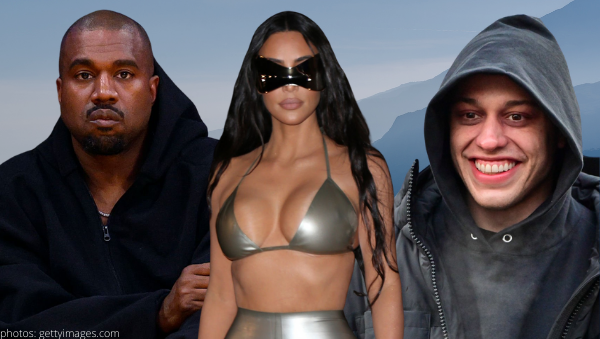 Keeping Up With Kim and Kanye:
KUWTK alumni, Kim Kardashian, and her ex-husband, Kanye West, were spotted together at their son, Saint West's soccer game.
With their oldest daughter, North West, at their side, the former couple appeared to have a successful co-parenting relationship…probably because Kim's boyfriend, Pete Davidson, was nowhere in sight.
For the kids:
According to the photos published by TMZ, the couple formerly known as Kimye both sported black zip-front hoodies and black pants. North's long braids rested on top of her sweatshirt and baggy jeans.
Though Kim and Kanye didn't seem to interact together, simply existing peacefully in the same vicinity is a step in the right direction.
Kim and Kanye's co-parenting is finally on the right track after weeks of public fighting, as they both attend their son's soccer match. https://t.co/s06dSmsCk9

— TMZ (@TMZ) March 27, 2022
In case you missed it:
The star of the upcoming Hulu original series, The Kardashians has been dragged in the media by the rapper who calls himself 'Ye.
Not only did Kanye include the lyrics "God saved me from that crash – Just so I can beat Pete Davidson's ass" in the track Easy, but he used a clay animation with the SNL comedian's likeness in the Easy music video.
Did I mention the animated figure designed to represent Kanye actually included a scene of his character dragging a body that emulated Pete, who was tied up by ropes with a bag covering his head?
Um, that's not all… 'Ye continues to bury Pete and sprinkle seeds over his head.
Deep sigh.
After weeks upon weeks of Kanye attacking Kete on social media, Pete finally clapped back at Kim's ex in a leaked text exchange between Pete and Kanye.
"Yo it's Skete." (Skete is the demeaning nickname Kanye calls Pete)
"Can you please take a second and calm down. It's 8am and it don't gotta [sic] be like this."
"Kim is literally the best mother I've ever met. What she does for those kids is amazing and you are so f*cking lucky that she's your kids [sic] mom."
"I've decided I'm not gonna let you treat us this way anymore and I'm done being quiet."
In case you are curious about how Kanye responded…
Now that there is an element of peace in the equation, do you think Kim and Kanye will introduce their significant others to the family events soon? Sound off in the comments.
---