Pete Davidson Calls Kanye West 'A Little Internet Bitch Boy' In Alleged Text Exchange
"Yo it's Skete. Can you please take a second and calm down."
Ashley Hoover Baker March 14, 2022 4:00am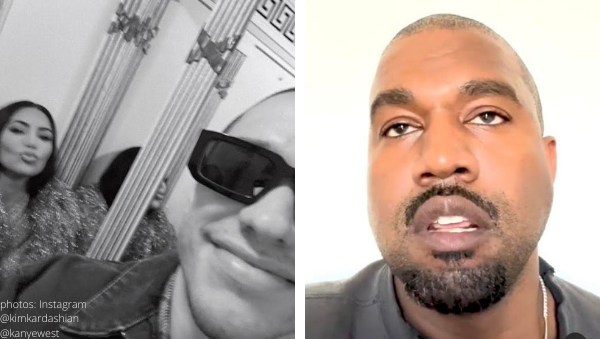 Allow me to preface everything you are about to read with ALLEGEDLY ALLEGEDLY ALLEGEDLY.
Since that's out of the way, let's talk about the *alleged* text exchange between Kim Kardashian's boyfriend, Pete Davidson, and ex-husband, Kanye West.
The messages:
According to screenshots leaked in a since-deleted social media post from SNL guest writer, Dave Sirus, it appears Pete reached out to the rapper to defend Kim K's parenting and urge 'Ye to "Grow the f*ck up."
I'm a theater person, so I'm going to format this in the style of a play. Feel free to partake in scene work with a friend…
Pete: "Yo it's Skete." (Skete is the demeaning nickname Kanye calls Pete)
"Can you please take a second and calm down. It's 8am and it don't gotta [sic] be like this."
"Kim is literally the best mother I've ever met. What she does for those kids is amazing and you are so f*cking lucky that she's your kids [sic] mom."
"I've decided I'm not gonna let you treat us this way anymore and I'm done being quiet."
Kanye: "Oh you using profanity [sic]
Where are you right now?"
Pete: (with an attached screenshot of a shirtless Pete in bed) "In bed with your wife."
Kanye: "Happy to see you're out of the hospital and rehab."
Pete: "Same here. It's wonders [sic] what those places do when you go get help. You should try it."
"I'm in LA for the day if you wanna stop being a little internet bitch boy and talk."
"You don't scare me bro. Your actions are so p*ssy and embarrassing."
"It's so sad to watch you ruin ur legacy on the daily."
Kanye: "You're more than welcome to come to Sunday Service."
Pete: "Why don't we meet after Sunday service and saints game [one of Kimye's four kids] … I'll be at the BHH we can have food and talk it out in my room. Privately one on one. Man to man."
"What you are doing to your family is dangerous and going to scar them for life. Please handle these matters privately bro I beg you."
Kanye: "You wanna see me
Come to Sunday Service"
Pete: "My offer stands"
"I wish you'd man up for once in your life."
A PSA from Pete:
Sure, the texts from Pete were spicy, but the comedian let know Kanye that he can empathize with his mental health journey.
"Let me help you man. I struggle with mental stuff too."
"It's not an easy journey, you don't have to feel this way anymore. There's no shame in having a little help. You'll be so happy and at peace."
Enough is enough:
Not only has Pete kept Kanye's name out of his mouth since his relationship with Kim was made public, but he also requested the writers and cast of NBC's late-night sketch show to refrain from trolling Kanye.
"You have no idea how nice I've been to you despite your actions towards me."
"I've stopped SNL from talking about you or making fun of you which they've wanted to do for months."
"I have your back even though you treat me like shit because I want everything to be smooth. But if you continue to press me like you have for the past 6 months I'm gonna stop being so nice."
Pete Davidson, King of Staten Island…and top tier trolling. Lordy I hope this alleged text exchange is legit. 😆 #KanyeWest #PeteDavidson #KimKardashian pic.twitter.com/YbH1fcYSNR

— OnThisDayENT (@OnThisDayENT) March 14, 2022
Kanye's clap back:
Immediately after Pete LITERALLY BEGGED Kanye to stop airing his family's dirty laundry on the internet, Kanye aired his family's dirty laundry on the internet.
ICYMI…
Is it just me, but does this 'leak' sound like the doings of momager Kris Jenner and not a random SNL writer? Sound off in the comments!
---