Dorinda Medley Threatens Vicki Gunvalson: "You Wanna Get Mean, I'll Get Mean"
"Jealousy is a terrible thing."
Ashley Hoover Baker June 11, 2022 12:23pm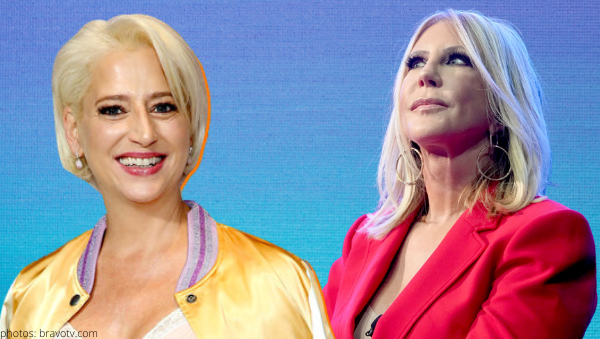 She cooked. She cleaned. She made it nice…
After former Real Housewives of New York star, Dorinda Medley invited the rest of the Real Housewives Ultimate Girls Trip season 2 cast to film in her Berkshires home,  she was disappointed that one of her guests, Vicki Gunvalson, insulted her estate.
Shade on top of shade:
Not only did Dorinda go off on Vicki on her Make It Nice podcast, but she also took her down on Instagram, too, for calling Blue Stone Manor, 'old.'
"Who in this group picture doesn't understand the difference between 'Old' and 'Historic'? (I tagged her to make it easy.)"
View this post on Instagram
The clap back:
Dorinda doesn't need Vicki to take her word for the extreme luxury and value of her Berkshires residence, as she provided receipts. Not only was  Blue Stone Manor, built by renowned architect Stanford White in 1902, but Dorinda's Massachusetts home was also featured in Architectural Digest in 2020.
The RHONY alum also noted, "You have to have a taste level to understand a home like Blue Stone Manor, and you have to understand a lifestyle." (Love the low-key shade at Vicki and her 'new money!')
Understandably, the founder of Dorobics was most upset by Vicki's lack of respect and graciousness.
"She was a guest in my house. So regardless of what she thinks, it just shows that she really has no real manners. I would never say anything bad about her house."
"Jealousy is a terrible thing."
Dorinda doubles down…again:
If you know Dorinda, you know she has difficulty refraining from beating the proverbial dead horse.
She elaborated about Vicki's lack of "taste" to her podcast listeners.
"Well, listen, this is a girl that thinks dancing on dirty tables in a bar at Puerto Vallarta, whatever that place is called, is fun."
"So I mean, you can't really have people that don't have taste understand taste."
Did Ramona Singer's iconic tagline pop into anyone else's head?
Can't stop. Won't stop:
Dorinda annihilated Vicki's taste in men, specifically Brooks Ayers and Steve Lodge.
Referring to Brooks, Dorinda stated, "Like, you may not like my life, but I also don't date people that pretend to have cancer, you know what I mean?"
Burn.
Dorinda also came for Steve Lodge, who married a 30-something-year-old after dating Vicki, who turned 60 this year.
"I also don't date men that then leave you for women that are half their age."
Wait for it…
Not sure if this is a threat and/or a promise, but Dorinda declared, "You wanna get mean, I'll get mean."
Just ask Tinsley Mortimer and anyone who has used a "turkey baster" to conceive. (I love Dorinda, but I'll never get over that comment.)
WWIII:
After affirming Vicki's comments "opened up a can of worms," Dorinda made it clear- she means "war."
Which of the women are you most excited to see on RHUGT2: Ex-Wives Club? Drop names in the comments.
---