Steve Lodge Denies Cheating On Former RHOC Star Vicki Gunvalson
"I'm sorry that Vicki can not except [sic] this."
Ashley Hoover Baker October 15, 2021 2:02pm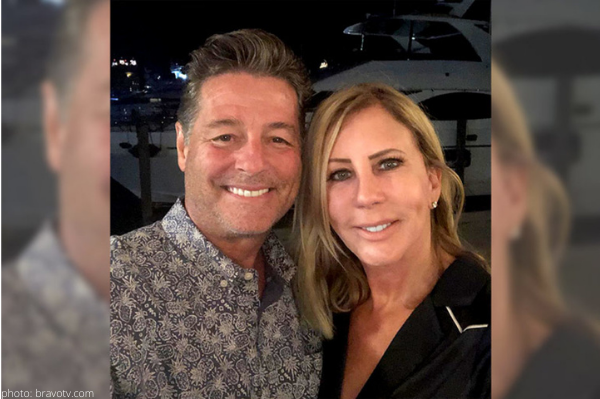 Can someone send former Real Housewives of Orange County star Vicki Gunvalson a casserole already?!
The OG of the OC's ex-fiancé, Steve Lodge, spilled the tea to Page Six explaining Vicki that won't accept the breakup.
Steve's side:
The failed California governor candidate detailed, "Vicki and I ended our engagement and relationship in December of 2020."
"I did this in person verbally and explained it to her in writing."
"I wanted to move on with my life and I could not do that with Vicki," said Lodge, 63. "I'm sorry that Vicki can not except [sic] this, but it was time."
"The absolute lies she is now spreading on social media is very disappointing and disingenuous, to say the least."
"But I can not say I'm surprised. She should not be dragging Tamra [Judge] or anyone else into her lies. With that being said, I still wish her all the best."
View this post on Instagram
Vicki's version:
In case you missed it, Vicki has used her social media platforms to throw shade at her ex.
"He used me, he lied to me, he's been dating a 36 year old and is not what he portrays himself to be. No Christian man would do what he's done."
She didn't stop there…
"While I was out of town working on a biz trip, [Lodge] took [the woman] to my condo in Mexico! He's been flaunting around my town in OC making out in public places. It's disgusting."
FYI, Steve clarified, "I have been living in Puerto Vallarta in my own condo, not hers since the beginning of 2021."
The breakup:
In September 2021, a source exclusively revealed to US Weekly, that Steve "was the one to pull the plug" and that Vicki "was traumatized. It ruined her."
"Steve broke up with Vicki while she was filming the second season of the Real Housewives Ultimate Girls Trip in the Berkshires…She didn't want to be at the [Dorinda Medley's] house anymore."
Want to stay up-to-date on all things Real Housewives?
Check out the Pink Shade podcast for weekly Bravo Breakdowns and so much more!
Do you think Steve used Vicki for her 'celebrity' status? Drop your opinion off in the comments!
---