RHONY's Ramona Singer Regarding Eboni K. Williams: "This is Why We Shouldn't Have Black People On The Show"
Heather Thomson confirmed, "I was there and I heard Ramona say that and I freaked out.
Ashley Hoover Baker November 28, 2021 8:08am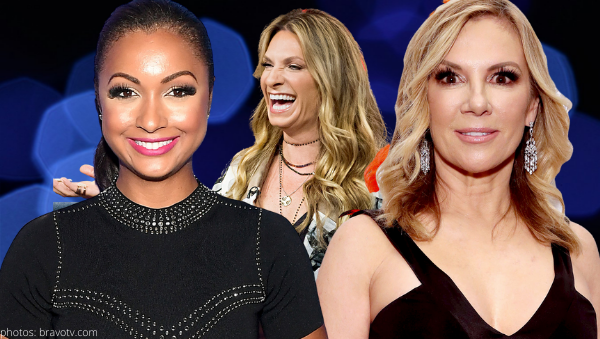 _______________________________________________________
Updated post 11/28/2021 @8:08
Former Real Housewives of New York star, Heather Thomson, is chiming in on what she heard her then-costar say regarding attorney Eboni K. Williams.
According to Page Six, Holla Heather claimed: "she watched as castmate Ramona Singer, 64, made an alleged racist comment that led Bravo to put RHONY reunion on ice last month."
"I was there and I heard Ramona say that and I freaked out."
As stated in the original post below, Bravo did an inadequate investigation, in Eboni K. Williams' opinion.
"Bravo said there was an investigation. To my knowledge, they've never offered or required unconscious bias or sensitivity training to the cast or producers on the show ever. I was never asked. Do they know and care about the effects [the show] has? It's nonsense. They are not interested in people, they are interested in money."
_______________________________________________________
Original post 11/04/2021 @15:34
"I may say the wrong thing, but my intentions are always right." –Ramona Singer
A production source exclusively told Page Six, the "alleged comment that launched Bravo's investigation into racism-" which fans believe ultimately led to the cancellation of the Real Housewives of New York's season 13 reunion.
Even during the height of the pandemic, Bravo NEVER skipped a Real Housewives reunion.
Of any city.
EVER.
The scene:
Do you remember the night viewers saw Luann de Lesseps kick the freshman RHONY star out of her home for clarifing to the cabaret crooner that she is, indeed, the more educated of the pair?
Well, this exchange prompted Ramona to allegedly say, "This is why we shouldn't have black people on the show."
Ramona's rebuttal:
In a statement to Page Six, Ramona clarified "I never said that. It's a terrible lie."
"It's very disappointing that even after my name was cleared that people still want to slander me."
Ramona added that she "signed a confidentiality agreement and therefore couldn't share her side of the story."
The aftermath:
Page Six reported that Ramona had to "undergo sensitivity training in the wake of the incident, but a second source told us that all 'Housewives' cast members go through such programs."
A second source confirmed that Eboni filed a complaint against the Ageless by Ramona founder after she heard about the alleged racially insensitive comment.
The verdict:
Simply put, Ramona's name was cleared, while Eboni was reportedly "dissatisfied" with the findings from the investigation.
In case you'd like to hear Eboni's opinion on the RHONY reunion getting cancelled…
In case you missed it, rumors circulated that several RHONY cast members (including Ramona) made a pact to leave a party once Eboni arrived.
What's next for Ramona?
A spinoff, of course!
Ramona will star on Real Housewives Ultimate Girls Trip alongside other popular stars from the Real Housewives franchises including RHONJ's Teresa Giudice, RHOA's Kenya Moore, and RHOBH's Kyle Richards.
RHUGT premiers on Peacock November 18th.
Want more Real Housewives in your life?
Check out the Pink Shade podcast for weekly Bravo Breakdowns and so much more!
Do you think Ramona made the alleged statement? Drop your opinion off in the comments!
---