Luann de Lesseps Trades 'RHONY' Reunion For Rehab & Her Costars are Speaking Out!
Looks like the reunion is officially going to be Lu-Free.
Genny Glassman July 17, 2018 3:47pm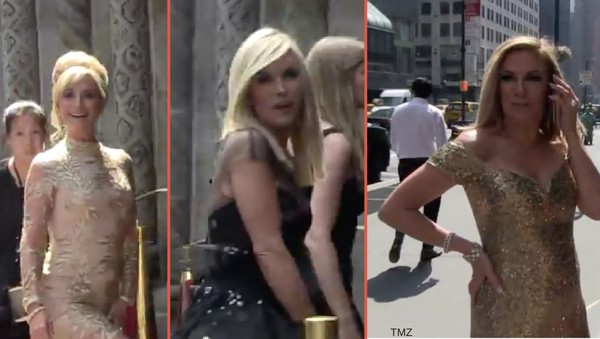 Say it isn't so! After the explosive news that Luann de Lesseps has checked herself back into rehab, the Countess was noticeably absent at the taping of the Real Housewives of New York reunion on July 17th and now her costars are speaking out!
The footage, which was taken by TMZ, shows Ramona Singer, Tinsley Mortimer, and Sonja Morgan entering Cipriani early Tuesday morning.
Paparazzi first stopped Ramona who was busy on a phone call and asked what the reunion was going be like without the cabaret singer.
"You know we all feel bad for Luann," Romana tells him, "It'll all be okay."
Meanwhile, Tinsley tells him that the reunion is going to be "sad" without the Countess. "I feel badly for her, but I hope she gets better," Tinsley adds.
And finally, the paparazzi asks Sonja if she's going to miss Luann on the reunion coach and Sonja tells him  "very much."
While details of what exactly drove Luann back into rehab aren't clear, the Bravo star has recently had a string of bad juju, including a lawsuit from her children and ex-husband over Luann allegedly taking her kids trust fund money to buy herself a house.
We'll miss you, Lu!
---