Danielle Staub Throws Shade At Teresa Giudice And Thirst Traps For Joe Giudice
Ashley Hoover Baker May 20, 2021 5:00am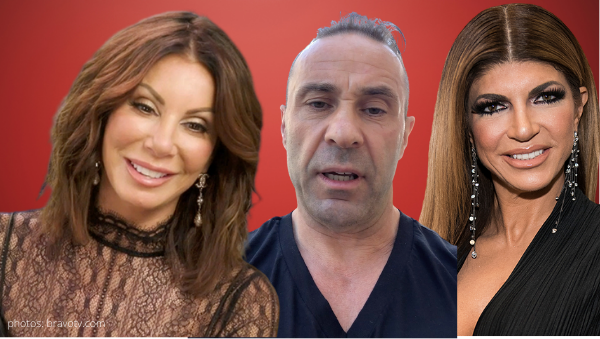 Real Housewives of New Jersey alumni, Danielle Staub joined S'More Date creator Adam Cohen Aslatei (ACA) on episode 87 of S'More Live on Instagram to explain why she thinks Teresa Giudice's ex-husband, Joe Giudice is marriage material.
Danielle on Teresa:
The mother of two took time to throw shade at Teresa's new boyfriend, Luis 'Louie' Ruela, calling their relationship "convenient."
Danielle didn't stop there…
When asked her thoughts on Teresa's sex toy business with her ex-husband, Joe Giudice, she blurted,  "It's about time she started playing with herself- nobody else was."
Danielle on Joe Giudice:
In a game of 'Shag, Marry, Remove,' Danielle declared that she would shag Joe Giudice! Before long, she reconsidered and decided that marrying Joe would be her top option.
The low-key shade toward Teresa is intense…and I'm living for it!
"I literally think he looks better than he ever has. Remember, I know him from working with him and I think he was pretty decent to Teresa, to be honest with you. He did prison time for her. That's a guy, like- you know, it's an attraction. I think that's attractive."
"He knows how to be a father to daughters. He also went to prison for his wife, even though they both committed the crimes and she did a little bit of time herself, but he took heavy hits for her and he still does. I think that's a stand up guy. I think he learned his lesson, too. I think he's a better man now than he was before, granted. And he's in amazing shape- I could do yoga with him."
View this post on Instagram
The rumor of Joe Guidice's alleged Ponzi scheme:
Danille made it clear that Teresa's ex "isn't smart enough [for a Ponzi scheme]- sorry, Joe. I think he was just moving things around, that's all."
Though Danielle didn't believe Joe Giudice was involved in a Ponzi scheme, she does think Joe Gorga is a scam artist. Get the full scoop here.
Watch the full interview for yourself:
In addition to Danielle dishing on the Giudices, she also reveals if she thinks Delores Catania and David Principe will make it work as a couple and if she believes Melissa Gorga and Joe Gorga are really having marital issues or if it's just a storyline.
Enjoy!
View this post on Instagram
Gimme S'More:
Check out S'More Date on Instagram for weekly celebrity interviews.
Also, download the S'More Date app! Like the show Love Is Blind, S'More Date builds meaningful connections between people before they see one another.
If you had to choose to 'marry, shag, and remove' from Joe Gorga, Joe Giudice, and Frank Catania, what would be your best-case-scenario? Sound off in the comments!
---