Ramona Singer, Leah McSweeney, And Luann de Lesseps Had Pact Against RHONY Newbie Eboni K. Williams
UPDATE- Eboni chimed in on the events from the night in question...
Ashley Hoover Baker November 6, 2021 12:22pm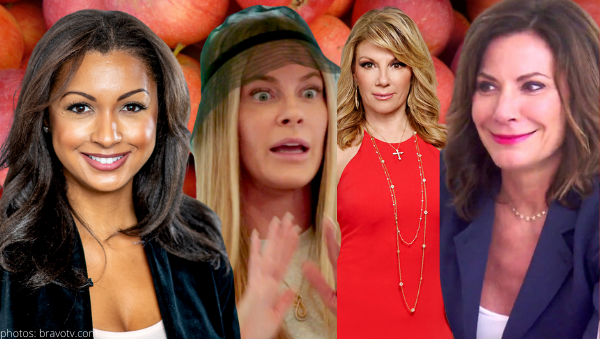 ________________________________________________________
UPDATE!
Eboni K. Williams was a guest on Instagram's Smore Live Happy Hour and dished on what she knows about the rumors of several of her castmates 'ghosting' her at a Real Housewives tell-all book party.
"I read that piece as well. Listen, I actually have no idea if that's accurate."
"That's the reality. That's the full complete tea on that."
"What I can tell you, I was on my own time that night, and Dave Quinn [the author of Not All Diamonds and Rosé] is a good friend of mine and Dave knew I was going to pull up because I support Dave and his book and everything Dave represents."
"I showed up at 8. The party started at 7. When I got there, none of my castmates were still there."
"I didn't feel a way about it."
Watch for yourself!
________________________________________________________
Original post: October 21, 2021 @ 10:39
Big Apple- bigger drama…
Real Housewives of New York's newest cast member, Eboni K. Williams, isn't holding back when it comes to Bravo's newest batch of Mean Girls– step aside RHOBH ladies!
An insider spilled to Page Six, "Luann [de Lesseps], Leah [McSweeney], and Ramona [Singer] had a pact [that] as soon as Eboni showed up, they would leave."
View this post on Instagram
Dissed:
The following reads like an early '00s teen movie, so consider yourself warned…
"When Eboni entered from the right, they all were on the left and exited."
"They fled as soon as she [Eboni] walked in."
It didn't stop there…
The insider continued to explain that "the infighting in 'New York' is still happening" and "they just hate her because they ain't her."
Twirl on the haters:
Eboni didn't let her fellow Bravolebrities ruin her good time.
It was reported the lawyer and television host "spent the night unbothered by her castmates' dramatic departures, with our eyewitness saying she had a ball at the party."
"Eboni was amazing," the source spilled. "She finally met Dorinda [Medley] in real life and danced the night away."
That's how you do it!
Want to stay up-to-date on all things Real Housewives?
Check out the Pink Shade podcast for weekly Bravo Breakdowns and so much more!
Which of the RHONY women do you think orchestrated the walkout? Drop names in the comments!
---