Leah McSweeney Will Not Return To RHONY Until Bravo Increases 'Miniscule' Offer
The popular newbie feels 'disrespected' by the network.
Ashley Hoover Baker September 15, 2020 7:49am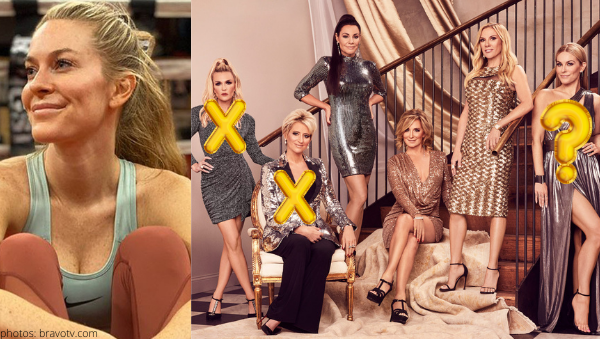 She may float like a butterfly, but she stings like a bitch.
Real Housewives of New York's newest cast member, Leah McSweeney, has not signed for another season on Bravo's juggernaut franchise, as she is holding out for more money.
A source close to the show told TMZ, "Leah is only being offered a 'minuscule' pay raise for the upcoming 13th season of 'RHONY' — which would be her second — and she feels disrespected."
Allegedly, the blonde beauty made $3k per episode last season, totaling around $60k. A similar offer was presented to Leah for the 13th season. The fan-favorite will not hold an apple again until she is approached with a more appropriate offer.
This explains Leah's Instagram bio:
Fans were baffled after part one of the RHONY reunion aired as Leah's IG bio did not feature an apple nor feature her reality tv show gig at all…
RHONY fans suspect favorite Leah McSweeney has QUIT the show https://t.co/PjlMzjXgnY

— Cindy Vien (@CindyVien) September 11, 2020
 Fan reactions:
Audiences quickly embraced the founder of the street wear brand Married To The Mob, so Bravoholics are not pleased with this news.
A Twitter user wrote, "She should fight for more, especially after fan reception of her. It says she was offered a raise but it's gotta be significant because the 3k an episode is a JOKE. She shouldn't even open the email until it's at 15k a week."
Instagram's @harlotforhousewives wrote, "After knowing what they pay all the other ladies, I'd hold out for more $ especially with the good reviews. Bravo is getting a little too big for their britches. Pay the talent their worth."
Of course there were RHONY fans that would love to see Leah leave without getting a sophomore season. "Her claim to fame is getting drunk after 11 years! Please!," was posted on Twitter as well as, "I hope she doesn't return, To much hating on Ramona and to much drinking."
What now?
It appears the 13th season is expected to start shooting in the next week or two, so hopefully Leah and the suits at Bravo can make an agreement- I can't handle any more devastation this year.
Need more Real Housewives in your life?
Check out the Pink Shade podcast for a hilarious breakdown of this week's RHONY, Real Housewives of Beverly Hills and Real Housewives of Potomac.
Do you think Bravo will increase the offer made to Leah to ensure her return? Drop your opinion off in the comments!
---