Did VPR's Tom Schwartz Low-Key Confirm Tom Sandoval And Ariana Madix Had A Threesome With Raquel Leviss Before 'Scandoval' Began?
In the mid season trailer, Scwartzie said, "open relationships are f*cking tough."
Ashley Hoover Baker March 20, 2023 1:39pm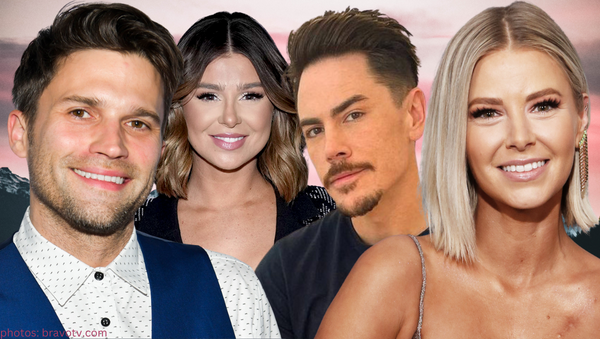 Vanderpump Rules star, Tom Schwartz, may have accidentally confirmed a claim regarding 'Scandoval' that Deux Moi posted alleging Tom Sandoval's affair with Raquel Leviss began after they had a threesome with his then-girlfriend, Ariana Madix.
In the preview for the second half of Bravo TV's VPR, Schwartzie seemingly confirmed the Deux Moi submission saying, "open relationships are f*cking tough."
An @enews interview that resurfaced from the VPR season 10 premiere party gives insight into the alleged threesome that allegedly led up to the Scandoval and supported Deux Moi's threesome claim.
In case you missed the Deux Moi submission, an anonymous source claimed, "Sandoval, Ariana and Raquel had a threesome and Sandoval continued to pursue Raquel after that."
"An interviewer asked Sandoval about his 'open relationship' he denies it, and Schwartz says 'not anymore.'"
"The interviewer goes one step further and asks 'if you guys ever did a throuple, anyone on the cast you'd want to be a part of it?' Sandoval says idk, but Schwartz says, 'didn't it already happen?' while referring to Raquel."
"At that point Sandoval gives a death stare to Schwartz and they play it off about Lala [Kent] and Ariana from seasons ago."
Do you think there is any truth to the allegation that Tom and Ariana had a threesome with Raquel before the 'Scandoval' began? Sound off below.
---