Videos Resurface Of The Problematic Cast Of That 70s Show
Content Warning!!!
Staff September 10, 2023 3:10pm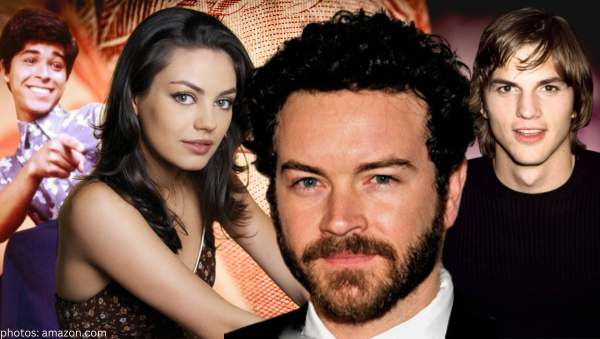 Content Warning!
It appears that convicted rapist, Danny Masterson, isn't the only problematic cast member from That 70s Show.
In addition to Danny being a proven monster, Ashton Kutcher and Mila Kunis brought attention to themselves by writing letters on behalf of the known rapist.
After showing their true colors, social media users got to work to show that Mila and Ashton have been part of the problem all along.
Never forget Wilmer Valderrama preyed on underaged girls for years. He dated a 16-year-old Mandy Moore when he was 20. At 24, Wilmer dated Lindsay Lohan and Mischa Barton. Both were 17.
Demi Lovato wrote a song about dating a 29-year-old Wilmer when she was 17. She sings, "Finally 29. Funny, just like you were at the time. Thought it was a teenage dream, just a fantasy. But was it yours or was it mine? 17, 29."
Here are a collection of videos that have resurfaced demonstrating how problematic the set of That 70s show was for young actors.
I, for one, would like to know who thought it was appropriate to cast a 14-year-old girl across from a 20-year-old love interest. Make it make sense. 
14-year-old Mila's first kiss & Danny's bet:
Ohh this WILL be a thread pic.twitter.com/WlXHYfYxgE

— Kolii ♡ (@koliikat) September 9, 2023
"She was 14" – Ashton:
The way they treated her on that show makes me so upset. Here's evidence they truly thought she was young as well. pic.twitter.com/ldw4KQuHY5

— trans rights (@idktheotherone) September 9, 2023
Ashton waits for Hilary Duff (and the Olsen Twins) to turn 18:
ashton kutcher is a slime ball pic.twitter.com/6ZOQ70Vf21

— riley (@princess_antifa) September 9, 2023
Wilmer brags about taking Mandy Moore's virginity (she was a minor):
21-year-old Ashton gets a 15-year-old Mila to sit on his lap:
— Kolii ♡ (@koliikat) September 9, 2023
"You look really hot" -Danny to an underaged Mila
— Kolii ♡ (@koliikat) September 9, 2023
Mila, the 19-year-old 'whore' of the show:
These interviews are horrifying https://t.co/uE9nfAGMwN pic.twitter.com/HmibGgeQGy

— Kolii ♡ (@koliikat) September 9, 2023
Drop your thoughts on these resurfaced videos below.
---