Are The Sexual Innuendos Between CBB's Shanna Moakler And Lamar Odom Too Much For Shanna's Boyfriend Matthew Rondeau?
Celebrity Big Brother's live feeds left Matthew pondering his potential proposal to Shanna.
Ashley Hoover Baker February 12, 2022 4:17pm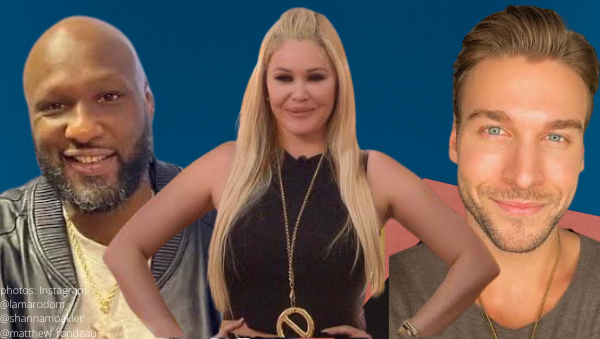 The live feeds from season 3 of Celebrity Big Brother are so juicy, there may be off-screen consequences for one of its sizzling stars.
Former Miss USA, Playboy Playmate of the Month, and reality tv pioneer Shanna Moakler's flirting with NBA icon, Lamar Odom, may have gone too far for Shanna's boyfriend, Matthew Rondeau. (In case you missed it, TMZ cameras caught Matthew shopping for an engagement ring at Tiffany & Co. earlier this week.)
Trouble back home:
While Shanna and Lamar share a house, fully stocked with audio/visual devices documenting them 24/7, Shanna's on-and-off boyfriend since 2020 is contemplating if he should pop the question to the blonde beauty.
A source spilled to TMZ, Matthew "is NOT happy with the subtle sexual innuendos flying back and forth between his girl and Lamar inside the 'CBB' house."
"We're told Matthew's been watching the live feeds, plus the reality show, ever since Shanna entered the house … and he's picked up some troublesome behavior between the two."
It was also reported that "Matthew noticed Shanna using some of the same phrases he uses around her."

The insider added that he "finds it disrespectful and hurtful and doesn't know why she's doing it."
Keeping-Up-With-The-Kardashian adjacents on CBB:
Yes, cameras caught Shanna admitting to calling Lamar's ex-wife, Khloe Kardashian, a donkey in 2009 (by mistake- she thought she talking about Kim), but did you catch the potential pair's other Kardashian connection?
Shanna used to be married to Blink 182 drummer, Travis Barker, as documented on MTV's in 2005-2006 Meet The Barkers.
Travis is now engaged to Kris Jenner's eldest daughter, Kourtney Kardashian.
What a time to be alive!
Do you think there is a spark between Shanna and Lamar, or do you think the flirting is part of the game? Sound off in the comments.
---