Khloe Kardashian's Team Works Overtime To Remove Bikini Pic From Internet
Legal threats were made as the photo was
Ashley Hoover Baker April 6, 2021 12:45pm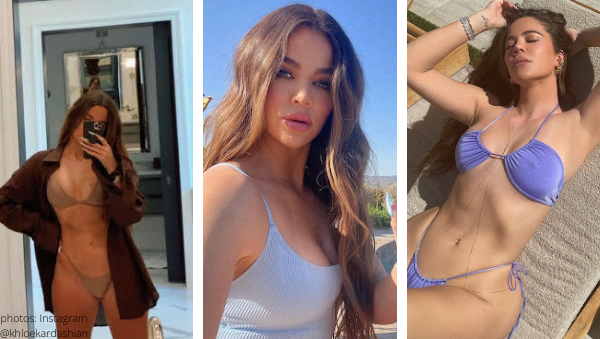 GASP!
An unmodified photo of Khloe Kardashian is circulating the internet and Koko is not a happy kamper camper.
The Keeping Up With The Kardashians star's team is working hard to erase a private photo of Khloe that doesn't have her token modifications included.
The photo Khloe wanted us to see:
The Good American co-founder posted photos of herself sporting a skimpy purple two-piece over Easter weekend in Palm Springs.
View this post on Instagram
The other photo:
"The color edited photo was taken of Khloé during a private family gathering and posted to social media without permission by mistake by an assistant," Tracy Romulus, chief marketing officer for KKW Brands, said in a statement," according to Page Six.
An alleged "unauthorized" (aka unedited) photo from the same day spread online, to Khloe's chagrin.
"Many copies of the photo were taken down under legal threats from the Kardashian camp, which called the image 'beautiful' but said they wanted it gone because it was unauthorized."
View this post on Instagram
Having a hard time Keeping Up With The Kardashians/Jenners?
Well, it's not an easy task.
Allow Jessica and Marcy from the Kar Dishin It podcast to relieve you of some of the burden. Here is the latest episode!
Drop your thoughts on Khloe's latest scandal off in the comments!
---