Receipt Confirms Aubrey O'Day Knew Travis Barker Hooked Up With Kim Kardashian Before Dating Kourtney Kardashian
"I was 'bffs' with Kim Kardashian during a fourth. She was hooking up with Travis Barker and we were at his house…"
Ashley Hoover Baker May 19, 2021 12:48pm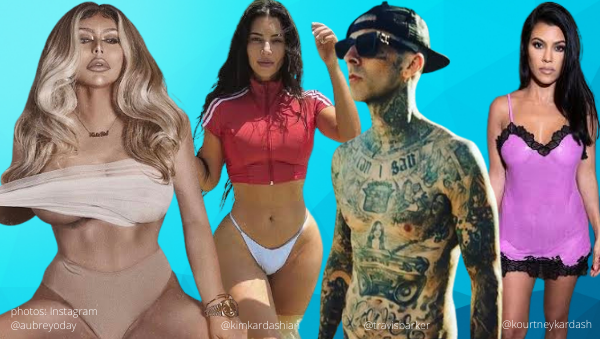 An old screenshot confirms MTV's Making the Band alumni, Aubrey O'Day, was privy to the fact that Travis Barker cheated on his then wife, Shanna Moakler, with Kim Kardashian.
Travis is currently dating Kim's big sister, Kourtney Kardashian.
Mess-y.
History lesson:
Shanna claims she once "caught" her then-husband having an affair with Kim K. causing the couple to divorce in 2008.
Travis' ex dished to US Weekly, "I divorced my ex because, I saw them — I caught them having an affair."
Eek.
"Barker hooked up with Kim before Keeping Up With the Kardashians came out in 2007. Over the years, Kim denied that there is any truth to Moakler's claims."
Well, there you have it.
Another piece to the puzzle:
PerezHilton.com published a screenshot of an Instagram story that Aubrey O'Day shared from 2020 claiming that Travis cheated on his then-wife, Shanna…among other things.
According to Aubrey's IG story, "I was 'bffs' with Kim Kardashian during a fourth. She was hooking up with Travis Barker and we were at his house… he was really dope. Shanna his ex (who I love) supposedly was threatening to slash her tires (sorry girl but that was funny s**t, I would have too) so they asked her to park her car somewhere else. We took off and went to some BS celeb Malibu parties where she desired to be photographed, and I had to run around house after house in an uncomfortable dress and high heels to appease that. She got all her photos with celebrities accomplished and we headed back to Calabasas. I was super annoyed that we had to do all of that because I absolutely LOVE fireworks and I have always been in memorable places watching them every year. Because we had to chase clout extra hard we got on [the] freeway late and ended up in her Range Rover as the fireworks started. I obviously would never tell her I was annoyed AF, because you're not allowed to if you want to be 'bffs' with her. So I asked her if she could pull off the road so we could get out and just experience (SOMETHING REAL) the fireworks. And she did. And we sat on this plot of grass watching them and all I remember feeling is relieved to see the beauty of them. And she turned to me and said: 'you know, last year on the fourth I was on a yacht with Paris Hilton in the middle of some remote beautiful place… and this year I'm sitting on a plot of grass in Calabasas with you.' Hahahahaha. I was like, Oh… cool."
See the receipt for yourself:
View this post on Instagram
Having a hard time Keeping Up?!:
Check out the Kar Dishin It podcast for the latest news and gossip from the Kardashian/Jenner clan as well as hilarious recaps. Here is the most recent episode.
Do you believe any/all of the accuasations that Aubrey made? Drop your opinion off in the comments!
---