Video Resurfaces Of RHONJ's Louie Ruelas Claiming He Is The Namesake Of Rue La La Boutique
"Why is it called R-U-E-L-A-L-A? It's a joke, no one knows that. My last name is Ruelas."
Ashley Hoover Baker April 18, 2023 1:12pm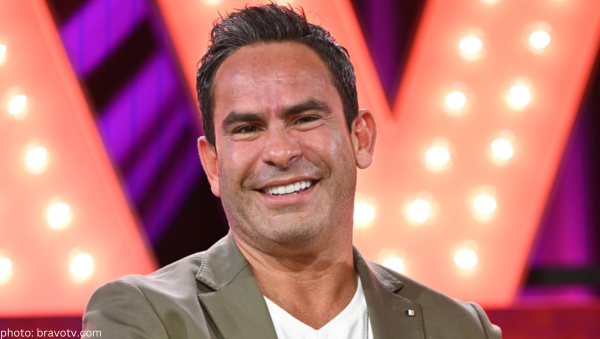 A video of Real Housewives of New Jersey husband, Louie Ruelas, resurfaced regarding his alleged ties to the boutique, Rue La La.
Online creator, @krissyballs took a deep dive into why Teresa Giudice's husband was in his car crying to his camera … and even prepared her audience for Louie's odd post.  "Wow! You thought the beach video was bad…"
The vlog:
A teary-eyed Louie recalled being "a lost soul" as he allegedly sat outside of a Rue La La boutique for his filming of this video.
**For context, Rue La La is an ONLINE boutique. Help.Ruelala.com states "Rue La La is an online shopping destination offering best-selling brands at up to 70% off retail prices."**
He continiued, "I'm in this parking lot right now walking into this building, Rue La La, it's right behind me."
"It's like, 'Why is it called R-U-E-L-A-L-A?' It's a joke, no one knows that. My last name is Ruelas."
Brace yourself for the most chaotic portion of the transcription …
"And like all these amazing things I've done, like crazy shit that, like, all of it together does not amount to what you're doing to me. And what you're allowing me to have with you."
"This is so special," expressed the sweaty Bravolebrity while wiping his nose.
"Some people will wake up today and feel like I just lost half a billion dollars yesterday and I didn't feel it anywhere in my body. I didn't feel it anywhere in my body."
No clue what you just read? Fair. I have no idea what I just typed.
See for yourself:
View this post on Instagram
The comments!
Bravoholics came out to roast Louie in the comment section.
"Rue is street in French. It's a play on the French phrase 'oh là là'. Louis is demented."

"It's giving "I invented post-its" 🤣🤦🏼‍♀️ bless his heart 🙃"

"It's one thing for Tre to be deluded by him, i.e. he must love her they have secks 20 times a day, 😉🙄, but why are her 'dorters' so over the moon for him? I mean, aren't any of them smart enough to check into him and his past?"

"Sweaty and unhinged."

"When he was in St Barts he was telling people he's worth 100 million dollars , do people that are millionaire buy

fake Cartier bracelets

and claim bankruptcy's. This guy is full of stories."

"I'm thinking a sociopath narcissist & now he has a stage so the world can see his fake narrative….he really, deeply believes in his own delusions 🙄"

"…….and Teresa refused to get a prenup 🤦🏻‍♀️. This is going to end so so badly with a Hulu documentary…😮‍💨"
What do you think of Louie's video? Drop your opinion below.
---