Instagram Account Calls Out RHONJ's Luis Ruelas For Gifting Fake Cartier Bracelets To Teresa Giudice's Daughters
Ashley Hoover Baker December 28, 2022 12:47pm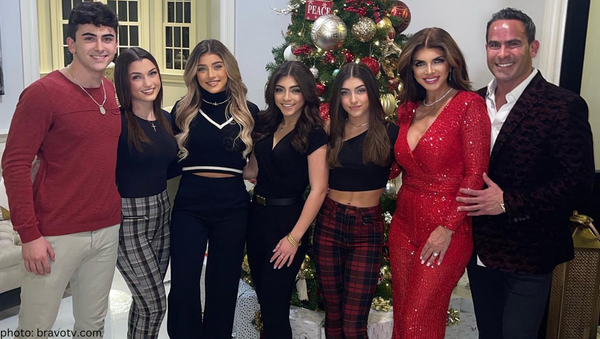 Faux Faux Faux … Merry Christmas!
Real Husband of New Jersey, Luis Ruelas, was called out by the Instagram account @therealbadfashions for gifting Teresa Giudice's daughters knockoff Cartier bracelets.
The popular IG page reposted screenshots of Gia Giudice and Milania Giudice showing off their 'Christmas Hauls' next to authentic Cartier bracelets from the official website.
View this post on Instagram
View this post on Instagram
The comment section:
Bravoholics took to the comment section to share their opinion of Luis trying to pass off designer knockoff bracelets as real, even geotagging @thepulga (the flea) in the posts.
"Showing off gifts on social media is so tacky."

"Is anyone shocked he bought them fakes? I love this account btw."
"i knew it!!! the inside of that box looked too janky for a brand new Cartier box….lawd🤦🏻‍♀️."
"Omg. I have a Cartier box and even the box is ultra-lux. Teresa's dorter's box looks cheap and fake."
are we surprised when teresa has literally filmed packing 'gucci' and 'fendi' swimsuits on camera ripping them out of the plastic bags 😂😂😂."
"I wanna know if Milania's Versace sunnies are real."
"Money talks… Wealth whispers… And these girls are screaming 😂."
"The 'C' is a dead giveaway. There's nothing wrong with buying dupes if you can't afford the real thing, but don't show it off like it's real.
Material Girls:
The apple didn't fall far from the tree for the Giudice girls. Her dorters daughters took to their TikTok pages to flaunt the *high priced luxury items* they received.
Never forget, Teresa Giudice went to camp prison for just under a year for fraud. Her then-husband, Joe Giudice, served even more time in the slammer for bankruptcy fraud – even getting deported to Italy.
Do you think Luis is using Tre or is he truly in love with her? Sound off in the comments.
---