Top Chef Portland Winner Gabe Erales Fired For Harassment In 2020
Gabe committed a "violation of the restaurant's policies on harassment and discrimination."
Ashley Hoover Baker July 3, 2021 4:30am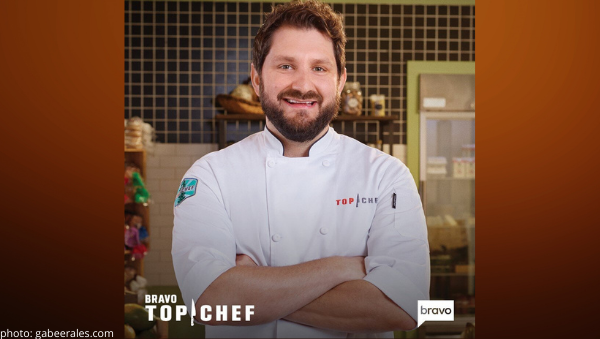 Top Chef Portland winner, Gabe Erales, had to pack his knives and go from Austin restaurant, Comedor for harassing an employee in December 2020.
Termination deets:
According to Austin.Eater.com, Gabe was fired "Two months after shooting for Top Chef wrapped."
"The restaurant's partner and Chef Philip Speer first announced his departure in vague yet serious terms, saying Erales was terminated for 'repeated violations of our policies and for behavior in conflict with our values.'"
More specifically, Statesman.com reported the first Mexican-American chef has to win the Bravo competition series was dismissed "for violation of the restaurant's policies on harassment and discrimination."
These are Gabe's confessions:
The Texas chef "admitted to having a consensual sexual relationship with a female member of his kitchen staff in the summer of 2020 — and then cutting her hours in November after he returned from taping the culinary king-making show in Portland in September and October. Erales said he cut the hours of the woman based on her performance."
On the flip side, Philip Speer told the publication he "did not deem the woman's work as sufficient reason for hours being cut."
Gabe's statement:
The newly crowned Top Chef explained the relationship ended with the female kitchen employee when he returned from Portland; however, he continued to communicate with his then-colleague in an unprofessional manner.
Chef Gabe detailed, "After I returned from Top Chef, I made some business decisions as a manager that affected this employee and were found to be discriminatory and I realized that those were bad decisions."
Looking ahead:
The Top Chef season 18 winner confessed, "I've spent the last six months really reflecting on these mistakes and taking the necessary steps to be a better husband, a father, a chef and a leader, through therapy, through spirituality."
Additionally, the husband and father of three revealed that he believes manager/employee relationships "are very detrimental to a work environment and definitely impact the success of a business, especially a kitchen."
"Moving forward, my position in a restaurant as an authority figure is an important one and I know that in order to improve our industry, creating a positive non-toxic work environment begins with a plan of checks and balances that need to be in place before the doors open."
Did Bravo know?
This won't be a surprise for a Bravoholic…
The network- yet again- cast for a popular reality show without proper vetting. Members of the Top Chef production team were privy to details about Gabe's termination from Comedor since December 2020.
A background check was mandatory before casting, and the suits at Bravo studied Gabe's behavior on the Top Chef set and "found no problematic behavior and decided to continue airing the show as planned."
The source also spilled that no considerations were given to reeditting the season, as it would be unfair to the other 14 cheftestants,  judges, and production team.
The long-time host took to Twitter to respond to the news.
As someone who has been sexually harassed, this topic is a serious one and merits openness.

We filmed Top Chef in October of last year & were not aware of the allegations now coming out about Gabe.

This should be investigated & the network should consider its best action.

— Padma Lakshmi (@PadmaLakshmi) July 2, 2021
Do you think Bravo should have edited Gabe out of the season due to his problematic actions in the workplace? Drop your opinion off in the comments!
---