Introducing Top Chef's Season 18 Chef-testants
Padma Lakshmi, Tom Colicchio, and Gail Simmons will join the cast in Portland, Oregon.
Ashley Hoover Baker February 9, 2021 3:56pm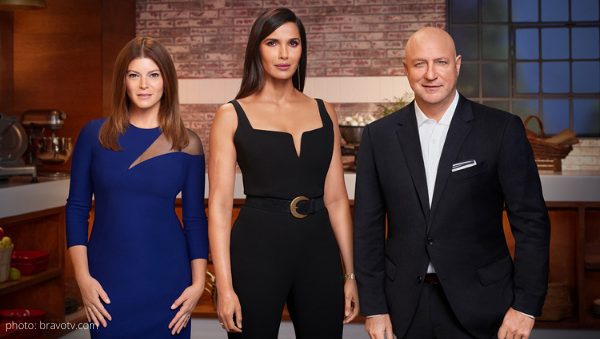 Bravo's iconic cooking competition show, Top Chef, which made a few production changes according to covid 19 protocal and is prepping for its 18th season in Portland, Oregon.
The Judge's Table:
Back by popular demand are Padma Lakshmi, Tom Colicchio, and Gail Simmons.
Padma took to her Instagram page to share her excitement for the upcoming season. "We did it! Through COVID, fires and everything else. And it's a great season! Thank you to my @bravotopchef crew for working so hard to keep us all safe. We got through it without anyone getting sick. We love you Portland and were so happy to shoot there in support of the city and the BLM protesters for civil rights 💜."
Guest judges:
The chef-testant alums turned guest judges for the 2021 season include Richard Blais, Carrie Baird, Nina Compton, Tiffany Derry, Gregory Gourdet, Melissa King, Kristen Kish, Edward Lee, Kwame Onwuachi, Amar Santana, Dale Talde, and Brooke Williamson, according to foodandwine.com.
One of my personal favs, Chef Gregory, posted the following message to the 'gram.
"Hey look it's me in the Top Chef kitchen in street clothes. Can only mean one thing. Pack your knives Portland! It's go time. 🙌🏾 Catch me as an alumni judge on @BravoTopChef Season 18, premiering April 1st on @BravoTV! Had SO much fun this season and I know you will too! Congrats to local chefs @chefsara_h and @chefgabrielpascuzzi for making it on this season! But hey, no spoilers and no favorites. 🤐😉."
The heavy hitters:
Food & Wine was also told to expect appearances by some of the greats, including José Andrés, Massimo Bottura, Gabriel Rucker, and Alice Waters.
Joining these culinary masterminds are Portlandia stars Fred Armisen and Carrie Brownstein.
The Chef-testants:
(Check out foodandwine.com for photos and detailed descriptions!)
This year's competitors include-
Brittanny Anderson– Chef and co-owner of four establishments: Metzger Bar and Butchery, Brenner Pass, and Black Lodge in Richmond, VA and Leni in Washington, D.C.
Avishar Barua– The Executive Chef and General Manager of Service Bar in Columbus, Ohio.
Dawn Burrell– Recently joined Lucille's Hospitality Group as Partner/Executive Chef of her very first proprietary concept exploring Afro-Asian cuisine.
Have you had the chance to eat at any of this year's chef-testants' restaurants? Drop your reviews off in the comments!
---